Check out these great old team photos of Georgetown Prep's JV basketball team from 1911. Awesome uniforms. Source: Shorpy Source: Shorpy Here's the team photo for the current season. Looks pretty much the same right? Source:...
Here's a great shot of the Chesapeake & Ohio Canal in 1909. Source: Dig DC
It's so sad that this house no longer stands. The house stood roughly where Key Bridge enters Georgetown today. The address was 3518 M St. NW. Source: Dig DC
Another great find courtesy of Dig DC and the DC Public Library.This is the Southworth Cottage at 36th and Prospect in Georgetown, home of noted author Emma Dorothy Eliza Nevitte Southworth, taken in 1909. She was a...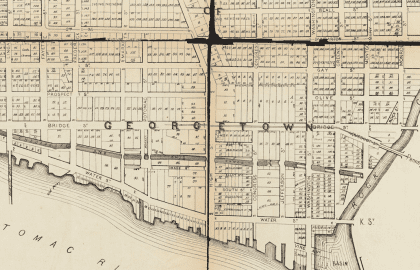 Check out this terrific 1874 map of Georgetown with the old street names. Source: Dig DC
These are amazing. Take your time studying them because there are so many incredible details in them. Click on them for larger versions. Below is one showing the waterfront. This one is pretty cool. Here's one...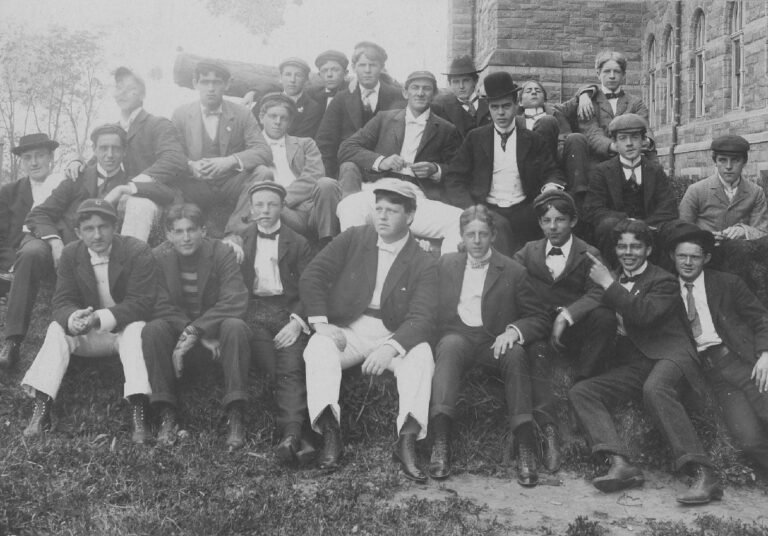 How things stay the same. Check out the faces and expressions of these young men. These guys aren't that different from these guys about 40 years later. Source: Georgetown University I wonder if the guy at right,...
This is a photo of a beautiful old mansion which still sits in upper Georgetown. Formerly known  The home was called Bellevue and sat about 100 feet south of where it sits today on Q Street....
It's that time of year, again. Commencement speakers address graduating college and university classes, and inevitably their speeches are ranked, assessed, complimented, and criticized. This year, both NPR and Vox.com have compiled the best commencement speeches ever....
Here's a story to throw into the crazy bin. We came across this piece in The Washington Post printed on June 24th, 1888. A brutal murder occurred in Georgetown shortly before midnight last night. Agnes Watson, a...