This lovely old photograph shows the West Wing of the White House shortly after it was completed. Source: Library of Congress
Can you even believe this photo. This dude is just sitting on what appears to be a low stone wall on the south side of the White House. This would be E St. today and if...
You have to see this amazing old photo of the White House. This is a view of the President's Mansion from the south. Source: Library of Congress
This beautiful photo of the north side of the White House was taken in 1950. Click on it for more. Source: Martin Archer on Flickr Here's another cool shot of the President's House. Source: Flickr
Here's a cool old photo showing President Herbert Hoover with a large group of boys and girls at the White House. Source: Shorpy
Below are two amazing engravings of the President's House and the Capitol Building following the Burning of Washington on August 24, 1814. The engravings were done by William Strickland. The British marched on Washington and attacked...
This is an excellent view of the White House's South Portico. Make sure you click on the image for a much larger version. Source: Library of Congress
Here's a photo we dug up at the Library of Congress, and it's labeled as 1944 during the Easter Monday egg roll. Source: Library of Congress
Times sure were different. You're never going to see something like this again, but at the time, the White House was fairly accessible. The photo below was taken in 1938 and shows two young girls playing...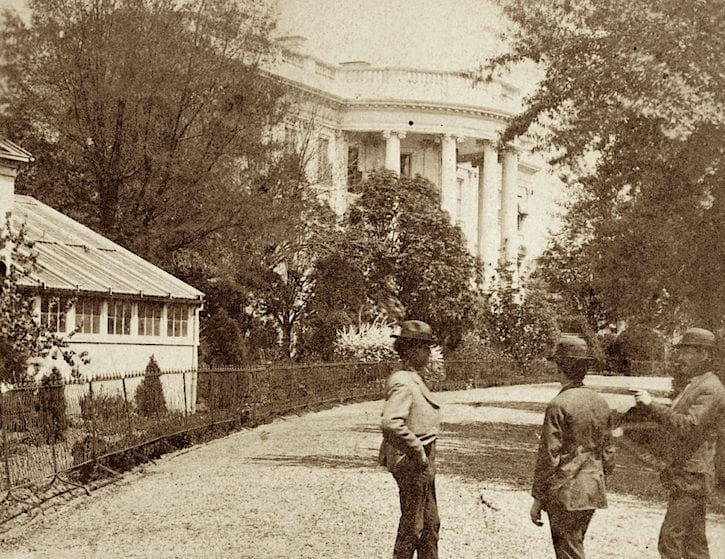 How cool is this old photo? Check out the White House as it looked in the late 19th century. It appears to be a view of a much more tree-laden southern view of the mansion. Source:...