Look at this photo from 1910. It's amazing. That's the Executive Office Building on the left and the West Wing on the right … and an airplane landing between them. Claude Grahame-White is about to land his small Farman biplane on West Executive Avenue, right next to the West Wing to pay a quick visit to some top military brass.
Not only is this amazing, it is exceedingly dangerous. I'm shocked that he didn't crash and kill himself.
In the early 20th century, he was one of the preeminent aviation experts, not to mention a daredevil with no fear of death. He was also the first pilot to conduct a flight at night.
Claude was landing near the White House to visit officers in the State, War and Navy building. The plan had only been hatched only a couple hours earlier when General Robert S. Oliver had been notified by telephone that the pilot intended to depart from the airfield three miles away in Benning for a quick visit. Upon arrival, several high-ranking officers applauded his feat, took him to lunch up the street at the Metropolitan Club and sent him back on his way an hour later.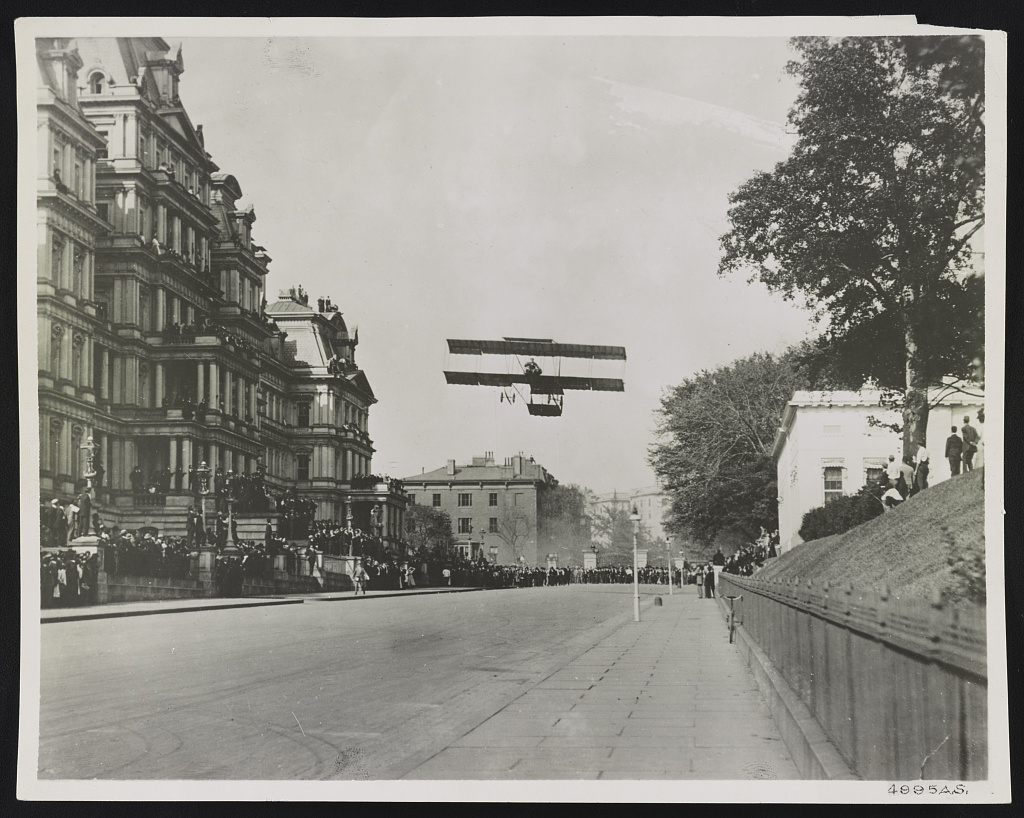 Below is part of what was reported in the Washington Post the following day.
The most remarkable and daring landing ever made from such a height by an aviator, either native or foreign, marked the record of Claude Grahame-White, the young English aeronaut, who yesterday morning flew from his headquarters at Benning across the city, circle the Washington Monument at a height of 500 feet above its top, and alighted in Executive avenue at the very gates of the White House.

…

Mr. Harmon and Mr. Macdonald stood in the street below, waving red and white flags, notifying the airman that he was to land where they stood. His machine dipped until it came within 400 feet of the ground. The motor was silences, and Mr. Grahame-White then undertook the glide which never before has been successfully carried out under similar conditions, from such a height.

The machine shot earthward at a safe angle, and landed in the middle of the narrow street. It struck the asphalt. As it did so, the aviator turned its nose upward, and it flew over the smooth surface, two feet in air, for a short distance. He then turned it to the ground, and the momentum carried it a few feet, when it was brought to a standstill, and the driver alighted.
This was a truly remarkable feat, a little over 10 years after the birth of aviation; witnessing this was similar to watching the first rockets blast into space. Those present, stood in awe and applauded.