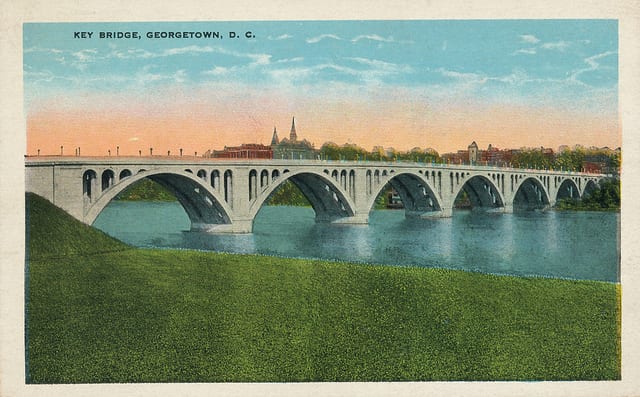 You probably don't believe that headline, but it indeed happened back in 1956. On August 29th, The Washington Post reported that a woman from Fairfax gave birth to a healthy baby while en route to the hospital....
What an incredible approach and entrance to Key Bridge. This was a proposed design for the approach and massive entry to Key Bridge from 1928. This is a fascinating piece of architecture that was never built....
This is something that would bring everything to halt on Key Bridge, and probably all of Rosslyn and Georgetown. Twitter would be blowing up and there would be tons of Instagram photos. Below is an amusing...
Hello GoDCers! Thursday is coming to a close, and tomorrow is Friday. So that's great news. To celebrate, we're sharing a great afternoon photo with you. This is a great photo that we dug up on Flickr....
Here's a great shot that we found on Flickr. It's the boat club just above Aqueduct Bridge (or where Key Bridge is today). Source: D.C. Public Library
Here is a cool old photo of the Potomac Boat Club in 1921, standing in front of, what will soon become, the Key Bridge. Looks like the guy on the right is in dire need of...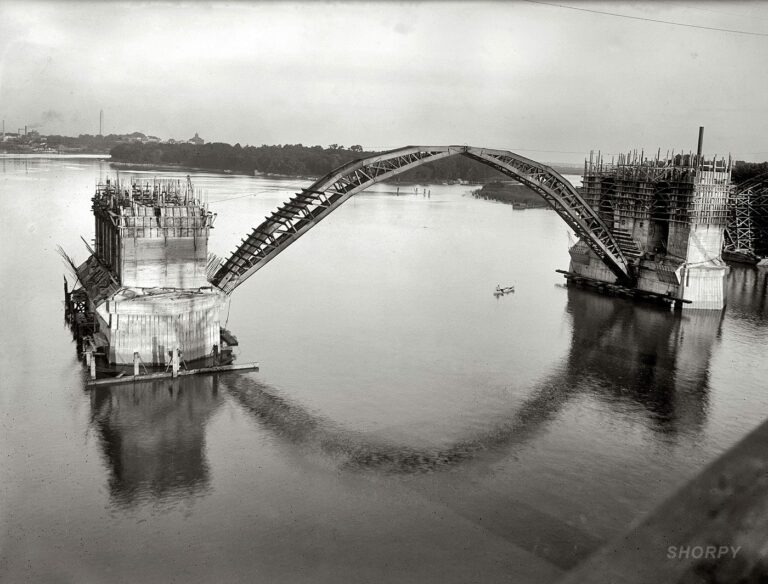 Key Bridge was being built between Georgetown and Rosslyn. Construction started in 1917 and completed in 1923. Below is a shot from Georgetown looking towards the Washington Monument, which you can see in the distance.
A beauty queen hero emerged on the banks of the Potomac, one summer day in 1924. Below is an article from the Washington Post, published on June 2nd, 1924. Miss Leoma Davis, winner of several Washington...
Check this out. This is an interesting find. It's a simplified driving map of the city for tourists trying to get around the popular sites and attractions. Click on the map for greater detail. You'll notice...