I took a tour of the Dupont Underground yesterday, and I have to say, it's amazing. It's like to step back into 1955. If you haven't done it, you really should.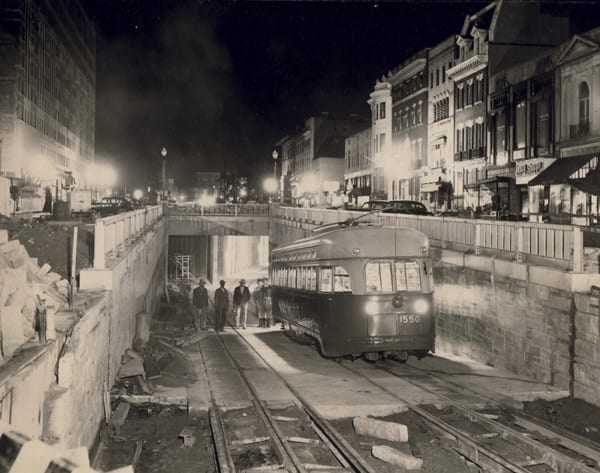 You may or may not know this, but the road that goes under Dupont Circle (i.e., Connecticut Avenue) wasn't initially built only for cars. It was proposed and built in the late 1940s, in the heyday of our streetcar system. There was an additional entrance before the car ramp for streetcars to enter the Dupont Underground station.
Traffic was out of control in the circle and something had to be done to remedy that. Cars would go counter clockwise and streetcars would go clockwise (WTF? Who thought that was a good idea?). An underground station had been proposed for many years but for various reasons (e.g., World War II), it was postponed. Finally, in 1948 the project was green lit and construction began.
Below is an article I dug up in the Washington Post from the beginning of the construction project. This was published on March 12th, 1948 to announce the new traffic patterns around the circle, which would wreak havoc on the local businesses (ending up in numerous lawsuits for lost revenue).
Dupont Circle will be closed to through traffic for a year starting Monday. Capt. H. C. Whitehurst, District director of highways, said last night.

The District Department of Vehicles and traffic announced simultaneously that vehicles entering the quadrangle bounded by N. R. 18th and 20th sts. nw. starting 9:30 a. m. Monday will proceed in a counter-clockwise path around the area.

Capital Transit Co. Vehicles also will be rerouted as the construction phase of the three-million-dollar underpass projects gets underway. Upon completion, expected in 1950, all Connecticut ave. auto traffic will pass through an underground tube at the circle's center, while streetcars will be routed through tunnels under the circle's outer edge.

Motorists will be permitted to enter the quadrangle only to reach residences or business places within the area. Traffic will be rerouted periodically as construction progresses and announced in the newspapers, the Motor Vehicle Department announced. Other regulations are:

North and northeast bound traffic will be detoured via 18th st., which will be one-way northbound.

Westbound traffic will be sent down R st., which will be one-way westbound.

South and southeastbound traffic will be detoured via 20th st., which will be one-way southbound.

Eastbound traffic will be sent down N St., which will be one-way eastbound.

L St. will remain open to one-way eastbound traffic.
What a nightmare. Think it sucks now? Check out the map below.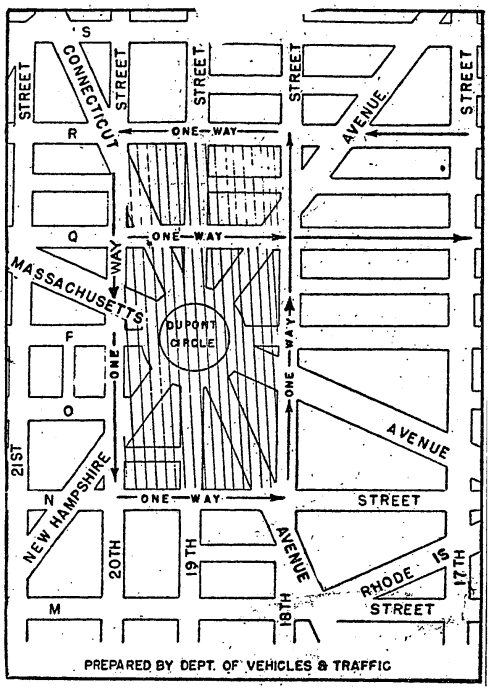 This will likely be the first of a handful of Dupont Underground posts, given both the mystique of the place as well as the importance of drawing attention to a very underutilized property ready for repurposing. Check out the ambitious project pushing to reuse the space, like them on Facebook and follow them on Twitter.
More importantly, sign up for a tour. You won't regret it.