Okay, this isn't a true "This Day in History," but since I'm such a Back to the Future fan boy, I thought it would be interesting to see what was happening in D.C. on November 5th, 1955 — the date Marty arrives back in Hill Valley, after the Libyans kill Doc Brown (1.21 gigawatts!).
I'll dig through the old Washington Post from that day and see what interesting (or banal) stories I can find from our city.
By the way, November 5th, 1955 was a Saturday.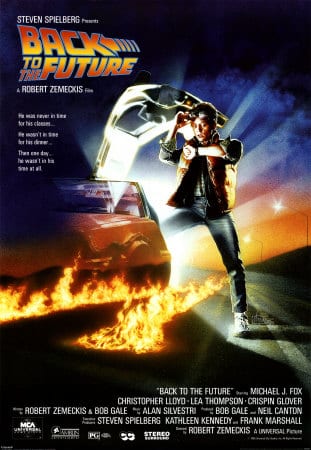 Wife kills husband's mistress
Katherine Ann Haynes lost her bid to the Supreme Court, pleading for her freedom. She was locked up at St. Elizabeths due to her being found not guilty of killing her husband's mistress by reason of insanity.
Katherine, a mother of four children, had been committed to the hospital a little over a week ago and was appealing to Chief Justice Earl Warren with a plea for bail. This was mandatory under new District law, providing immediate hospitalization for people who plead insanity as their defense.
The CIA needs a new home
Allen Dulles, the Director of the Central Intelligence Agency was pushing to get the Agency prime real estate on the shores of the upper Potomac near Langley, Virginia for a sprawling campus. A front page article mentions his drive to move his 10,000 employees to a large, consolidated property outside of the District.
In a plea to the National Capital Planning Commission and the National Capital Regional Planning Council for approval of the site for the new CIA offices, Dulles said he regarded it as a chance "to pioneer" in creating better conditions for Federal employes.

He backed his controversial big for the tract, which has sharply divided residents of the area, with a report prepared for the Agency by Gilmore D. Clarke, New York engineer and landscape architect, formerly Chairman of the Commission of Fine Arts.

Clarke's report said both the Langley tract and CIA's second choice, the Winkler property on Shirley Highway in Alexandria, met the Agency's "established criteria."
Fascinating … all those references to "Langley" could be "Winkler" instead. That just gives me an image of The Fonz.
Today on Radio WTOP
You will be happy to know that some things don't change. In 1955, WTOP was on 1500 AM, just like 2012. And Saturday morning, Robert Q. Lewis had his program on at 11:05. He was a popular comedian, broadcaster and actor at the time.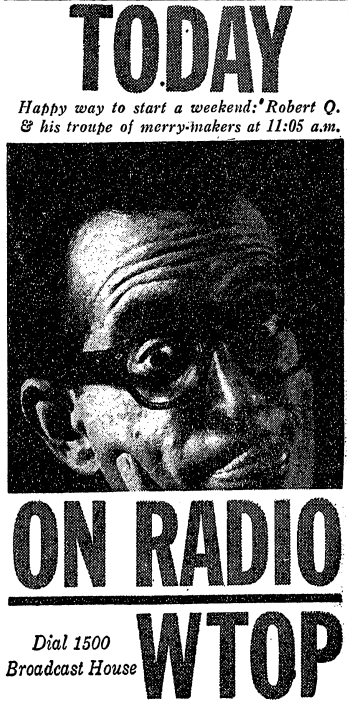 Clark Griffith leaves bulk of team to widow
The owner of the Washington Senators, Clark Griffith, recently passed away, on October 27th. To will was read to the Griffith family on November 4th and was reported in the Washington Post the following day.
The will of the late Clark Griffith, president of the Washington Nationals, was read to the family yesterday and the bulk of his 4432 shares of stock was left to his widow, Mrs. Anne Robertson Griffith.

At the same time, the 85-year-old baseball executive, who died on Oct. 27, left $13,000 in cash bequests to friends and relatives.

Mrs. Griffith received an outright bequest of 1500 shares "absolutely," while Griffith's three nephews, Sherry, William and James Robertson, received 50 each.
Terps play at LSU; Navy football plays Duke
The local sports of the day had number one ranked (yes, number one) Maryland playing LSU in front of 28,000 hometown fans and a favorite to win by 19 points. They ended up winning 13-0. Number nine Navy was facing Duke in Baltimore, favored to win by 10.5 points. The game ended in a 7-7 tie.
A bridge to Virginia
You guessed it … Roosevelt Bridge between Virginia and the District was front page news that day. The route for a bridge was highly contested as many were concerned the flow of traffic would flood the area just south of the White House with too much traffic.
…after a long and heated discussion about whether the District Highway Department is trying to make E st. nw. a major artery from the Potomac to the business district east of the White House, the Commission approved the bridge plans and left E st. to be debated again later.

…

Bartholomew objected strongly three years ago to the District's proposal at that time for a new Potomac bridge that would have led directly into E st., which passes next to the White House lawn. The Planning Commission killed those plans, and the Roosevelt bridge, authorized by Congress last year, was the alternative.
Harland Bartholomew was the Planning Commission Chairman and without his strong objections, we might have a bridge that runs right through the middle of Roosevelt Island, dumping traffic straight onto E St. instead of the current Constitution Ave., and given that E St. is now blocked off by Secret Service, that would be a giant traffic nightmare. Oh how things would be different in this city.
The late show at 11:30 p.m.
Here is a moderately recognizable movie title. The man himself, James Dean, in one of the most famous movies of all time (remember when people thought Luke Perry was the new James Dean?).
Rebel Without a Cause was released in late October of 1955 and was playing at both the Metropolitan and Ambassador theaters in CinemaScope WarnerColor (ultra high-tech at the time).
It was in its second week of release and was extremely popular, especially with teenage girls swooning over James Dean.
And that, ladies and gentlemen, is what happened in Washington when Michael J. Fox (aka, Marty McFly) jumped in the DeLorean and headed back to November 5th, 1955.