Congratulations to the latest #GoDCIWCT poll winner. A well-deserved victory for our most successful Twitter campaigner yet. Those retweets really helped! Okay, on with the show … Shane and Claude, hopefully you'll enjoy this. By the way GoDCers, do you know why it's named Hank's? Hank is the name of the owner Jamie Leeds' father.
We're going to look into the history behind Hank's Oyster Bar's Old Town location at 1026 King St. Given the deep history of Alexandria, we suspect there will be no shortage of stories from that location.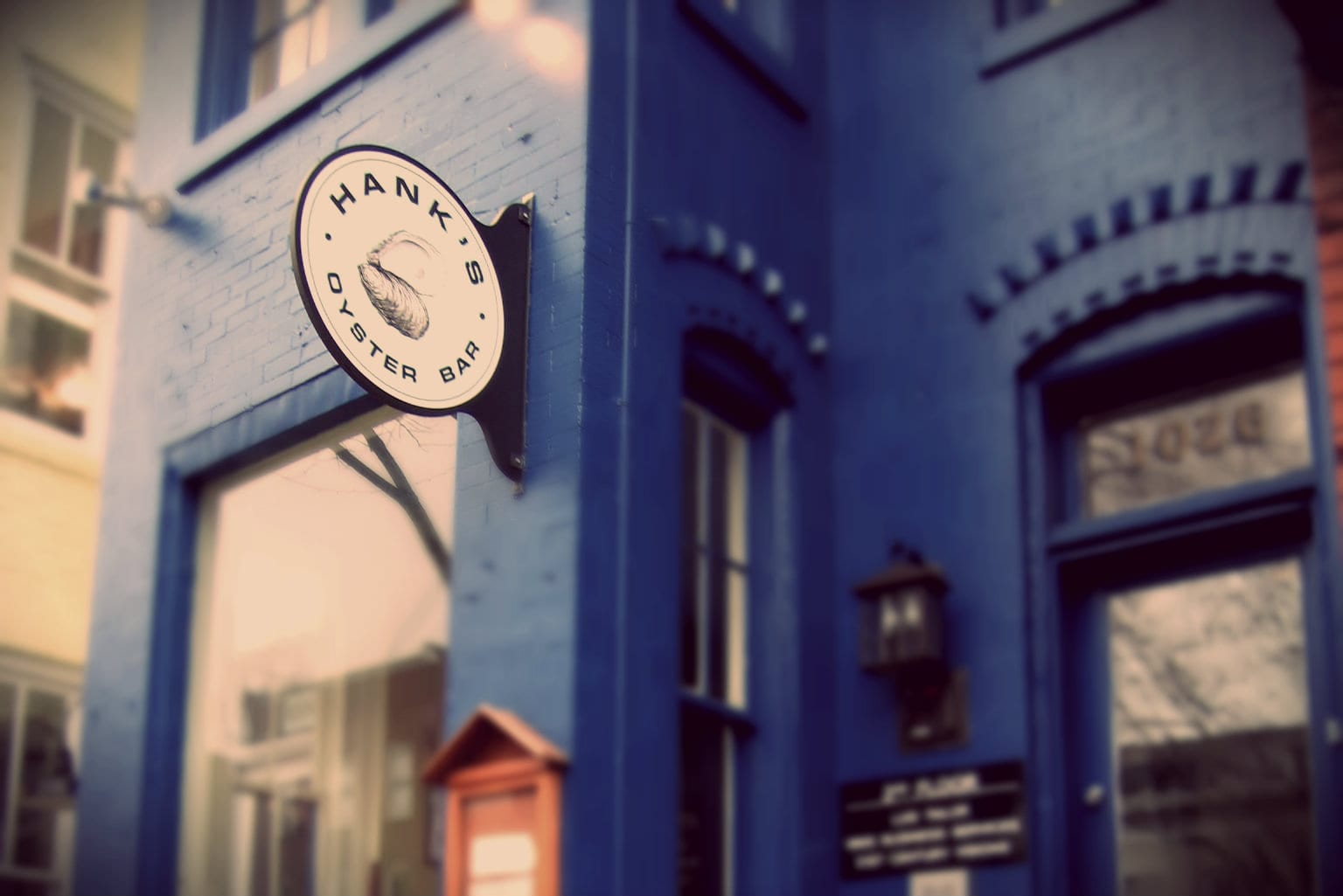 One new press brick building for rent
We didn't find the tax record for 1026 King St., but the buildings around it were built between 1880 and 1900. And, the first mention of 1026 King St. was in the Alexandria Gazette from August 7th, 1894. In it is an rental advertisement for 1026 King street, with "all modern improvements." Below is the listing in the newspaper.
We dug around for information on the landlord J.A. Marshall, and this is what we found. It looks like J.A. Marshall & Brothers was a store located at 422 King St., which no longer appears to be there. J.A. Marshall had a number of advertisements in the papers for shoes in the early 1900s. So, our guess is that it was a shoe store and the company also dabbled in local real estate.
We also dug up an obituary for John A. Marshall from May 4th, 1913.
John A. Marshall, senior member of the firm of J. A. Marshall & Bros., show dealers; vice president of the Alexandria National Bank, and Prominent in many other business enterprises in Alexandria and throughout northern Virginia, died suddenly in the store, 422 King street, at 11 o'clock yesterday morning. He is survived by his wife, his brother and business partner, Councilman Charles B. Marshall, and four daughters–Mrs. Mary A Pease, wife of Dr. Theodore Norman Pease, of Philadelphia; Mrs. India Hagerty, wife of Cornelius Haggerty, of Philadelphia; Mrs. Inez Cook, wife of B. F. Cook, of New York, and Miss Daisy Marshall, of this city.

Mr. Marshall was born in Prince William county 64 years ago. About 40 years ago he opened a general merchandise store in this city, which he later disposed of to engage in the shoe business. A large dealer in timber lands, railway ties, and other properties, he was also considered one of the largest owners of real estate in this city and section.

Mr. Marshall was an active Democrat, though he never held office. He was a member of Alexandria Lodge No. 758, B. P. O. Elks, and a number of business organizations.
So there you have it. Shoe dealer and real estate man.
The location was again (or maybe still) for rent, listed in the Alexandria Gazette, July 12th, 1895. A few more rental advertisements went in the papers until July 16th.
Back on the market
It was back on the market on June 10th, 1898, listed in the Alexandria Gazette and Virginia Advertiser.


It was listed again the next day, then it disappeared from the classifieds. It looks like Mr. Marshall found the tenant he wanted.
Death of a railroad engineer
The building resurfaces in the papers five years later on New Year's Eve. The Thursday, December 31st, 1903 edition of The Evening Star had a story from their Alexandria bureau located at 701 King St. Below is the story.
Mr. John A. Spencer died at an early hour this morning, after a brief illness from acute Bright's disease, at his home, 1026 King street. In point of service Mr. Spencer was one of the oldest and most efficient engineers in the employ of the Southern Railroad Company. He was frequently selected for work of particular importance, such as the designation to run the engine drawing the train of the President of the United States. It is stated that his skillful management of a certain fast mail train secured for his road a contract for special mails to the far south. Mr. Spencer was fifty-nine years of age. He had been apparently in good health up to a few weeks ago. A widow and one son, Mr. Freeman Spencer of Norfolk, Va., survive him. The arrangements for the funeral will be completed later.
Common for that time period, Spencer's funeral took place in the house on King St. that Saturday afternoon at 2 o'clock. Reverend J. P. Stump presided after which, John was buried at Union cemetery.
Bright's disease is today known as either chronic or acute nephritis (GoDCers who are doctors, please feel free to correct me). Emily Dickinson, Teddy Roosevelt's first wife, Alice Hathaway Lee Roosevelt, and President Chester Arthur are some famous people who had Bright's Disease. Both Dickinson and Roosevelt died from the disease.
Spencer was listed as living at 1026 King St. in the 1900, 1901, and 1902 Alexandria city directories. So, it's possible that he was the one who replied to the 1898 J.A. Marshall advertisement above.
In the 1900 U.S. Census, he was listed with his wife Emma, who I'm guessing was a second wife, because he was 53 and she was 28. They were married in 1897.
His neighbor in 1024, Julian Fogg was a horseshoer by trade, and Mr. Garwood in 1022 was the manager at a local distillery.
I'm told by some of the staff at Hank's that the place might have an extra permanent resident. Is John Spencer still in the house over 110 years later? Why don't you ask your bartender or server the next time you head over.
Real estate purchases
Courtland H. Davis, Carl Budwesky, and Eliza Fair purchased the buildings at 1020, 1022, 1024, and 1026 King St. according to an article in The Washington Times, printed on April 24th, 1921. Fair and Davis also purchased 1028 King St.
There's a big gap in the documented history of the building through the 1930s and 1940s, as there was no mention of the address at all in the newspapers. Maybe an uneventful history?
Davis and Budwesky were partners in a local law firm. Courtland lived at 121 S. Royal St, according to the 1928 city directory. And, the law firm of Moncure, Davis & Budwesky operated out of the building. It looks like that house now has a jewelry store in it.
Sucker punch robbery
We came across a short piece in The Washington Post from November 7th, 1957 about a robbery on King St. James E. Mills, Jr., who lived at 1933 Duke St. was violently and suddenly punched while exiting the cafe at 911 King St. Mr. Mills was employed by Des Mar Ceramics, Inc., located at 1026 King St. Unfortunately, he was sucker punched, and didn't see his assailants.
Divorce for $150
What a bargain! You can get yourself a divorce for just $150 according to this advertisement from 1977. You can also sue for injury at just 15% of your settlement. I'm not sure if Mr. Flick wrote a book, but there's one for available on Amazon. Maybe the same guy? Anybody remember a Robert Flick who was an attorney?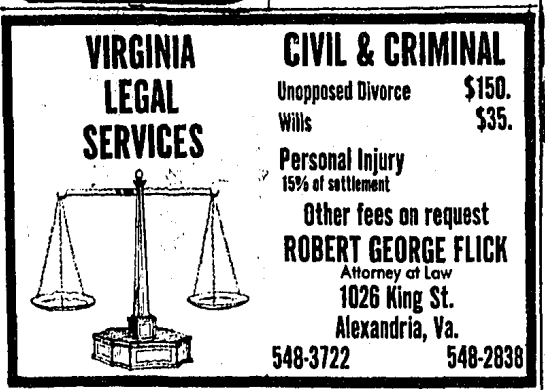 Antiques, copper, and local art
We came across an article in The Washington Post from March 15th, 1979 mentioning an antiques store, run by Dorothy Vann, on the first floor of the building. She opened up the store in October 1978. The upstairs housed Interior Accents, owned by Sidney M. Bailey. They sold copper, brass, and art done by locals. Mr. Bailey had worked on Capitol Hill for a while prior to opening the store, but said he finally was "doing what [he] always wanted to to."
By the way, March 1979 was a big month for history, because 10 days later on the 25th, the first space shuttle, Columbia, was delivered to the Kennedy Space Center. The following day, on the 26th, Egypt's Anwar Sadat and Menachem Begin signed the Egypt-Israel Peace Treaty in front of Jimmy Carter at the White House. This was following the 1978 Camp David Peace Accords.

In 1984, the location still housed an antiques shop, but under the name Diamond Jim's Antiques.
I wasn't able to dig up any old ads or mentions of the building from the 1990s, so maybe local Alexandrians can fill in some of those gaps.
Finally, the latest chapter of the building began with the opening of Hank's Oyster Bar in September of 2007, bringing the popular Dupont Circle establishment down to Old Town.