Rosslyn and Arlington weren't always great places to be, especially in the late 19th and early 20th century. Many parts were quite bleak, and worse, extremely dangerous.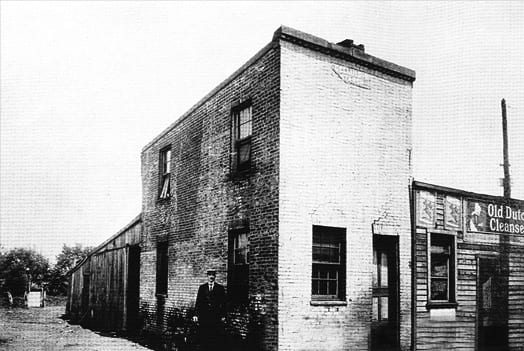 There once was a place called Dead Man's Hollow, a short distance from Rosslyn, just up Lee Highway. It was notorious for murders, suicides, and frequent robberies … not the place you wanted to be, especially at night.
Unfortunately for many Virginia farmers, you had to pass through Dead Man's Hollow on your way back from selling your goods in D.C. It was so bad, that frequently, they would be accompanied by armed guards to protect the large amount of cash they received for their wares. Below is an article about a recent incident at Dead Man's Hollow. This was printed in The Washington Post  on July 25th, 1906.
… Fred Miles, colored, thirty-two years old, of Halls Hill, Va., was killed by being struck on the head with a rock, breaking his neck. His body was found early yesterday morning by a passer-by, who notified Deputy Sheriff Collins, of Alexandria County. The body was taken to the morgue, where an inquest will be held to-day. Yesterday afternoon, on evidence furnished by Prosecuting Attorney Mackey, William Tenner, colored, thirty-five years old, of Georgetown, and Bernard Evans, also colored, thirty-three years old, of Halls Hill, Va., were arrested on suspicion of being connected with the death of Miles. They were taken to the Alexandria County jail, where they will be held pending the result of the inquest. According to Attorney Mackey, Tenner and Evans were the last persons seen with Miles on Monday night. The three men were seen near the brewery, at Rosslyn, fighting, when Mackey rode by, shortly after 7 o'clock. They stopped when they saw him and pretended they were fooling. Later they dispersed. That was the last time Miles was seen alive. Tenner and Evans deny all knowledge of the crime. They say they were not in the vicinity of the Hollow after dark.
By the way, Hall's Hill is now known as High View Park, and it is one of Arlington's historic African-American neighborhoods.
The piece continues by sharing the dark history of Dead Man's Hollow.
Dead Man's Hollow, where the crime was committed, has in the last fifteen years been the scene of more bloody affairs than any other spot in Alexandria County. Ensconced between two high hills on the Falls Church turnpike, on the main road to Fairfax Court House, it presents a forbidding appearance to the wayfarer after dark. The hills, rising from the road, are covered by deep gloomy woods, and rank vegetation that shut off all light of the sun in the day and the moon and stars at night. The name originated fifteen years ago when a man named Cunningham was found on an October morning lying in the heart of the hollow with his throat cut from ear to ear. Cunningham had been to Rosslyn the night before and stayed late. He was known to have considerable money in his pockets, and it is supposed he was followed and, after being murdered, robbed of his valuables. … Robberies innumerable have taken place in the Hollow. Eight years ago, William McClure, a wealthy citizen of Halls Hill, while riding through late at night, was held up by unidentified colored men, and after being shot twice in the right side, was robbed of $100. McClure had been to a lumber yard in Washington to pay a bill, and while there flashed a large sum of money. He was followed and held up. Two years ago, a colored girl, a servant in the family of Prosecuting Attorney Mackey, was accosted in the Hollow when returning to her employer's residence late at night, and stabbed eighteen times by a colored man. She was left for dead, but revived several hours after being stabbed. Staggering to Mr. Mackey's, she told her story. Mackey, mounting his horse, went to the scene and caught the colored man before he had time to escape. He was identified and sentenced to two years in the penitentiary.
So, the next time you're heading west out of Rosslyn on Lee Highway, think about how lucky you are that you're not walking 100 years ago, heading down that hill near Spout Run, near the shopping center. Back then, it might have been your last trip.