Nestled in the heart of Georgetown at 1335 Wisconsin Ave. NW, Washington, D.C., Au Pied de Cochon was more than just a restaurant; it was a cherished cultural landmark. Operating from 1976 to 2004, it played a pivotal role in the city's history, attracting everyone from locals to celebrities and covert agents.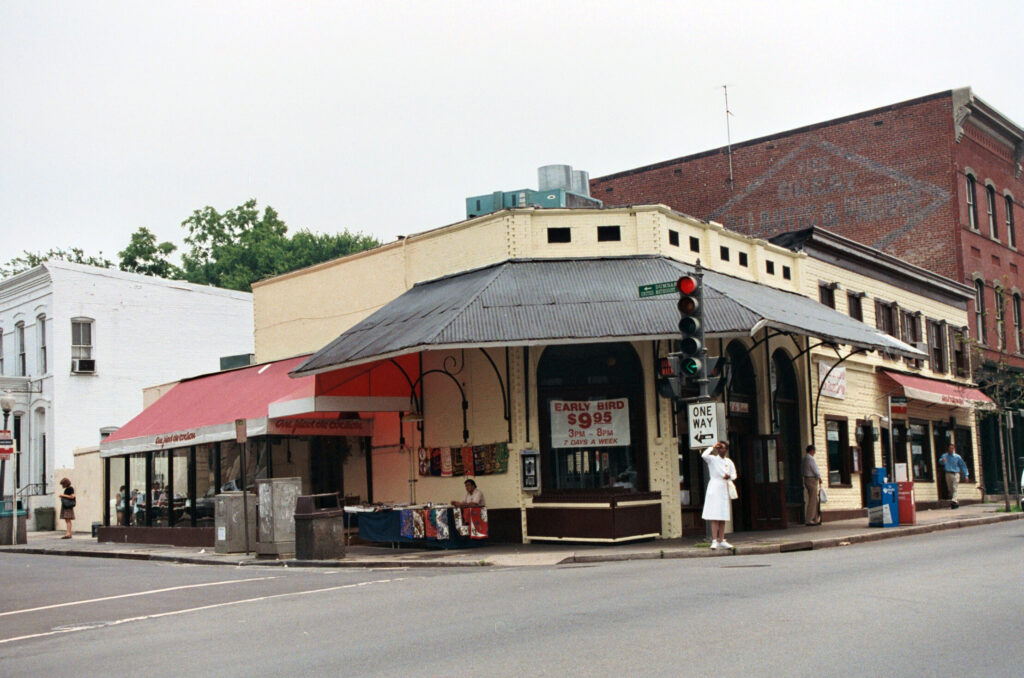 The restaurant's beginning can be traced back to its founders who were driven by a passion for authentic French cuisine. Over the years, Au Pied de Cochon became known for its greasy French offerings, charming ambiance, and an ever-vibrant atmosphere, especially during the late hours. Yves Courbois, the man behind this establishment, had his fair share of ups and downs running it. From facing financial challenges, dealing with partnerships gone awry, to even navigating issues with the IRS, Yves' journey epitomizes the challenges and rewards of the restaurant business.
Beyond the delicious food and drink, Au Pied de Cochon was also a place where history was made. Perhaps the most riveting of its tales is the story of Vitaly Yurchencko, a KGB operative. In a dramatic turn of events in 1985, Yurchencko defected, only to un-defect later, with Au Pied de Cochon playing a crucial role in this Cold War espionage saga. The restaurant even capitalized on this episode, introducing the "Yurchenko Shooter" to its bar menu.
Over the decades, Au Pied de Cochon underwent multiple changes, faced challenges, and adapted. However, its essence remained unchanged. It was a place where stories were made, where history was witnessed, and where the spirit of Georgetown came alive every night.
While the restaurant no longer exists, having made way for new establishments in the ever-evolving cityscape, the memories, stories, and legacy of Au Pied de Cochon remain etched in the hearts of many Washingtonians. For those who remember, it serves as a nostalgic reminder of times gone by, and for the new generation, it's a tale worth knowing.
Today, as you walk by 1335 Wisconsin Ave. NW, take a moment to remember the iconic Au Pied de Cochon — a testament to D.C.'s rich culinary and cultural tapestry.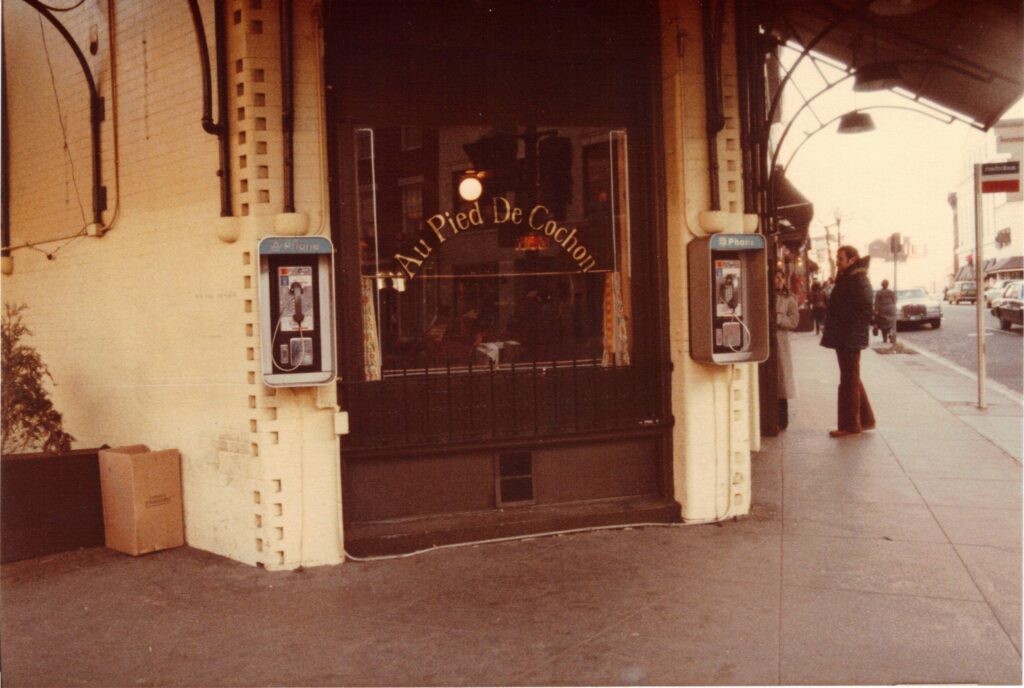 Au Pied de Cochon's Culinary Journey (1976-2004)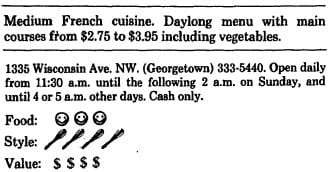 It was a sad day for Georgetown and all of Washington when Yves Courbois closed the doors to his restaurant for good in 2004. The greasy french restaurant was a mainstay at Wisconsin and Dumbarton St. NW for nearly three decades.
It opened in 1976 to some positive reviews by the Washington Post. Yves also started two more establishments nearby, Aux Fruits de Mer and Au Croissant Chaud, much to the delight of Georgetown's Francophiles.
Below is an excerpt from Donald Dresden's review in the June 6th, 1976 Washington Post titled "Au Pied de Cochon: Sturdy bourgeois food at practically any hour."
The "foot of the pig" is the kind of place where one comes for a snack or a full meal in unpretentious informal surroundings at hours that run almost around the clock. One of the owners/operators said recently, "This is a place where people come to eat, not dine." It's really a neighborhood restaurant that is trying, and succeeding, in being just that and nothing more.

The premises were one of Georgetown's old-fashioned bars that had changed hardly at all over several decades. The Cochon's owners have done the place over with informality, polished up the bar and put in tables with artificial marble tops, much in the style of a French brasserie.
I'm terribly sad to say that, even in my ten plus years in the District, I never dined at Au Pied de Cochon. It's a total bummer that I never experienced this place, as I'm sure a number of the Georgetown or Glover Park readers have.
By the way, interesting side note, Yves Courbois was born in Hanoi, in what was then, colonial French Indochina (i.e., Vietnam) and came to the U.S. in 1960, beginning his D.C. restaurant career by washing dishes at The Monocle — which opened in 1960 — on Capitol Hill. That's a pretty cool story, in and of itself.
Business Challenges and Triumphs of Au Pied de Cochon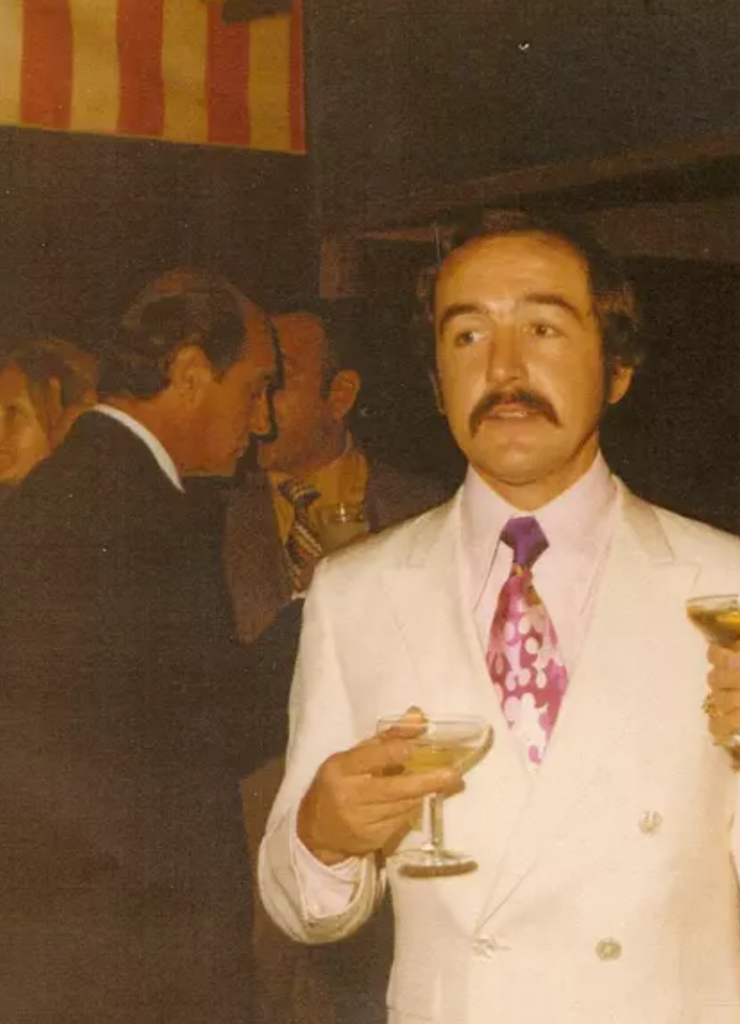 1984 was a bleak year for the restaurant as Courbois had to declare Chapter 11. According to a Post article that July, it was far more complicated than the restaurant being in financial dire straits. This was an issue of disputed ownership and feuding partners, long a problem of the restaurant (I don't know how it lasted almost 30 years).
Claire Smith, of Alexandria, dealt with all the finances for the restaurant (and two others owned by Yves). She had invested $500,000 in 1982 to become an even partner in the business, but Courbois claimed that he never received a cent. Leonard Sloan, the former attorney for Mr. Courbois, advised him to file bankruptcy in an attempt to force Smith out of the business. To make matters more confusing, Sloan claims he was legally entitled to the option of acquiring a 30 percent stake in the three restaurants … hence, the title of former attorney, due to a major disagreement over that fact with Courbois. At the end of this entangled mess, the three restaurants and Courbois survived. Yves remained the sole proprietor, but he learned a valuable lesson.
Courbois said he now runs the businesses from top to bottom, putting in 18-hour days, seven days a week. "I know every piece of bread sold." Now his wife counts the money, and all books are checked by an outside accounting firm.

"I don't want no more partners," Courbois said. "I just want good managers. I want to expand the bakery. Nothing is going to stop me."

"All my life, everything I got is in the companies," he said. "The most important thing has been to keep it going. The bread has to come out."
Now that is a dedicated restaurateur that endures through the hard times. This is a cautionary tale for any of you thinking about starting a restaurant, especially with partners. Proceed with caution.
Twelve years after his major financial and partnership snafu, he hit another little bump, this time with the United States Government. I dug up a small bit in the May 16th, 1996 Washington Post, which mentioned the IRS closing two Georgetown restaurants for back taxes dating back a decade. Ouch, that's not good.
Two French restaurants, Au Pied de Cochon and Maison de Crepes, were forced to close and begin selling off tangible assets to satisfy their debt. Well, clearly they addressed this problem because they were in operation for another eight years, but this was not the best of luck for Yves Courbois.
KGB Espionage Saga: The Au Pied de Cochon's Role in the Cold War
This is the most famous story that took place at the bistro, so you may already know it, but I still find it fascinating. It happened on November 2nd, 1985, towards the end of the Cold War. Here's the really brief summary …
On August 1st of that year, Vitaly Yurchencko, 49, slipped into the U.S. Embassy in Rome, asking to defect. He claimed to be frustrated with his stagnant life as a Russian spy, his failed relationships with his wife and son, not to mention that he had a Russian mistress living in Canada.
According to CIA reports, he was No. 2 in the KGB department overseeing spying in North America. He had actually already lived in Washington in the 1970s as the chief of security at the Soviet Embassy (i.e., the guy that prevents defections) and was a man-about-town known as "Vity" to the bartenders in posh downtown establishments.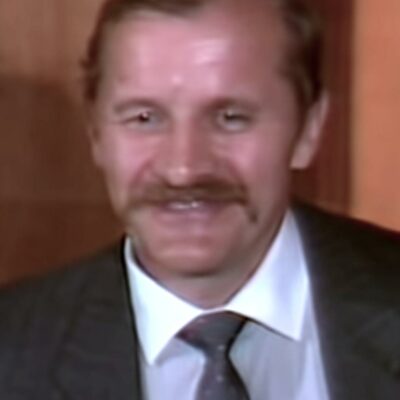 After defecting in Rome, he exposed a couple of CIA agents that were double agents working for the KGB. The Agency felt they had a valuable commodity in Yurchencko and persistently debriefed him to extract more information, activities that Vitaly claimed led to a deep depression and regret for his decision.
Later, in September of that year, the CIA assisted in reuniting him with his beloved in Canada, with the hopes of lifting his spirits. Unfortunately for Vitaly, the love was not mutual and she spurned him, which only deepened his depression.
By October, his security detail was far more relaxed and he was relatively free to go where he wanted in Washington. Below is how the Washington Post reported the details of November 2nd (disclaimer: this is how the Post guessed it went down).
… On Saturday, Nov. 2, Yurchenko was assigned a fairly new employe [sic], a young and inexperienced agent who agreed to take him to Au Pied de Cochon, a Georgetown brasserie, 1 1/2 miles from the Soviet compound on Tunlaw Road NW.

As they finished their dinner about 8 p.m., Yurchenko looked at the young agent, said he wanted to take a walk, and asked, "If I walk away, will you shoot me?"

Of course not, came the answer. This is America.

Perhaps out of fatherly feeling toward a young agent, perhaps out of anger at his debriefers, he parted with these words: "If I don't come back, don't blame yourself."

And with that, Yurchencko vanished.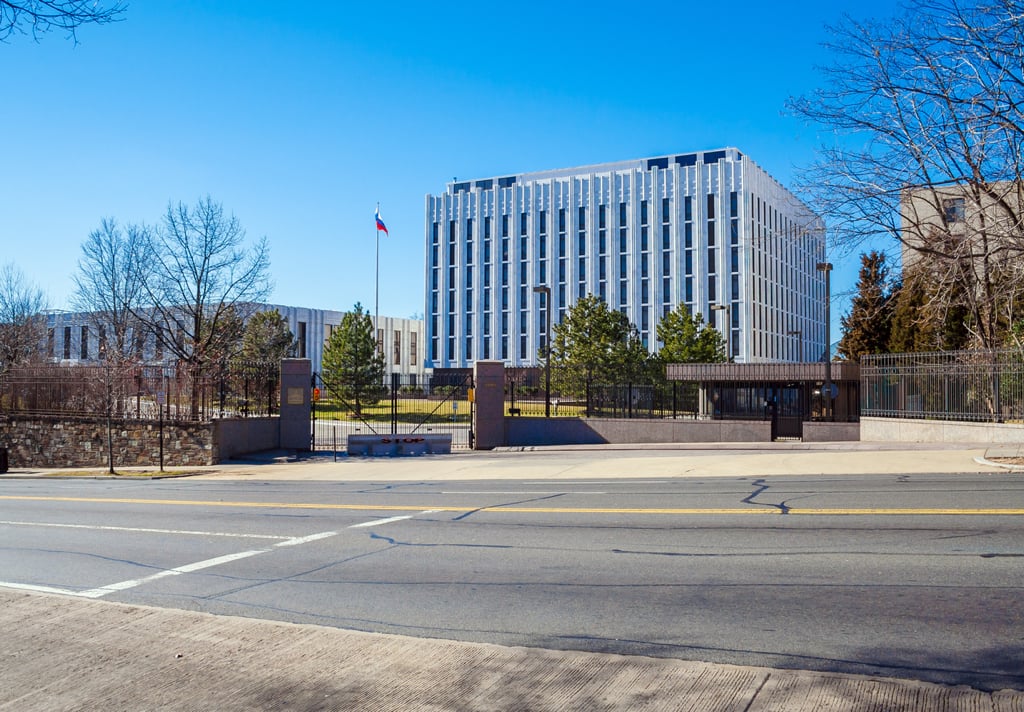 Now, the Post's story takes a bit of creative license and isn't the generally accepted version of events (although it is a little like Jason Bourne). It's believed that Vitaly asked to use the restroom and then crawled out the window, en route to defect back to the Soviet Union.
There's a second side to this story. Many claim that Vitaly was, in fact, a double agent himself, and his plan all along was to return to the Soviet Union.
The Soviets were desperate to jump ahead in the intelligence war and embarrass the CIA. There would be no better way to do that and shake their confidence by planting a fake defector in their hands, only to have him return. The double agents he turned in were no longer of use to the KGB, so they were collateral damage.
I don't know which story you think is true, but I'm inclined to believe the former. It may not have transpired exactly as the story proffered by the Post, but doesn't that make for great dinner table conversation?
Always one to spot an opportunity to monetize something, the restaurant added a new drink to the bar menu called the "Yurchenko Shooter," a combination of Stolichnaya vodka and Grand Marnier on the rocks. Gross, I'll pass.
Memorable Moments: From Fires to Mike Tyson's Visit
Just after Christmas in 1992 a fire severely damaged two of Courbois' restaurants. Below is an excerpt from the Post mentioning the upcoming reopening of the restaurants.
Two Georgetown restaurants damaged by a smoky fire on Sunday are to reopen soon, according to a spokeswoman for the businesses.

Aux Fruits de Mer, a seafood restaurant at 1329 Wisconsin Ave. NW, is to reopen tonight, and renovation of its sister business, Au Pied de Cochon, is expected to be finished by Inauguration Day, Jan. 20, the spokeswoman said.

Au Pied de Cochon, 1335 Wisconsin Ave. NW, which sustained the brunt of the damage from the fire, became a part of Cold War legend in 1985 when a high-ranking Soviet defector slipped away from his CIA escort during dinner and sought refuge in the Soviet Embassy compound. It also has become something of a local institution as one of the few restaurants in the city open 24 hours.

The fire started in a basement storage area. Fire officials said at the time that they believed it was caused by an electrical malfunction.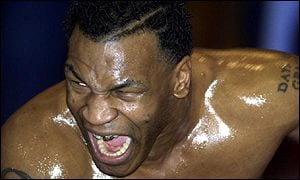 The gossip column of The Washington Post on March 11th, 1998 had an interesting paragraph on Mike Tyson. Two Baltimore women were suing him following an incident that transpired at the bistro.
Sherry Cole and Chevelle Butts, both 30, sued Tyson in Montgomery County alleging assault, battery, defamation and mental distress stemming from a predawn meal at Au Pied de Cochon. They say he propositioned one of them, cursed both of them and upended a table on them; Butts acknowledges throwing coffee on the Bethesda-based boxer after he swore at her.
What? The Champ needed to quickly get out of the way of scalding hot coffee, and in doing so, inadvertently flipped over the table. No big deal.
Farewell Au Pied de Cochon … much has happened inside your walls.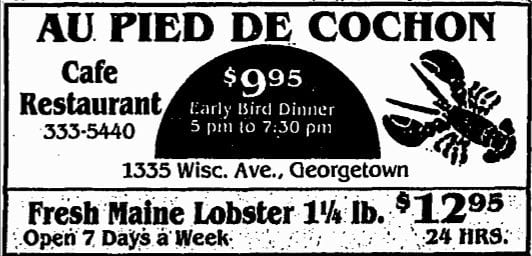 1335 Wisconsin Ave: The Pre-Au Pied de Cochon Era
The building had a fascinating history before too, and here are some of the interesting stories we dug up.
1912: Structural Repairs Building Permit
Back in November 1912, a mere building permit was issued to J. W. Bogley to repair the store and dwelling at 1335 Wisconsin Ave, costing just $175. A testament to the dramatic changes in value brought about by inflation over time.
1921: Kidwell's Thriving Butcher Market
By 1921, this address was bustling with activity, thanks to Frank Kidwell, a prominent butcher with 16 locations scattered across the city. One notable advertisement from this era showcases Kidwell's bustling market. However, not everything was smooth sailing. In October 1920, Kidwell faced a charge of "adulteration of lard" which resulted in a fine of $25. Despite this minor setback, his business seemed to thrive, evident from various promotions and advertisements.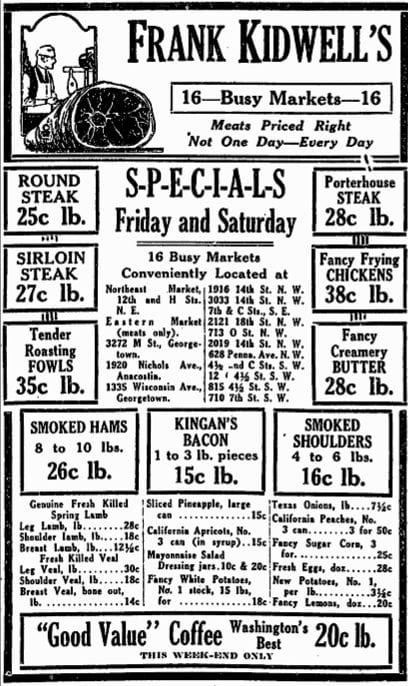 Below is a photo of one of his markets that I found on Shorpy.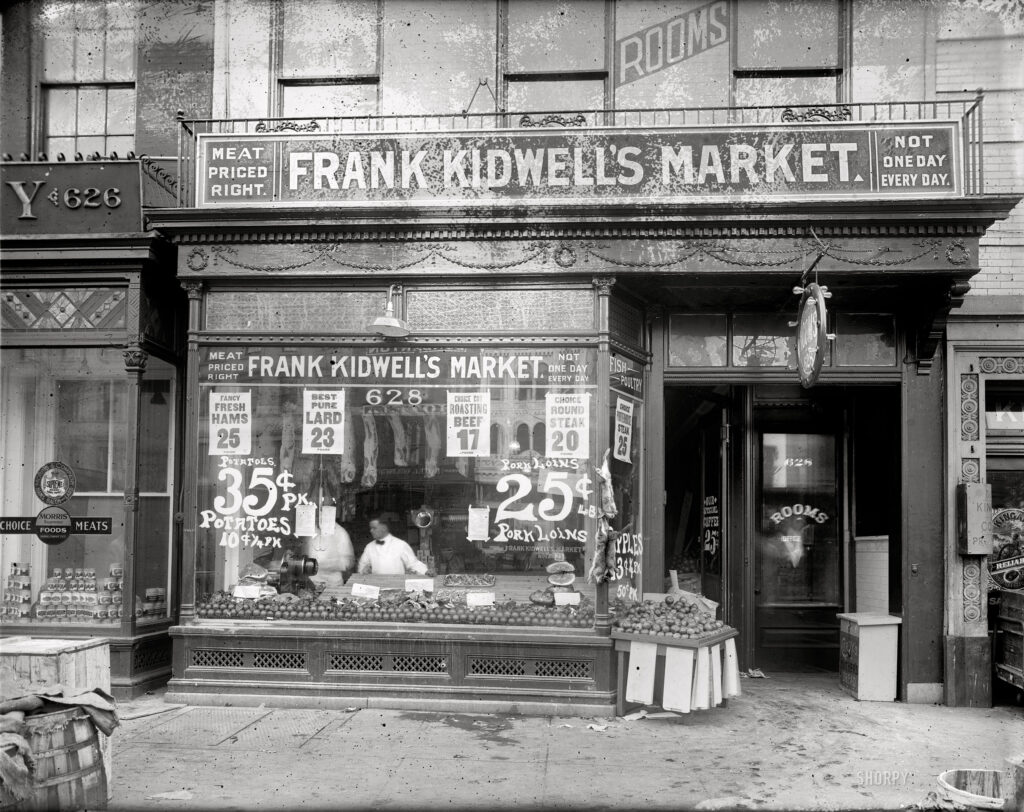 Lillian Payne's Tragic Tale: A Millinery Business and Deception
During the heyday of hats, Lillian Payne, originally from Maryland, ventured into the millinery business, opening a successful shop at our focal address. Tragically, after a brief illness, Lillian passed away. Prior to her demise, she had a rather unfortunate encounter in 1921 when she was swindled out of $5,000 by a man claiming to be James E. Lee. The sizable amount, enough to purchase a house in that era, was lost in a sham oil stock investment.
1933: Dr. Walter B. Guy's Streetcar Accident
In July 1933, the perils of the streets became evident when Dr. Walter B. Guy was hit by a truck after alighting from a streetcar. The truck, driven by James B. Gilbert, became yet another cautionary tale of the dangers lurking in the city's bustling streets.
1940: The Unique Call for Cats and The Show
A rather unusual ad caught the attention of many in 1940. "Wanted: 100 Cats" was the title, but it wasn't a call from a quirky cat enthusiast. Instead, it was an announcement by Columbian Cat Fanciers, Inc. for a cat show. Aspiring participants could make their entries at various local pet stores, including Atherton Pet Shop at our historical address.
The Inception and Legacy of Connors Grill
The building soon transitioned into Connors Grill, a local bar, and grill. Their claim to fame? Serving the Old Georgetown Premium Draft Beer, a local brew known as "the best glass of beer you ever tasted!" Their presence wasn't just limited to serving drinks; they even had their bowling team competing in the Independent League at Georgetown.
Thomas J. "Dutch" Connors, the driving force behind Connors Grill, had his fingers in multiple pies, with associations with the Golden Bull Restaurant and the Devonshire Grill. A lifelong D.C. resident, Connors' legacy lingered long after his passing in April 1970.
Last, we found a series of photos showing the building before 1976, called the William Marceron Building, part of the Historic American Buildings Survey at the Library of Congress.