James Brown performed "Say It Loud – I'm Black And I'm Proud" at Richard Nixon's 1969 inauguration.  Wait.  What?  Believe it.  The Godfather of Soul chose that particular song to celebrate the Republican president's transition to power.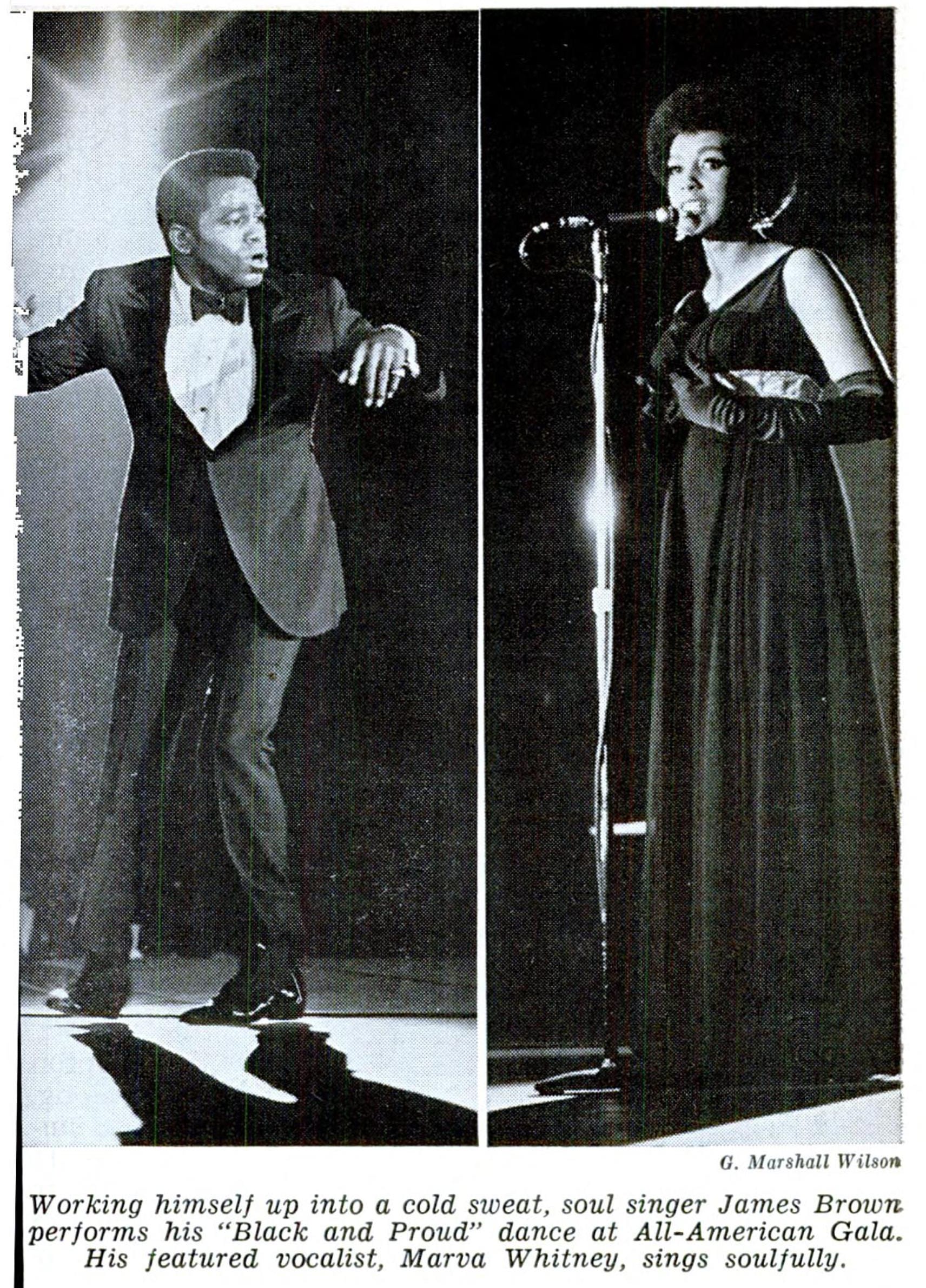 Confusingly, James Brown actually backed Democrat Hubert H. Humphrey during the 1968 campaign.  But when the victorious Nixon team called and offered him the inauguration gig, Brown canceled a Texas show and shipped his 20-person band to Washington.  Why?  
He explained to Jet magazine
before the show:
"I accepted because I want to give our new President a chance to bring the people of this nation together in every respect of our national life."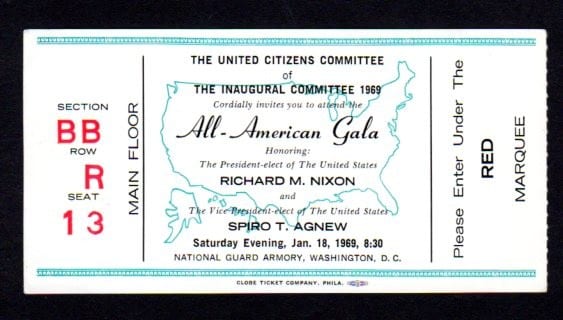 Brown appeared at the All-American Gala, an event at the National Guard Armory two days before the January 1969 swearing-in.  Tickets were priced between $10 and $100.  Tony Bennett, Dinah Shore, and Connie Francis were there too.  But Mr. and Mrs. Nixon didn't make it to the show.  The Secret Service held them in New York due to security concerns about the venue.  (A James Brown show just three months earlier at the Armory ended in late-night rioting and smashed windows.)
So how was Browns performance at Nixon's inaugural?  Here's a 
review from Jet
(2/6/1969):
…Soul Brother No. 1, James Brown, burst on stage saying it loud.  Every time the little dynamo commanded, "Say It Loud," a little, black cheering section to the left of stage center in the $100 seats jumped to its feet to answer back, "I'm black and I'm proud."  And pretty soon, even a few whites in the overwhelmingly white audience found themselves caught up in the unique Brown brand of musical hysteria, and they too, were saying they were black and they were proud.

After a break to allow Soul Sister Marva Whitney a chance for some national exposure at the mike, Soul Brother Brown rapped his nitty-gritty, where-it's-all-at groove until he was bathed in his own cold sweat and the awed audience was, again, limp.
And some in-depth coverage from the 
Baltimore
Afro-American (2/1/1969):
James Brown, with his many changes, music-wise, kept things lively for almost half an hour.  Dressed in a single button black tuxedo with velvet lapels and bell bottom legs with a red silk lining, he opened up with "I'm Black And I'm Proud."

After coaxing his audience several times, he persuaded many to respond to his familiar and popular song.  When he said, "Say It Loud," many responded faintly by saying, "I'm Black And I'm Proud."  And with a change of key, he belted out "Papa's Got A Brand New Bag" and "Please, Please, Please."

When he finished, many of the younger set rushed to the front of his stage to shake his hands and to get autographs.

By this time, Mr. Brown had removed his jacket and stood blowing kisses to the audience in his shirt sleeves.  He had a neatly trimmed bush hair cut.

Sparkling gold cuff links, a gold watch and a sparkling ring on the little finger all glowed as he stood with outstretched hands … seemingly elated over his reception.

Shining as though machine polished, were his black pilgrim type dress shoes.  Truly, the James Brown who campaigned for the Democratic ticket and played for the incoming Republican President, was a star performer.
Basically, James Brown was one of the few highlights of a mostly not-very-good show.  The Post applauded Brown but offered this overall assessment of other performers (1/20/1969):
The kind of excitement such stars generate in the presence of the man who is about to take the oath of our highest office was distinctly lacking in this unexciting event.
Oh well.
James Brown At Later Inaugurations
Time passed and James Brown supported Richard Nixon's reelection in 1972.  Democrats weren't pleased by his endorsement and Brown was hit with a boycott sizable enough to impact his record sales and touring income.  His popularity hurt, Soul Brother No. 1 removed himself from the program at Nixon's second inauguration.  Brown was scheduled to perform at a Youth Concert — but he bailed.
In a 1980 interview with the Post, it was noted that Brown, "was maybe the only entertainer to stiff the 1972 presidential inauguration, but also the only one to ask for $12,000 to appear."
A siege of influenza forced the GOP's only block solon, Sen. Edward R. Brooke, and Nixon backer Sammy Davis Jr. to remain away from the Inauguration.  Davis and James Brown were staunch supporters during the fall campaign and for weeks had been billed as major inaugural entertainment stars.  But neither came.  James Brown reportedly suffered from "fatigue."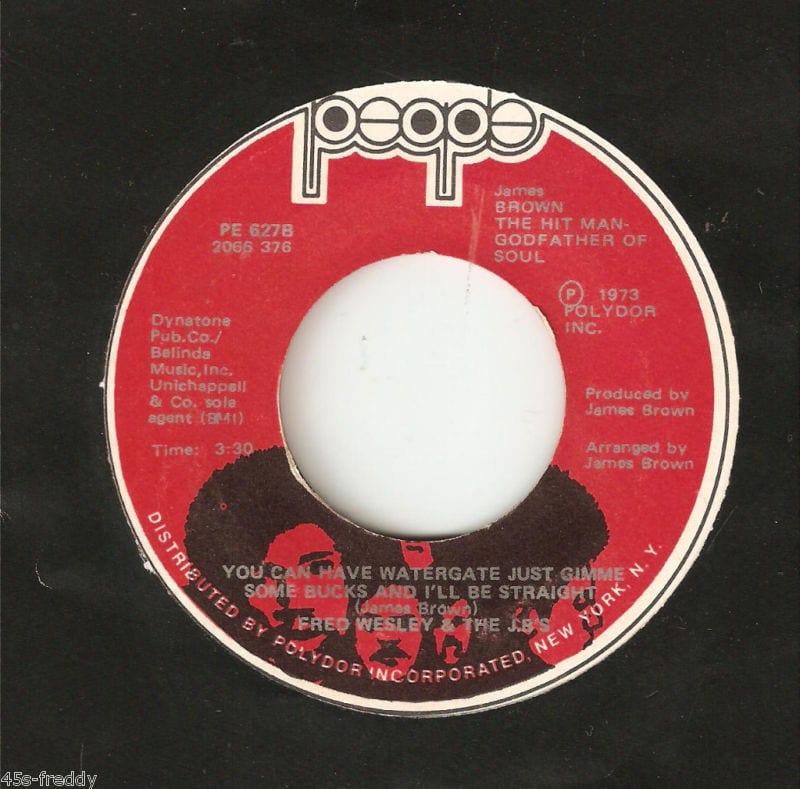 James Brown had changed his tune on Nixon.  In May 1973 he recorded, "You Can Have Watergate Just Gimme Some Bucks And l'll Be Straight," a song with few words that offered a concise summary of his evolved political views.
Nixon's eventual Watergate-related departure led to Brown's "Funky President (People It's Bad)," recorded in the fall of 1974, just after Gerald Ford took office.  James Brown was no longer a fan or Nixon or his successor.
But Brown wasn't done with inaugural appearances.  And he was never one to shy away from a stack of cash.  In 1975, he flew to Africa to accept $160,000 in connection with a performance at
Gabonese president Omar Bongo's inauguration
.  Bongo was indeed a funky president and he lavished Brown with praise, gifts, and — importantly — cash.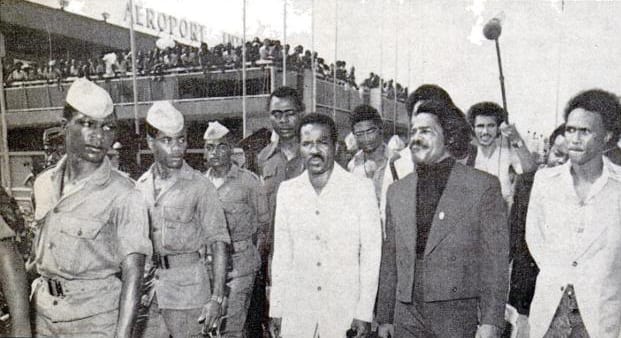 James Brown was back in America to attend one of Jimmy Carter's 1977 inaugural balls.  He didn't perform.  At the start of the Carter presidency, Brown approached his fellow Georgian for assistance with his burgeoning tax problems.  They continued to burgeon.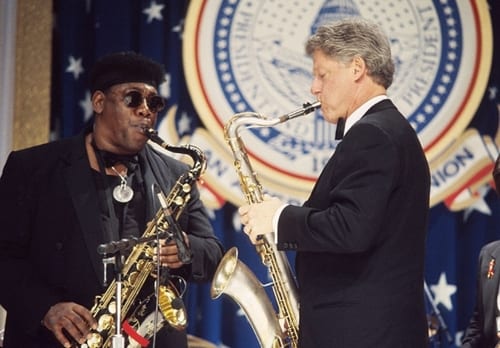 But wait.  That's not all.  On January 20 1993, Bill Clinton celebrated his inauguration with a marathon schedule of 13 balls all around the District.  Attendees wondered if Clinton himself might walk on stage and perform.  He obliged, picking up a saxophone five times.  Here's how the
Post
reported President Clinton's second musical performance of the evening
alongside Southside Johnny and the E Street Band
(sans Bruce Springsteen):
11:10 p.m. – Sax II at the D.C. Armory. This time with Clarence Clemons in a rocking version of James Brown's "Night Train." He's not so tentative now, leaning into the music as his cheeks billow out and turn red. He does a two-minute riff.
James Brown wasn't there.  In fact, he may not have attended any other inaugural balls.  He died in 2006.