We've been thinking about writing a history of Tysons Corner for quite some time. The mall in Tysons is currently the 13th largest in the United States and was one of the earlier giant shopping malls before the era of the super malls like the Mall of America in Minnesota.
The area we call Tysons Corner, or just Tysons now, was once a sleepy rural intersection. That is, until the Fairfax County County Board of Supervisors approved the development of the then-new shopping mall in 1962 at a cost of $20 million. (Washington Nationals ower Ted Lerner was one of the primary developers — certainly a contributing factor to why he could afford to buy them.) The main shopping center of that time was at Seven Corners (which, by the way was built on top of land once owned by a former slave).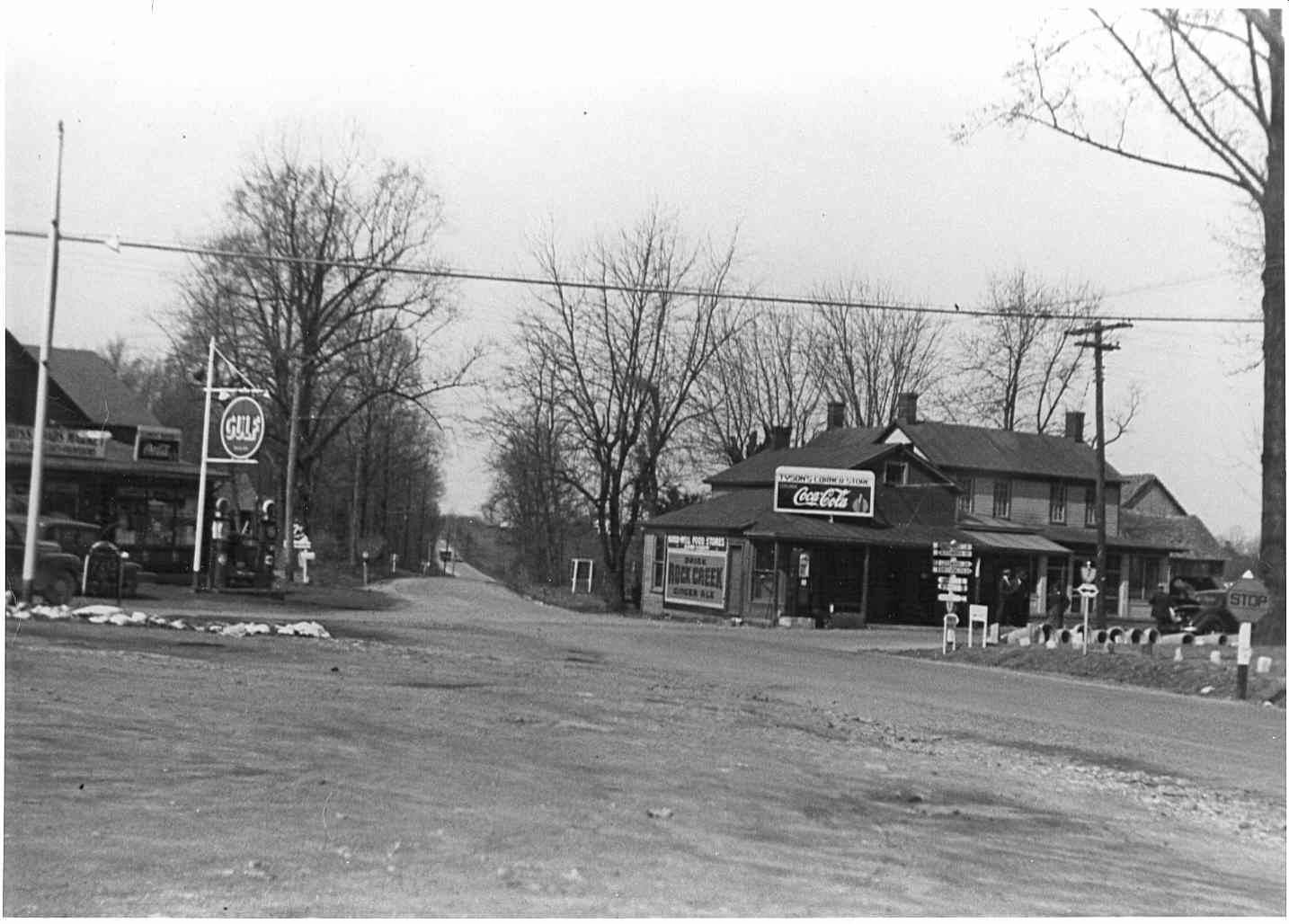 Source: Annandale Chamber of Commerce
William Tyson's land in Peach Grove becomes Tysons Corner
The land on top of which the mall was first constructed was once owned by William Tyson, a native of Cecil County, Maryland (the northeast most part of the state). He bought the land from former Congressman A. Lawrence Foster of New York who had moved to a farm on the property in 1844 after he was out of Congress. Before Mr. Tyson purchased his land there, the area was called Peach Grove. Tyson settled in and became the postmaster of the Peach Grove Post Office, which was established on April 22nd, 1851.
The area formerly known as Peach Grove eventually came to be known as Tysons Crossroads and then Tysons Corner after William Tyson.
In the 1850 U.S. Census, William was still listed as living in Cecil, Maryland with his wife Susan, and children.
We found the 1860 U.S. Census record with William Tyson's family. It's very difficult to make out, but if you click on it, you'll get a larger version. It says he was born in 1818 and was living on the property with his wife Susan, and children Catherine (17), Lydia (14), Francis (13), Amelia (7), Haney (4), and Bessey (2).

In the 1880 U.S. Census, the family was listed as living in the Providence District, currently one of nine magisterial districts in Fairfax County. William was also listed as being either sick or disabled and unable to work.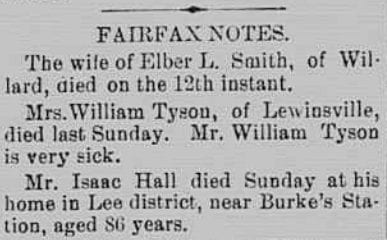 Combing through old newspapers, we stumbled upon a brief mention of the Tysons in the Alexandria Gazette and Virginia Advertiser, printed on February 19th, 1897. In the Fairfax Notes section, Susan Tyson of Lewinsville was said to have died the previous Sunday, and William Tyson was very sick.
William Tyson's last U.S. Census appearance
Finally, we found William in the 1900 U.S. Census. His wife Susan had passed away in 1897 and he was living with two of his daughters, Amelia and Bessie, and a servant in Wheaton, Maryland.

William Tyson died at the age of 86 on May 21st, 1903 in Washington, D.C. and is buried in Oakwood Cemetery in Falls Church.