Faithful and extremely patient GoDCer Jeff requests some time ago that we do a piece on the Northumberland, just north of U St. Our apologies for the long delay in getting to your request, but hopefully you'll agree that it's better late than never.
The building at 2039 New Hampshire Ave. NW, was built in 1910 by the famous local developer Harry Wardman and architect Albert H. Beers. Originally opening as luxury apartments, it was home to many prominent members of Washington society, including Members of Congress, and the wealthy local elite.
As a side note, you might find it amusing that in 1914, the entire building was valued at $375,000, according to an article in the Washington Times, and it generated an annual aggregate rental income of $39,300.
In 1920, the building was converted into a cooperative, becoming the oldest, continuously self-managed cooperative building in the city. Read more about the building and its history at northumberlandapartments.com. I bet your building doesn't have a website like this.
You know what's even cooler? There is a full-scale, legit documentary  that you can watch online. Check it out at the bottom of this post.

1. The building becomes a cooperative
After a full decade as a luxurious apartment building, The Northumberland Apartments was converted into cooperatives. Ar article in the Washington Post mentions the disposition of apartments as cooperatives on October 10th, 1920.
The sale of the Northumberland apartments, New Hampshire avenue and V street northwest, to the "Northumberland Apartments, Inc." has been announced by the Union Realty Corporation, Evans building. The purchasing company will dispose of individual apartments on the cooperative plan. C. C. Calhoun and James Sharp made the sale.

The Northumberland is a seven-story, modern, fireproof building, containing 69 apartments, varying in size from two to seven rooms. It was built about nine years ago.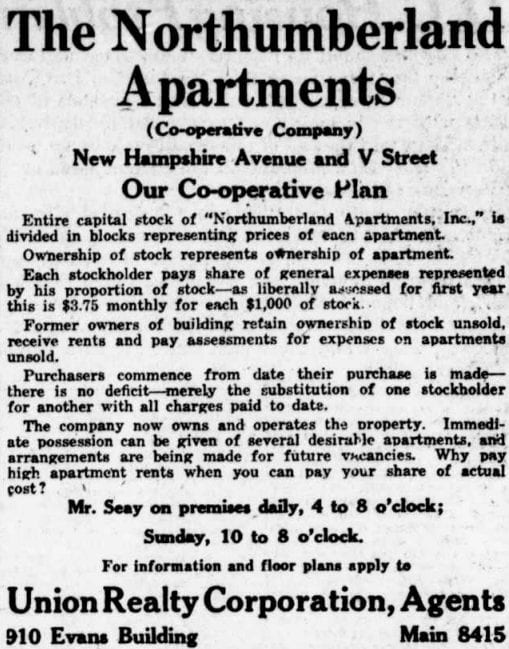 2. Business man, Civil War veteran Charles F. Benjamin dies
Below is an interesting obituary that we came across from 1915. A prominent D.C. resident and Civil War veteran, Charles F. Benjamin, who had been living in Washington for half a century, died on May 5th, 1915. Below is the article from the Washington Post.
 Charles F. Benjamin, for more than 50 years a resident of Washington, died yesterday afternoon at his apartment in the Northumberland. He was born in London, England, 73 years ago. Coming to this country when a boy, he resided in New York until the outbreak of the civil war [sic], when he enlisted at the age of 18 in the Fifty-fifth New York Volunteers. He was wounded at the battle of Fair Oaks. He was with Gen. Seth Williams, adjutant general of Mead's army, at the battle [sic] of Gettysburg and shortly after was transferred to the War Department, where he became confidential clerk to Edwin M. Stanton, Secretary of War. He remained in the department until Grant's first administration, when he was appointed chief clerk of the Southern claims commission.

Mr. Benjamin, while still in government service, graduated from Georgetown University Law School, afterward taking the graduate course at Columbian University. He was an active member of the Washington bar at the time of his death. He was one of the founders of the Perpetual Building Association, and for the past eight years had been its president. …

…

Mr. Benjamin married, in 1869, Virginia Jay, daughter of Jabez and Nancy Jay, who resided for many years on Eleventh street, near F. His wife died six years ago. He is survived by his five children, Charles L. Benjamin and Frederick J. Benjamin, of Milwaukee, and Hobart Benjamin, Virginia Sarah Benjamin, and Irving C. Benjamin, of Washington.
3. Who lived here in 1920?
If you live in the Northumberland, you're going to like this. Who lived in your unit 93 years ago? Why not find out by checking out the 1920 U.S. Census below.
Initially this was going to be a story about a teenager, John H. Metzerott, Jr., who was shot in 1919. Two men were attempting to steal a tire from his father's car, while they were at the family farm in Berwyn. John Jr. confronted the men and was shot at point blank range in the left shoulder. To make it even more bizarre, he had to drive himself to the hospital in his father's car, because John Sr. did not know how to drive.
I came across the census looking for information on the Metzerott family, who lived in the Northumberland, and thought it would be great to have the GoDC community check out the full list of residents in the 69 apartments. Imagine the friendships, the rivalries, the strangers, the newcomers and the old-timers. It's fascinating to think of the relationships and dynamics of the Northumberland community.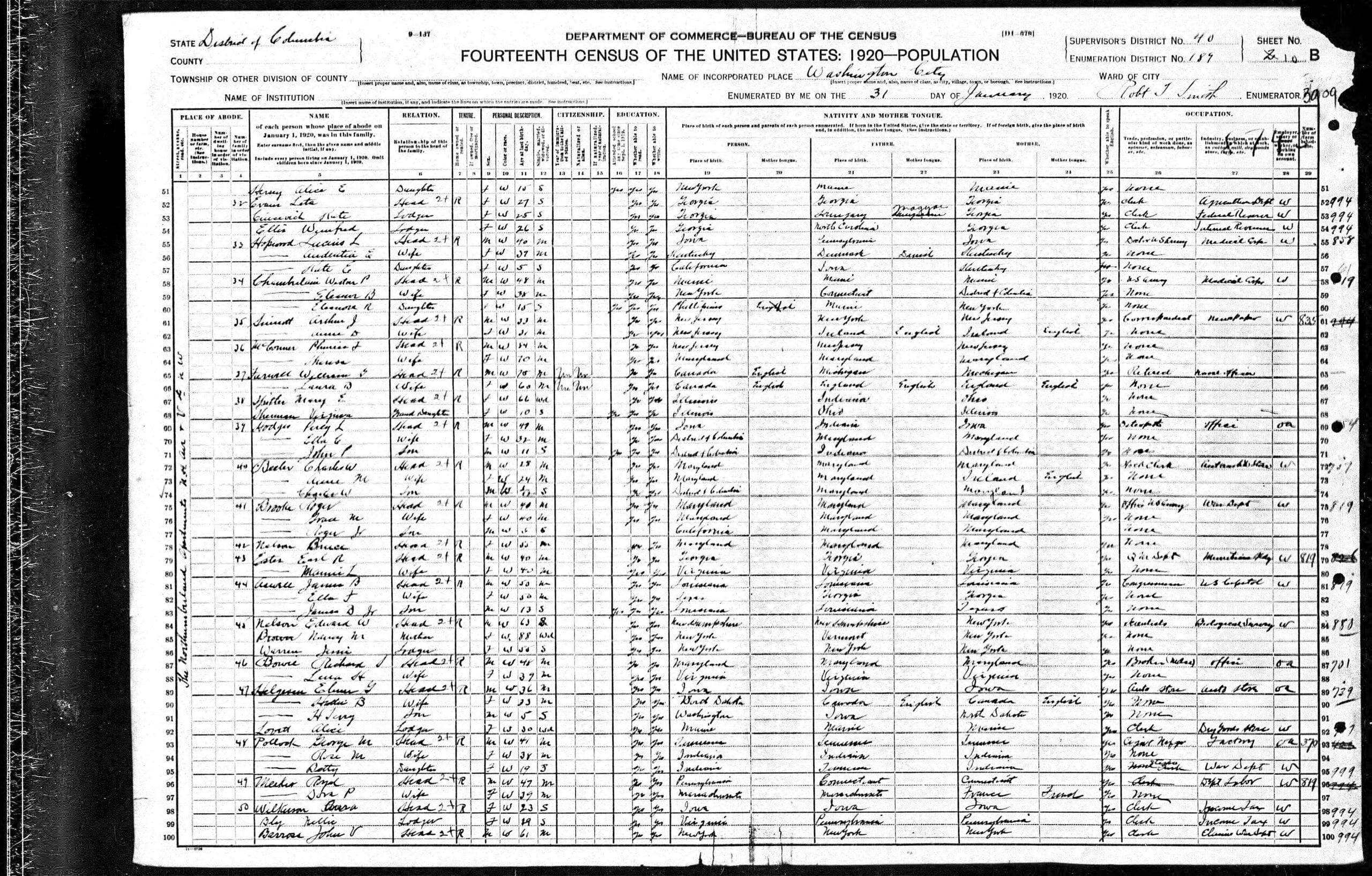 And here is the video I mentioned earlier. I think it's safe to say that your building doesn't have a documentary made about it like this.
[vimeo 45097698 w=600&h=350]