We've stumbled across an amazing character from Washington's past, one to rival (but not surpass, of course) Officer Sprinkle. No doubt, the two of them crossed paths at one point and one was likely well-acquainted with the other's work, and most likely, it was a mutual awareness. They were equally represented in the newspapers, one on the right side of the law, the other on the wrong side.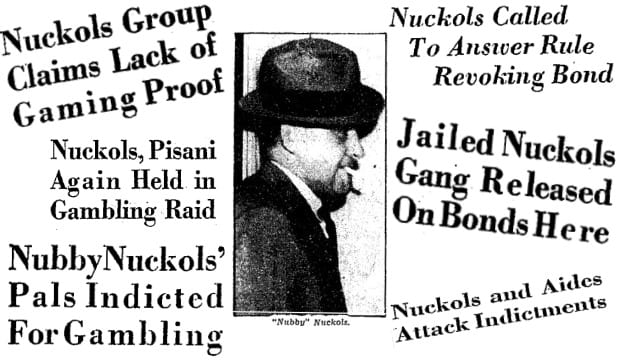 There is an abundance of stories about this colorful character of the 1930s D.C. underworld, dubbed "Nubby" due to his short stature. He makes his first appearance in The Washington Post crime blotter on Tuesday, April 24th, 1928, when he was ordered held for the vehicular death of Mrs. Mamie Cooper.
Mamie lived at 1204 Rhode Island Ave. NE (today, near the Home Depot) and was a passenger in a car driven by Nuckols. At 7 am on Friday, April 20th, it was traveling at an excessive speed when it hit another vehicle, and then smashed into the pillar of the railroad bridge crossing Rhode Island avenue. Nuckols, himself, was severely injured and had to be treated and recover across town at Sibley Hospital. The accident report stated that the vehicle was traveling at 70 miles per hour when it hit the other automobile, skidding for 100 yards before ejecting Mrs. Cooper through the windshield, headfirst into the pillar. She died on impact. Nubby stayed conscious throughout the accident, despite fracturing his skull and having a piece of wood from the chassis lodged in his mouth.
Both Nuckols and Cooper were listed as being 40 years old at the time. Mamie was divorced and had a son, who worked with her at Childs Restaurant on North Capitol St. and Mass. Ave. Cooper and Nuckols were both originally from Richmond, Virginia.
I'll admit, that my first thought was that it seemed odd that Nuckols would be alone in a vehicle with a married woman. Then again, he wasn't exactly the most moral of characters. What was he doing driving down Rhode Island Ave. with Mamie at 7 am? Unfortunately, the piece didn't say. Though charged with manslaughter, ultimately the grand jury refused to indict him.
Nubby lived for a time at 1423 R St. NW (the Gladstone, at the intersection of R and Johnson) and later, in an apartment in the building at 1636 Connecticut Ave. NW (just north of Dupont Circle). Today, that location houses a shoe store. His name really started popping up in the papers in 1937, when he was linked to a number of gambling raids.
His marriage license shows him getting married on February 3rd, 1932 to Mary Hendrick in Fredericksburg, Virginia. Interestingly, he was listed as divorced at the time of this marriage, so Mary was his second wife.
He first arrived in the District in 1916, but is fairly absent from any official records. The papers reported that he got his start in organized crime in the waning years of Prohibition as a rum runner. He would speed up from his hometown of Richmond — we know he was fond of driving fast — overnight, carrying loads of "cawn" and "Maryland rye" to the dry Nation's Capital. Taking it up a notch into business ownership, Nuckols partnered up with local crime boss Edward Killeen to operate the notorious Richmond Club near 14th and P St. NW (where you shop at Whole Foods today). Illegal hooch was only his entrée into a life of crime, as his true passion was gambling.
He was a bookmaker running gambling operations on both the 1000 block of 9th St. NW and 1000 block of 14th St. NW, rising to prominence in the 1930s, ultimately becoming the "crown prince" or czar of local gambling, along with his contemporary, Nicholas Floratos (alias "Nick the Greek" — another guy we need to look into).
Over his criminal career, he racked up an impressive 29 arrests and solidified a hard cop-hating attitude, and yet, somehow managed to always avoid conviction and prison. Nuckols rose to become the king of all gambling here around 1935 when then-king, Sam "The Pickle King" Beard, was taken down by the police for violating D.C. gambling laws, and shipped off to prison. Nubby took over his chain of horse-raise booking businesses.
His luck began to fail, just as he was hitting the peak of his criminal career. Police Lieutenant Floyd Truscott hatched a brilliant plan to garner garner evidence against local gambling syndicates. He selected a group of fresh-faced, rookie cops who were unfamiliar to organized crime, sending them out under cover to place bets. Nubby was arrested at a gambling den near 14th and I St. NW on Thursday, January 6th, 1938, while already out on $3,000 bail for a previous gambling arrest from the previous fall. Thus began his quick downward spiral.
Already out on bail for a prior arrest, his future prospects were looking bleak. On Saturday, January 8th, 1938, his wife Mary Nuckols, returned home around 7 pm to their apartment at 1636 Connecticut Ave. She had taken a trip downtown and, upon entering the home, discovered the body of her husband in a pool of blood, dressed in his maroon lounging robe, with a bullet wound to the head. Unable to face to pressure, Nubby wrote a brief suicide note and took his own life with a .32-caliber pistol.
The note read: "Darling–It was the best way … Thank you for your kindness." The rest of the note was an apology to the grief he caused his wife with the criminal life he led.

The police investigation found that he had fired the gun twice. The first shot was a misfire. Despite the official coroner's report that the death was a suicide, there were rumors that another person was the triggerman. It wouldn't be a proper Ghosts of DC post, if I didn't leave you with that thought … and at this point, we'll probably never know whether that was just a conspiracy theory.
Below is the Google Street View of 1636 Connecticut Ave. today.