This is a wild advertisement that I came across in The Evening Times (back then they'd publish the paper a couple times each day). Coke Dandruff Cure? Okay, my interest is piqued … what is that?
At the turn of the century, drugs like cocaine and opium were not illegal and were used fairly regularly by society in both legitimate and illegitimate ways. It wasn't until the 1914 Harrison Narcotics Tax Act that they became technically illegal — although still legal for some registered companies and individuals.
Back in 1902 you could sell all kinds products with cocaine as an ingredient (e.g., Coca-Cola). One of those products was this dandruff cure. People would rub it into their hair, it would numb their scalp and help get rid of their flaky dandruff, not to mention "cure all hair and scalp troubles."
In the early 1900s, Henry Evans was a well-known druggist on F St. NW born in Wales in 1856. He arrived in Washington in 1875 after growing up on a farm in Gaithersburg, MD and by the time he passed away in 1929, he operated several drug stores throughout the city. He was a member of the Tschiffely & Evans establishment (which still exists) and the last store he operated was at 14th and Columbia NW. He ended up selling that store to Peoples Drug in 1924 when he retired.
He was a Freemason and lived at 3439 Holmead Pl. NW, which doesn't appear to exist any longer (replaced by a slightly ugly apartment building). Below is a copy of his U.S. Census record from 1920. It looks like he had quite a full house, with a wife, Margaret, a mother-in-law, three daughters, a son, a son-in-law and two grandchildren. That's certainly a lot of mouths to feed.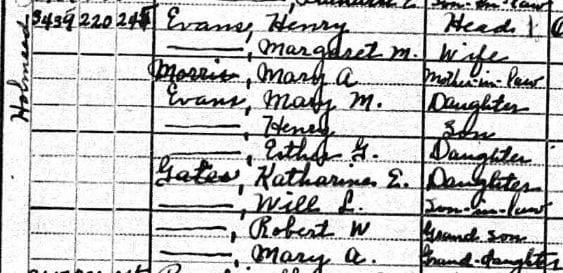 A little bit about the building on F St. NW … according to this document I found (The Historic Landmark and Historic District Protection Act of 1978), 922-924 F St. NW was built in 1876. The building is right across the street from what is now Cowgirl Creamery.
Oh, and another thing happened in Washington on January 28th. The Carnegie Institution was founded with a $10 million gift from Andrew Carnegie.