This is a guest post by Aaron. He also wrote a cool one on the 1940 U.S. Census.
We suspect you've ridden Metro for many years – without seeing anything quite like these stunning "glossy red" train cars.  They were part of the original plan.  Sure they're sleek and sporty but they never progressed beyond the drawings and models seen here.  Why not?  And where did this space-age mockup come from?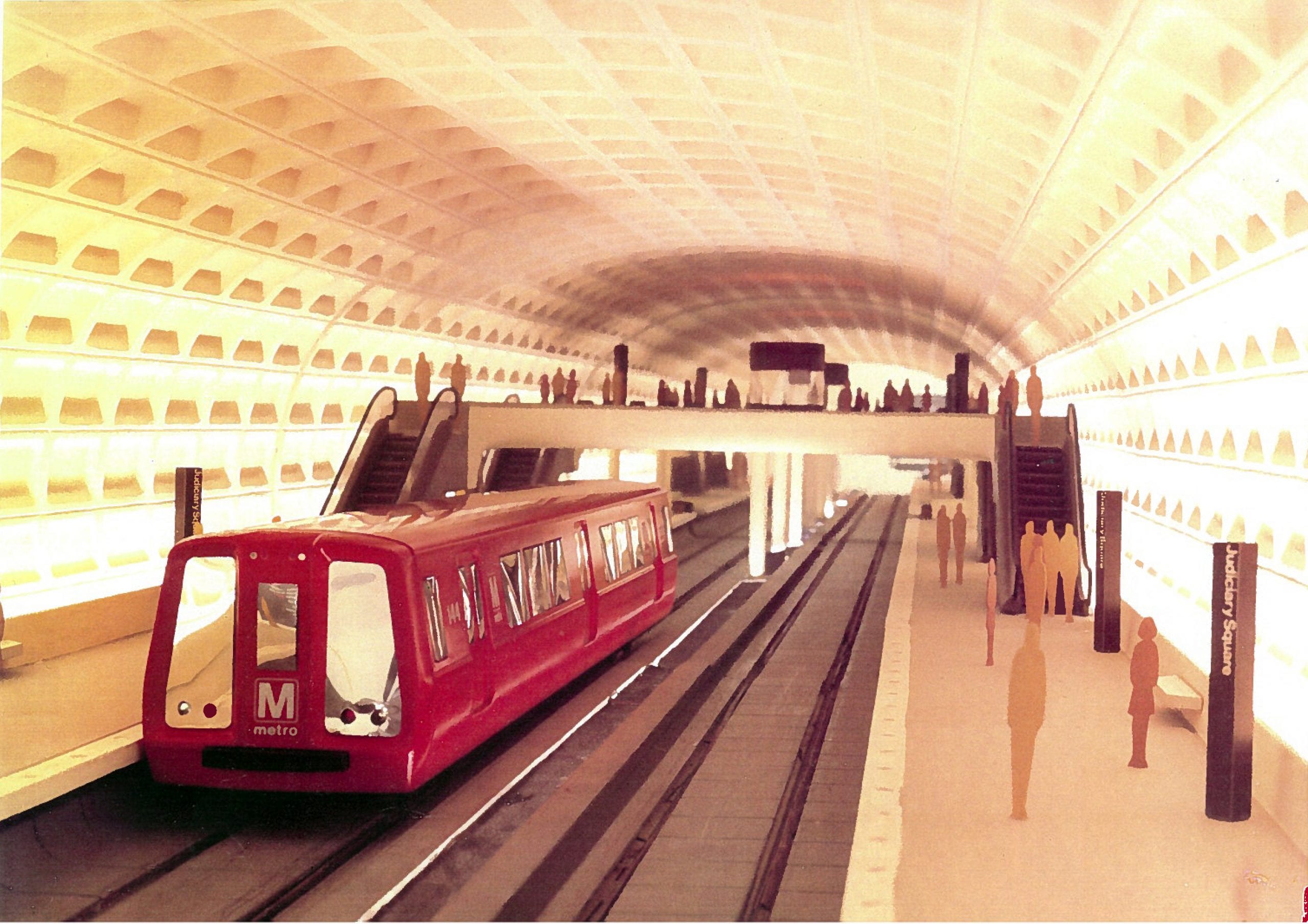 We've stumbled upon a treasure trove of old Metro plans.  We'll share the most fascinating images and stories in the coming weeks.  Today we're focusing on those bright red train cars.  They were directly inspired by subway cars spotted in London in the mid-1960s. It's a great story – but let's quickly cover some basic Metro pre-history.
Metro opened in 1976.  Subways don't appear overnight.  Planning started in the 1950s. We all know and love WMATA but we may not be familiar with it's predecessor, the National Capital Transportation Agency.  NCTA and the District's Commission on Fine Arts called the shots as Metro came into being.  They picked Chicago-based Harry Weese & Associates (HWA) as the system's architect.
London and Berlin
Weese and his team traveled the globe in a whirlwind survey of subway systems.  It was March 1966, just days after the architect signed a contract to design Metro.  The HWA crew visited 18 city subway systems in 42 days.  Each yielded new insights.  They came away with subway maps, photos, and very extensive notes.
Quick sketches from Bob Reynolds, HWA's design leader for the project, show early concerns for stations, trains, and riders.  They note materials, color, light, pedestrian flow, escalators, signage, and staff uniforms.
When they first visited London, the HWA team noted brightly colored stations and trains:
"[Train cars] painted red were especially attractive.  The cars had groved [sic] wood floors, luggage racks and side seating.  Smoking was permitted in certain cars." -Notes of Stanley Allan, HWA Metro project manager, April 1966.
Weese's contract required the architect to present design concepts for "transit vehicles."  A second trip took HWA staff back to London and Germany in summer 1966 to meet officials responsible for the design and upkeep of train cars:
"We were particularly impressed by the painted exterior of the trains.  The beautiful Berlin chrome yellow was our favorite, as was the English red used for so many London trains.  We subsequently selected a bright, glossy dark green color for Washington." -Stanley Allan, 1994.
Red, Green, or Colorless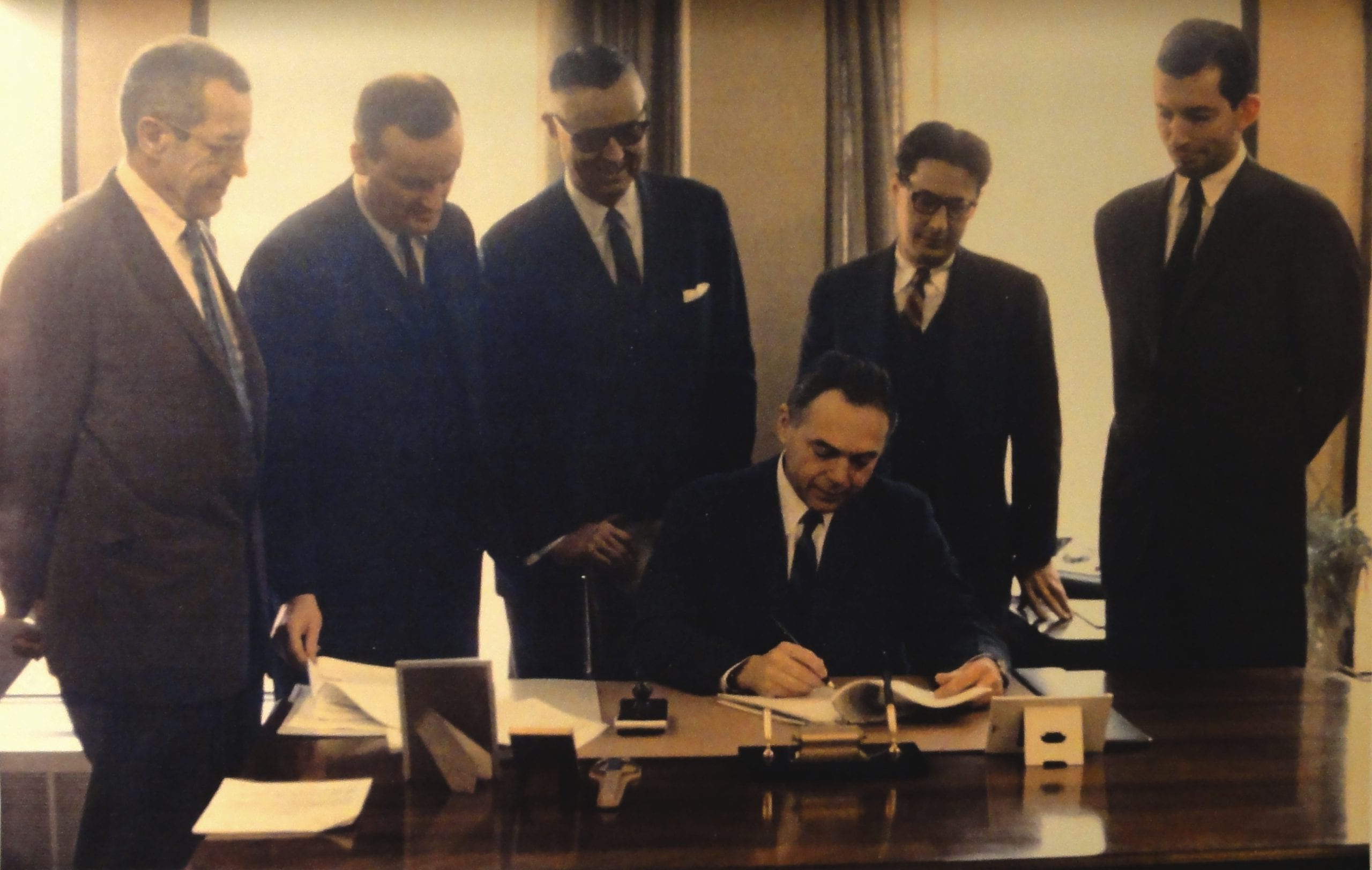 Green trains?  It's hard to find any more discussion of that color option.  By 1967, top members of Weese's staff moved from Chicago and opened an office on K Street.  They adopted "elements of continuity" to guide their design work as the project grew in scope and complexity.  Metro's color palette was a key part of that framework.  They returned to red:
"We recommended the color of the trains would be a glossy red, like the ones we admired in London, Berlin, Moscow and Tokyo.  Against the otherwise muted background of the stations the red trains would offer a dynamic and exciting movement of color to the station environment, in addition of [sic] the clothing of the patrons.

This idea was denied with a decision to avoid the painted approach, with all of its alleged costly maintenance problems and the need for a paint shop at the yard." -Stanley Allan, 1994.

NCTA became WMATA and the board's chairman, James P. Gleason, was particularly fond of the bright red design.  HWA's conceptual notes were handed to Carl Sundberg, the Detroit-based industrial designer who would craft the train car exteriors.  Sundberg wasn't a fan of paint.  The Post covered the ensuing color clash in May 1970:
"The visual elements were incorporated into the full-size mockup of a car that was put on public display in 1968.  That car is silver with a wide, dark-gray horizontal strip bracketing the area of the tinted windows and a narrow red strip near its front end.

When the mockup was ordered, Gleason insisted that a smaller painted model also be built.  It is tomato red – a pleasing contrast, Gleason insisted, to the 'rather sterile' concrete color of the arched station roofs.

'You know, people don't buy aluminum (colored) automobiles,' Gleason told his colleagues.  'They buy red ones and green ones and blue ones.'

[Sundberg] dissented sharply.  It would be a shame, he said, 'to paint over nice stainless steel or aluminum.' Besides, an associate added, painting would cost $9,000 more over the life of each car." –Washington Post, 5/11/1970
You know how this story ends.  Cost concerns killed the sporty red Metro car.  When trains started rolling on March 27, 1976 they were as they are today: unpainted aluminum.
This GoDC guest post was written by Aaron.  He has a few more stories on Metro's early plans lined up – and he still has a stack of books checked out of the library.  Anything you've been wondering about Metro's original plans?  Ask in the comments or contact Aaron.