It's been more than 60 years since the University of Maryland (here's a good history book from Amazon) had a serious candidate for college football's Heisman Trophy.
In the early 1950's, the Terps had two quarterbacks who came close in the Heisman voting but just missed getting college football's most prestigious award: Jack Scarbath in 1952 and Bernie Faloney the following season.
Scarbath not only helped build Maryland into a national football power, he also helped build Byrd Stadium on the College Park campus, pouring cement as a construction worker there. He also scored the first touchdown at Byrd in 1950.
Scarbath quarterbacked Jim Tatum's Terrapins to a 7-2 record in 1952 after leading the team to a sensational 10-0 record in 1951 and an upset 28-13 victory over Tennessee victory in the Sugar Bowl on Jan. 1, 1952. He set nine school records and scored 35 TD's.
Jack was a consensus first-team All-America at QB in '52 and was runner-up to Oklahoma running back Billy Vessels in the voting for the Heisman Trophy that season.
In high school at the Baltimore Polytechnic Institute (Poly), Scarbath starred in both football and basketball and attracted the attention of Harry C. (Curley) Byrd, the University president, who also happened to be a huge football booster. Byrd offered him a full athletic scholarship.
He was the No. 1 draft choice of the Washington Redskins following the '52 season, played for them the next two years and later with the Pittsburgh Steelers in '56 with a year in the Canadian Football League in between.
After his playing days were over, Scarbath coached at the University of South Carolina and later became a successful businessman founding his own company, John C. Scarbath Abrasives in Baltimore.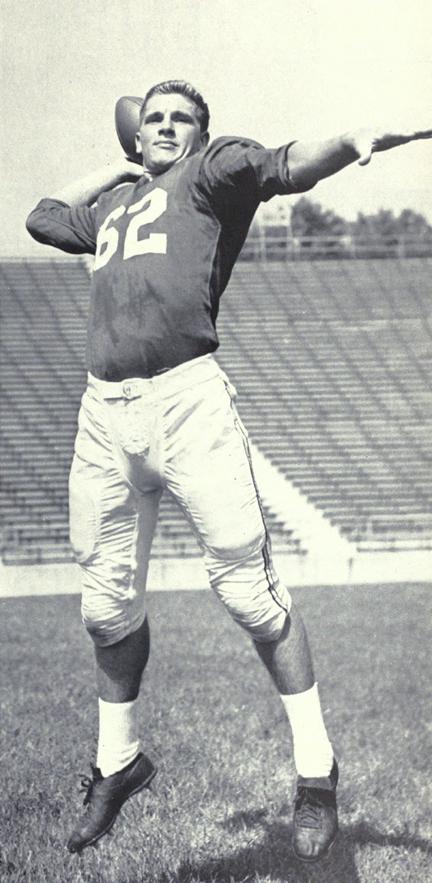 Faloney took over at quarterback in '53 and led the Terps to a national championship and a spot in the Orange Bowl.
Faloney placed fourth in the Heisman voting in 1953 behind Notre Dame halfback Johnny Lattner, Minnesota quarterback Paul Giel and UCLA tailback Paul Cameron.
Faloney went on to star in Canadian football leading the Hamilton Tiger Cats to seven Grey Cup appearances and two titles in eight years.
He's a member of Canada's Sports Hall of Fame as well as the Canadian Football Hall of Fame. Faloney died of cancer in 1999 one day shy of his 67th birthday.
Many big-time football names played for Maryland, including Washington DC's Vernon Davis (currently playing for the San Francisco '49ers), Boomer Esiason, Gary Collins, Randy White, Frank Wycheck, Stan Jones and many others. But none came closer to a Heisman than Scarbath and Faloney.