Ethiopian Emperor Haile Selassie gave a pair of elephant tusks to District leaders during his first visit to America in 1954.  Those ivory tusks — recently stolen — have barely been described by police.  We thought it would be helpful to show them to you.
Haile Selassie arrived in Washington in May 1954.  Crowds greeted him enthusiastically.  He saw a baseball game, spoke to Congress, and dined at the Eisenhower White House.  Naturally, he arrived with gifts for his hosts.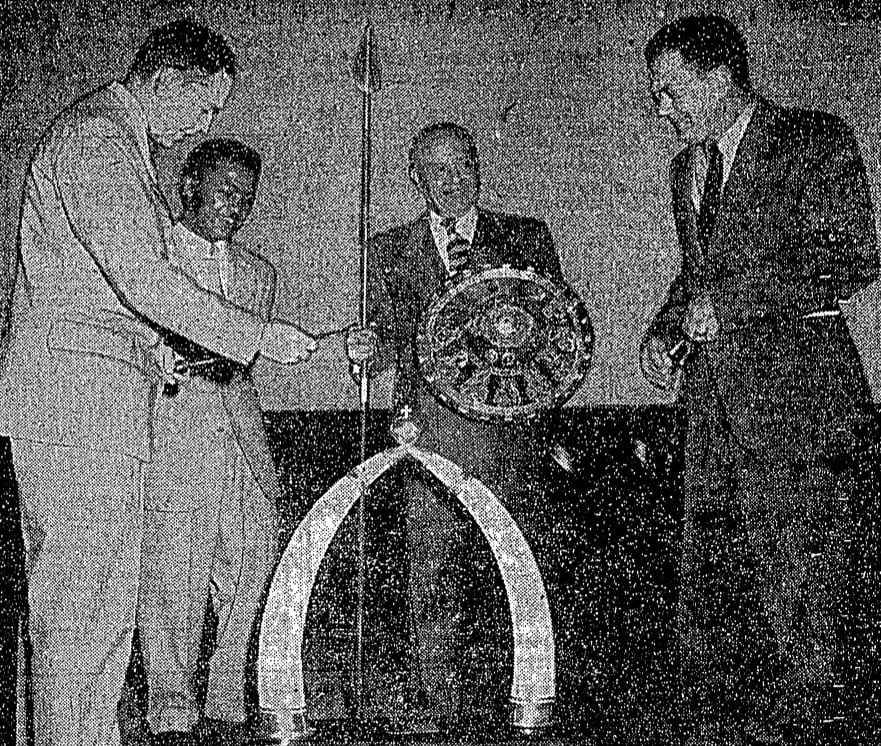 Washington's city affairs were managed at the time by a three-member presidentially appointed board of commissioners.  Those men appear in the photo above with a representative of Selassie's government [left to right]: Samuel Spencer, Ata Fantaya Wold Yohannes (of Ethiopia), Renah Camalier, and Louis W. Prentiss.
The Washington Post's May 28, 1954 coverage explains the scene above, noting that Commissioner Camalier is holding a spear and a shield presented by the Ethiopians.  It continues: "The bowed objects in the center are elephant tusks, with a gold sphere at the top.  Commissioner Spencer holds a sword.  The gifts will be mounted in a cabinet and displayed in the board room."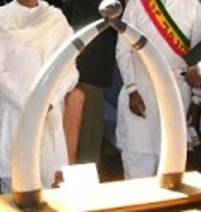 Nearly 60 years passed.  According to police, the tusks were stolen from the District's John A. Wilson Building between August 12 and 17, 2013.  Surprisingly, M.P.D.'s recent announcement of the elephantine heist included just one hazy image of the ivory.  Officials told The Post's Peter Hermann and Mike DeBonis that it took 4 months to announce the theft because photos of the tusks were unavailable.
It seems that spears, shields, and mounted elephant ivory were popular items when Haile Selassie toured the world.  While photos and descriptions of the emperor's 1954 gift to Washington are sparse, here are some vintage descriptions of identical ivory favors from Selassie:
New York, N.Y.(June 1954) – Selassie presented Mayor Robert F. Wagner a pair of elephant tusks, a gold and red ceremonial shield, and two spears.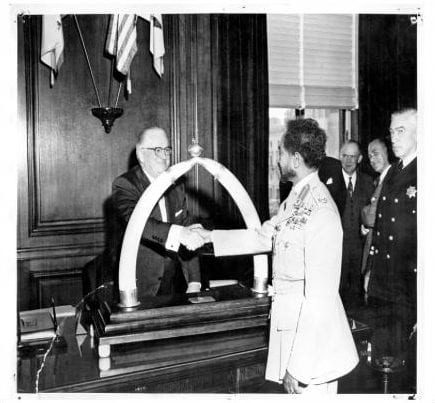 San Francisco, Calif. (June 1954) – Selassie presented Mayor Elmer E. Robinson with a pair of gold-tipped tusks mounted on a wooden base.
Bath, England (October 1954) – Selassie presented a pair of tusks to the mayor of Bath, Alderman William Henry Gallop.  These tusks were stolen in the 1980s.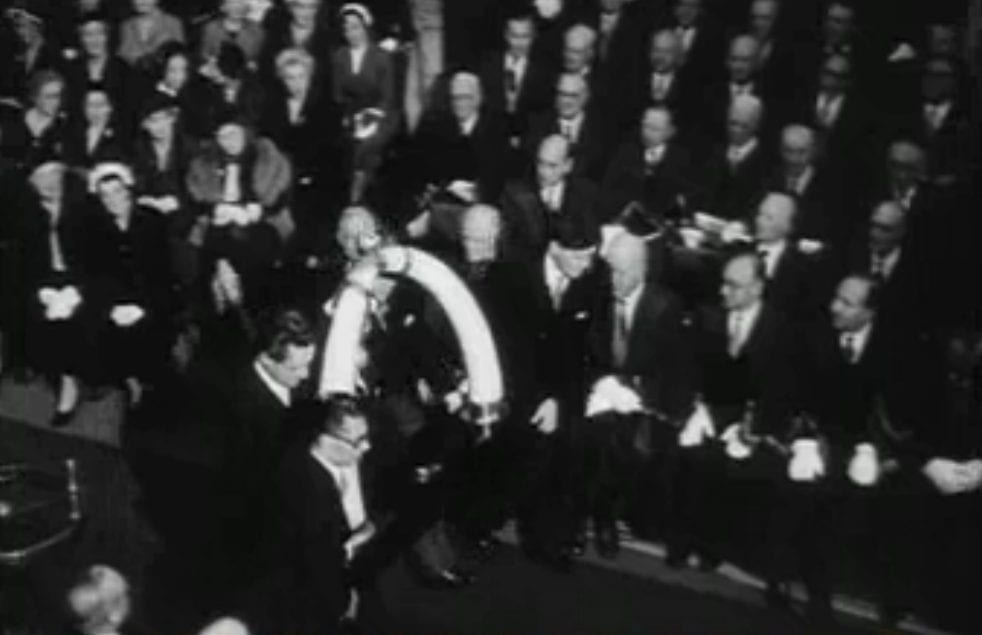 London, England (October 1954) – Two giant elephant tusks mounted on an ebony base and joined by a silver band were presented to the Lord Mayor of London, Sir Noel Bowater.  In this video, you'll see the effort of 4 men required to carry the tusks.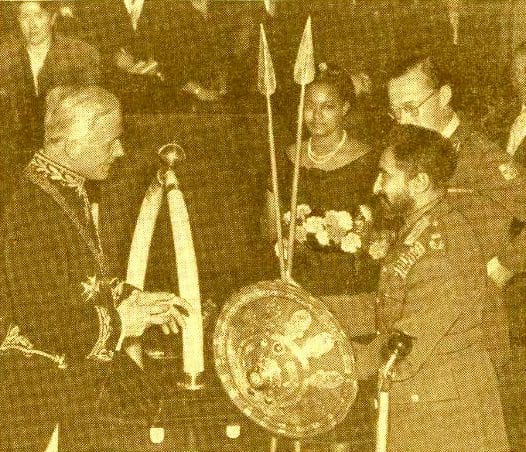 Amsterdam, Holland (October 1954) – Selassie presented two elephant tusks, two spears, and a shield made of buffalo leather and copper studs to mayor Arnold Jan d'Ailly.
Clearly, Haile Selassie distributed many sets of elephant tusks during his world tour.  In fact, according to a UPI wire story in June 1954, the Wilson Building tusks may not have been the only pair the emperor presented in Washington.  President Eisenhower is said to have received, "a pair of gold-tipped ivory tusks and gold-trimmed warrior shields."
Have you seen these tusks?  The Metropolitan Police Department continues to offer a reward of up to $1,000 for information leading to an arrest and indictment regarding the missing relics.  Anyone with information about the case should call police at (202) 727-9099.