Isn't it fascinating to journey back in time and discover what life was like in the early 20th century? Let's do just that! We're going to dive into an advertisement printed more than a century ago, specifically on December 7th, 1907, in The Evening Star newspaper. This piece of nostalgia promotes homes in two of Washington D.C.'s most iconic neighborhoods: Adams Morgan and Mt. Pleasant.
Imagine opening up your evening paper, perhaps while settled comfortably by a fireplace, and finding an advertisement showcasing the latest housing options in Adams Morgan and Mt. Pleasant.
This ad, printed in the black and white ink typical of the era, would have been a beacon to those looking for a place to call home in the nation's capital.Adams Morgan, known today for its vibrant nightlife, eclectic mix of restaurants, and bustling city life, would have been a much different scene back in 1907.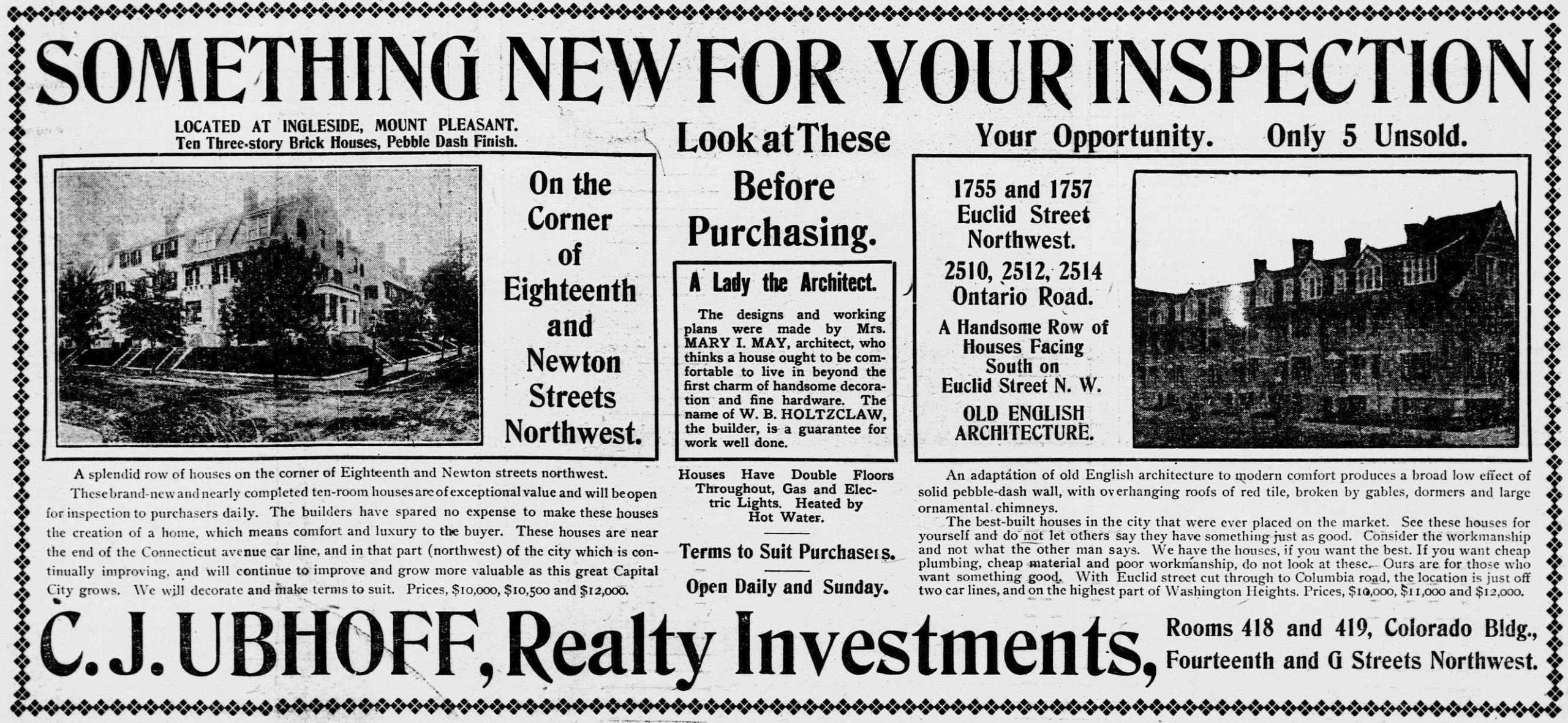 The neighborhood was likely quieter, more residential, yet still imbued with a sense of community that has persisted through the decades. Seeing an advertisement for homes in this area would have signified an opportunity for comfortable urban living, conveniently located near the heart of the city.
Similarly, Mt. Pleasant, a charming neighborhood characterized by its leafy streets and historic homes, would have been an enticing prospect for potential homeowners in 1907. The area, with its mix of architectural styles from Victorian to early 20th-century rowhouses, would have been a draw for those seeking a blend of city living and neighborhood charm.
In the context of the advertisement, it's interesting to reflect on the features and selling points that would have been highlighted. Perhaps, the ad mentioned the proximity to local amenities, like markets and schools. Or maybe it emphasized the quality of construction, the availability of modern conveniences, or the aesthetics of the architectural design. We can only imagine how these homes, new and modern in 1907, would have appealed to readers of The Evening Star.
This advertisement not only promotes properties but also provides us with a unique historical perspective. It offers insights into the living conditions, societal norms, and architectural trends of the time. It's an embodiment of how much has changed in our society, yet it also highlights the enduring allure of these two beloved D.C. neighborhoods.
It's incredibly cool to think about how much history is wrapped up in a simple piece of print from a 1907 newspaper. The streets, homes, and communities it describes have seen countless stories unfold over the past century. Reflecting on this advertisement allows us to appreciate the rich tapestry of our shared past, and contemplate the future stories that Adams Morgan and Mt. Pleasant will inevitably host.
So, let's celebrate this peek into the past. It reminds us that every neighborhood has a history, every home a multitude of stories, and every old newspaper advertisement is a chance to journey back in time. From the bustling streets of Adams Morgan to the charming avenues of Mt. Pleasant, these timeless neighborhoods continue to shape the story of Washington D.C., just as they did when this advertisement first appeared in The Evening Star in 1907.