Who doesn't love old airline advertisements from the glory days of the 60s and 70s when flying was still glamorous and something to look forward to? Here's a series of great old ads we dug up in The Washington Post archives featuring Pan Am.
This first one promotes their daily service from the then-new Dulles Airport to both London and Paris on their top-of-the-line Boeing 707. By the way, in the fall of 1958 Pan Am's new four-engine 707 was going through a christening ceremony at national Airport with President Eisenhower in attendance. The plane then flew — without passengers because it couldn't take off fully loaded from the short runway — to Baltimore's Friendship Airport (i.e., BWI today) for its first transatlantic flight to Europe.

This one is from 1964 touting their routes to Europe from Dulles Airport. For relative pricing comparison to today, their London flight for $333 is the equivalent of $3,201 in today's dollars. A similar direct flight today on a 14-day trip would cost you about $600 for economy on United, $4,500 for business class on Virgin Atlantic and $6,000 for first class on British Airways.

Here's one from February 24, 1971 promoting their routes to the Caribbean.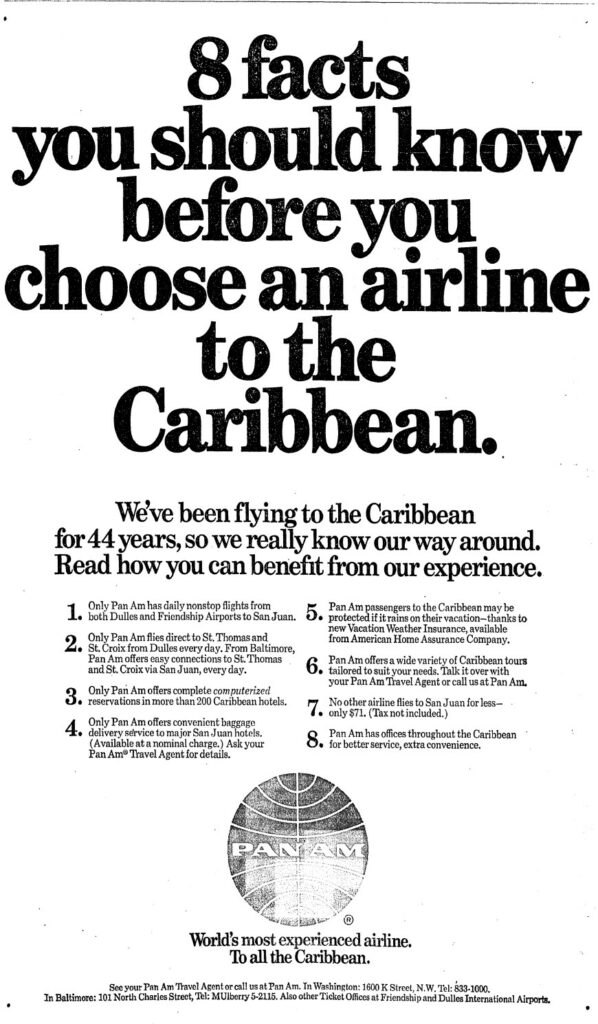 Below is a photo ad from the Washington Post in 1974 showing their fares to major European cities from Dulles, twice daily. Ten years after their 1964 price of $333 to London, prices were down to $255, which is the equivalent of $1,500 in today's money.
Here's one from the 1980s to round out the ads. This is from 1986 showing their Pan Am Express domestic flight options from Dulles and National Airports, direct to Philadelphia. Ransome Airlines was Pan Am's regional express carrier, similar to what the major domestic airlines have today.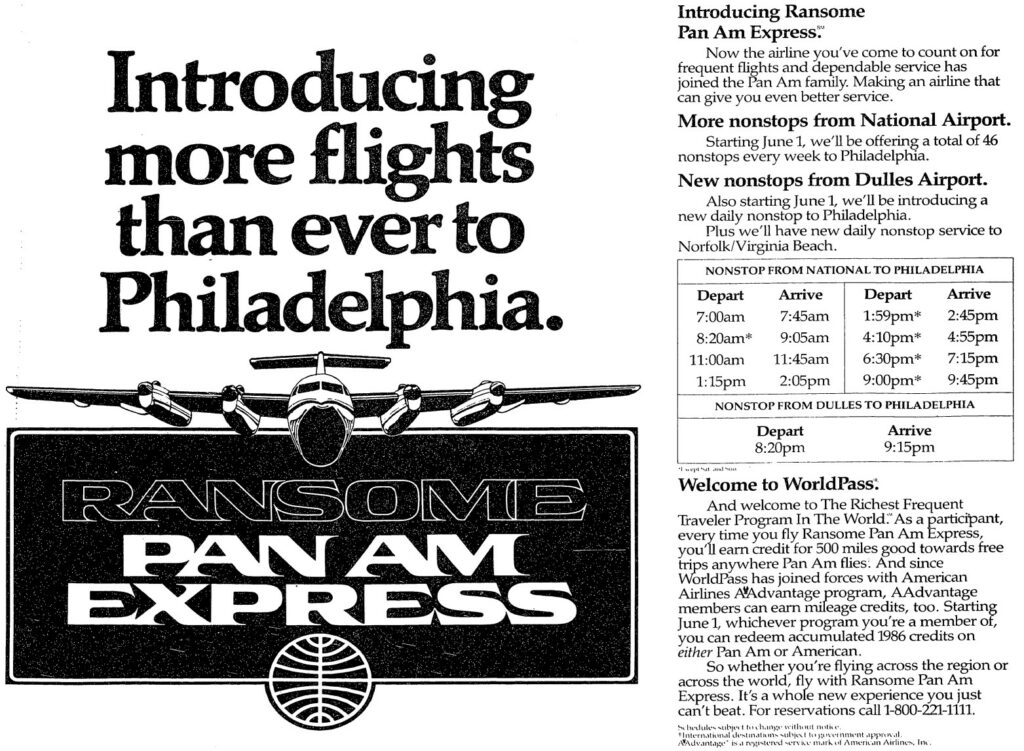 By the way, here's an awesome YouTube video to watch celebrating Pan Am's introduction of jet service.
We found the awesome featured image for this post on Twitter thanks to Dulles Airport's post.
A classic in every way. Note the 2 types of Mobile Lounges used to deplane. @BoeingAirplanes #dulles #747 #TBT #PanAm pic.twitter.com/THGxbLyJn7

— Dulles Airport (IAD) (@Dulles_Airport) December 11, 2014