GoDCer and long-distance reader Ben sent in a request to do a little digging on local favorite Old Ebbitt Grill. The restaurant has a great story, deeply tied to the history of our city, having been established in 1856. It's also where you get the best crab cakes, clam chowder, or oyster happy hour.
You're just as likely to run into a tourist from Texas, a sports celebrity, a local from somewhere uptown or some politico from Capitol Hill.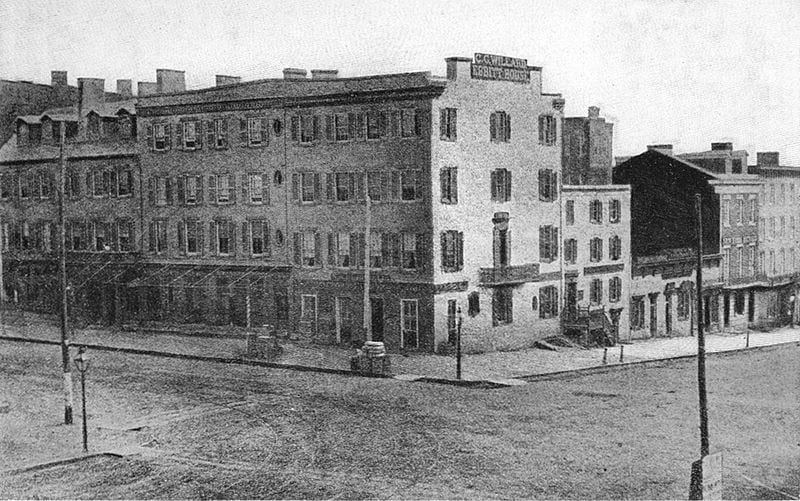 This latest "Three Things…" post will highlight three notable people and their connections with our favorite local establishment, Old Ebbitt.
1. President-elect William McKinley takes up residence at the Ebbitt
The Old Ebbitt's website claims that McKinley is "said to have lived there during his tenure in Congress."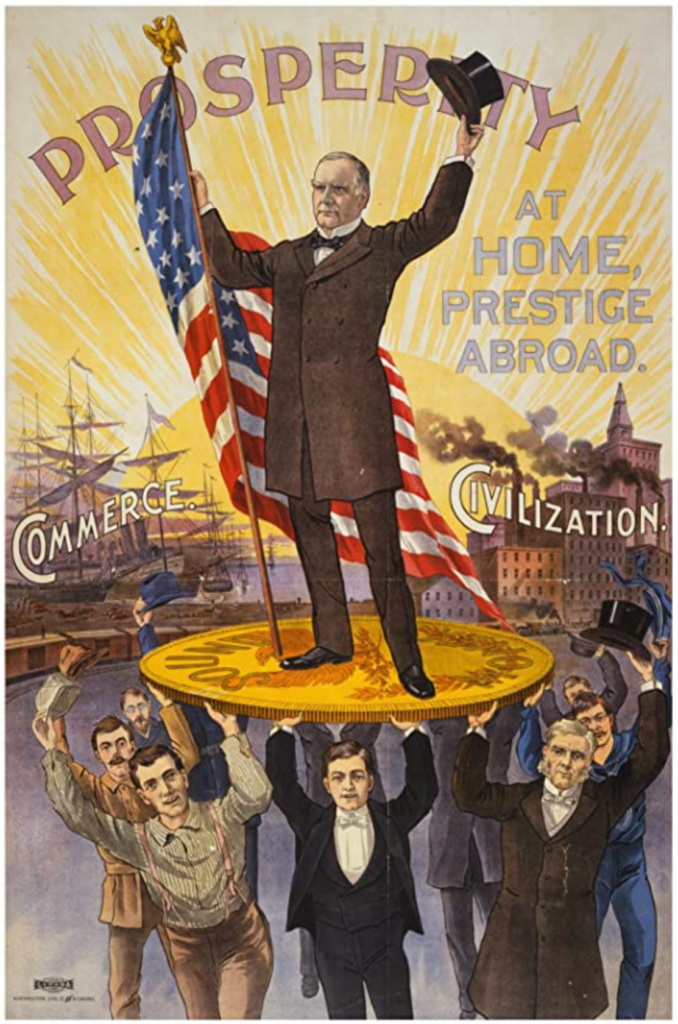 Well this can be updated to say it is confirmed by historical newspaper articles that he lived there while serving as the Representative from Ohio. Not only that, he chose it as his temporary residence leading up to his inauguration as the 25th President of the United States.
A special dispatch from Washington to the Baltimore Sun was printed on November 23rd, 1896 about the selection of McKinley's new accommodations in the city.
WASHINGTON, NOV. 22–Hon. William McKinley has engaged rooms at the Ebbitt House for himself and a large party for the inauguration, and arrangements are now being perfected by Mr. Burch, the manager of the hotel, for the entertainment of the distinguished guests. The selection of rooms for the next President and his family has been left to Mr. McKinley's brother, who is now in the city, and to Mr. Burch. The latter proposes to make the rooms as luxurious and convenient as can possibly be done. Mr. McKinley's party will occupy portions of three floors of the hotel. On the second floor there will be reserved for Mr. McKinley's own use three suites of rooms, two double bedrooms and a large private parlor all overlooking F street.

On the third floor all the rooms on the Fourteenth street side of the building will be occupied by the party and similar rooms on the fourth floor will be reserved for their use. These rooms include the suite that was occupied by Mr. McKinley when he was a member of Congress. It is Mr. Burch's idea that the members of Mr. McKinley's family will prefer these rooms to any others because of their association with Mr. McKinley's former life in this city. The rooms which were occupied by Vice-President Stevenson when he came to Washington four years ago are also included in the suite.

The fact that Mr. McKinley is to stop at the Ebbitt House has caused the applications for quarters in that hotel to pour in upon the managers. Eight hundred applications for rooms had been received up to Saturday night. The hotel, however, is not reserving rooms so far in advance, and only the regular patrons of the house are given the privilege of engaging rooms at this early date.
It sounds like a mass of opportunistic lobbyists were trying their best to place themselves in manufactured serendipitous proximity to the incoming president. Good luck.
There is another pretty funny hotel story that we posted that you should read. Poor Vice President Calvin Coolidge … Silent Cal gets zero recognition.
2. Samuel Gompers endorses Speaker of the House Champ Clark for President in '12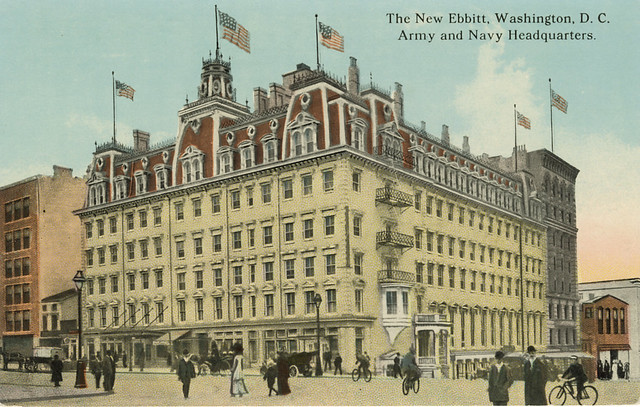 Samuel Gompers, the former cigar manufacturer, founder of the American Federation of Labor and giant in the labor movement attended a large dinner with 500 others at the New Ebbitt. The Washington Post reported on the event the following day, June 15th, 1911 — extremely early for a presidential endorsement back then.
The executive order issued by former President Roosevelt and reissued by President Taft denying government employes the right to petition Congress directly was attacked by Speaker Clark, of the House, and Representative W. B. Wilson; Speaker Clark was indorsed [sic] for the Presidency by President Samuel Gompers, of the American Federation of Labor, and the decision of Justice Wright, of the District Supreme Court, in the Buck's stove boycott case was criticised [sic] by Mr. Gompers at a dinner given last night at the New Ebbitt by the Washington Central Labor Union in honor of labor union members of Congress and the members of the executive committee of the American federation.

…

Representative Wilson declared that under present conditions civil service employes of the government are helpless. The order of President Roosevelt, which forbade all government clerks to petitions members of Congress, and directed them to refer their grievances to the heads of their departments, he attacked as being unconstitutional. This order, according to Mr. Wilson, has been made more dangerous by President Taft, who also directed that no government employes give information to Congress except through their department heads.

"Neither government nor industrial employes want to strike," he continued, "but some times they are forced to do so. The orders of Presidents Roosevelt and Taft have created a condition in which the employes are helpless. These conditions must be improved, or the workers are liable to strike. Were these orders repealed, the possibility of a strike would be removed. Let the clerks organize, take away these orders, and then the government service will be improved."

Speaker Clark made a humorous address, referring to the fact that he is as poor now as he was in 1888, and that he expected to remain poor until he retired from Congress. He paid a high tribute to the workingmen of the country. Secretary James Wilson, of the Agricultural Department, he praised highly for his work in building up the farming industry of the country.

"I like to praise a Republican occasionally," he said, "and take the opportunity whenever I think they deserve it. But I admit that I do not spend all of my time at it."
Does that last sentence also amuse you?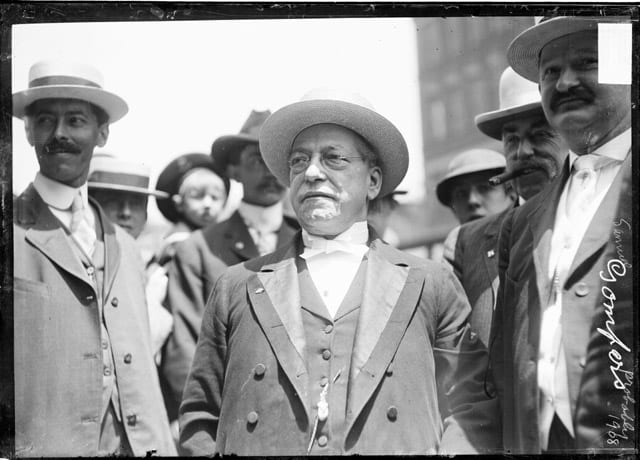 3. William F. Cody (aka, Buffalo Bill) pays a visit to the Ebbitt
We posted about wild west hero Buffalo Bill in the early days of our blog. Our hardcore GoDCers might remember that — all nine of you — you know who you are. He was visiting the Willard back in 1903 and he was getting up there in age.
Well, Buffalo Bill passed through Washington on a number of occasions, and one of them included a stay at the famed Ebbitt back in 1891. Below is the article from the Washington Post.
Col. William F. Cody, better known as "Buffalo Bill," arrived in the city yesterday. He held quite a levee in the lobby of the Ebbitt last night, being the most prominent figure about the hotel. "Bill," although a trifle grayer than he was when he visited Washington three years ago, does not look a day older. He has the same long hair, the same fine, silken mustache and imperial which give him such a pronounced military appearance. Col. Cody, although always sensitive on the age question, confessed last night to having seen fifty-two hard winters, most of them in the wild and woolly West.

Hist visit to Washington is not of any special interest. He attended the Sherman funeral at St. Louis, Saturday last, and being over half way to the National Capital, thought he would run over and see how things were being managed by President Harrison and Speaker Reed. He expects to start for his home, on the North Platte, Nebraska, on Thursday. Before leaving the colonel will call at the White house to pay his respects. He will also call at the Indian Bureau and tell Commissioner Morgan what he knows of the recent Indian troubles, and will probably give that gentleman a key to the question. the colonel knows more about the American Indian, his habits, and what he needs, than any other man living. He has made him a study all his life.

Col. Cody says he will leave for Europe in April to look after his show, which is in winter quarters near Strasburg, Germany. The entire outfit is over there, cowboys, mustangs, buffalo, &e. His cowboys are apt scholars and expects them to be talking German when he returns.
Buffalo Bill is a pretty good third notable person to round out this "Three Things…" post.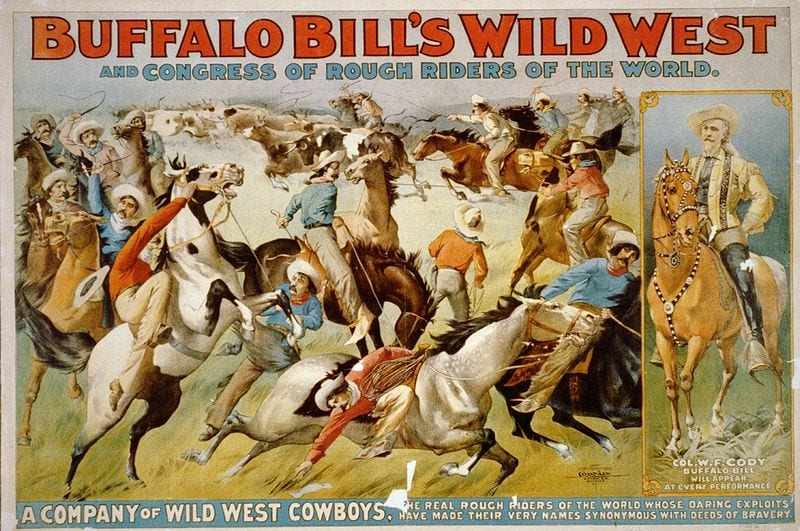 One of our favorite local blogs, Streets of Washington has an excellent history post on the Ebbitt House and Ebbitt Hotel. He also has a great book out, which you need to check out.
To close it out, here's a great video clip from YouTube on Old Ebbitt Grill.