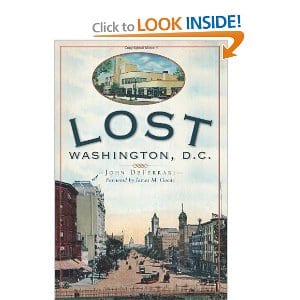 Are you looking for that next great book about Washington history? John DeFerrari's book Lost Washington, D.C. is the one for you.
John is a native Washingtonian and has a deep passion for our city's history, and I'm talking about the personal stories and lesser known events, lost to history. Much of his work has been an inspiration for me and I greatly admire the work he has done in uncovering the treasures of Washington's past. His book was born from his own blog, Streets of Washington, not unlike this blog (maybe Ghosts of DC will write a book).
I won't give away the meat of the book, but there are plenty of illuminating and educational bits in this book, organized by neighborhood. Griffith Stadium, Suter's Tavern, Key Mansion, Crandall's Knickerbocker Theater and it's disastrous end to name a few. This book covers them all and more.
If you're reading this blog, you're likely interested in our city's history, so you will enjoy this book (Amazon has it). I'm wrapping up the final chapter of it today and it's served me well as my read during my pleasant MetroBus commute (as long as I'm not standing during erratic and rapid braking maneuvers).
Have a great Sunday and get ready for another great week of posts!
Related articles