You'll love this book too if you're a fan of this blog. We guarantee it. This is a captivating book that details the history of our city from the early days before its birth, to George Washington's involvement in site selection and throwing his weight behind making this audacious, possibly foolhardy project, become a reality.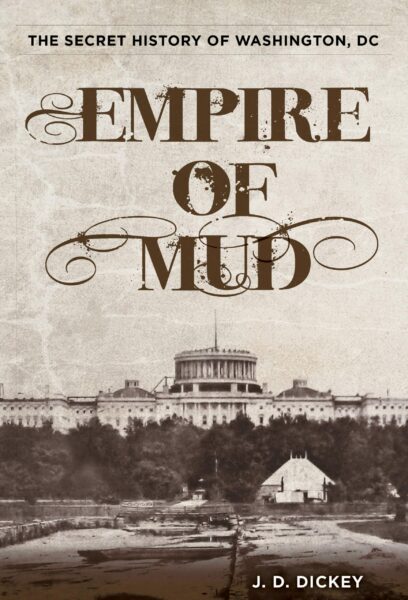 Empire of Mud is one of the best books detailing the history behind Washington, D.C.
Below is one of the final passages, and best, from the book, which really sums up Washington:
Two rival forces had whipsawed Washington City throughout its troubled history. Initially Southern congressmen paralyzed the growth of the capital to keep it weak and undeveloped so the national government, by extension, remained feeble and inhibited with respect to the states. After the war, Northern congressmen emboldened the growth of the capital so the federal government would stand dominant and uninhibited over those states.

In both cases, the interests of local voters were irrelevant. Southerners didn't care to aid a city for which they had so little use. Resident's rights became even more constricted once Northerners decided to use their power to develop the capital. Any threat to that power–even voting in municipal elections–had to be stymied. Racial politics only added to the equation and ensured that white residents could, through statutory and constitutional law, keep African Americans from exercising their franchise in the District, even as they grew to a residential majority in future decades. In stripping away the franchise, Congress ensured that the District remained a ward of the nation, the sole province of national politicians. The day-to-day rulers changes, their motivations differed, but the disenfranchisement stood.
Get the book, read it, and tell us how you like it. This is not a book that will disappoint. Dickey has done some incredible research into the city's past, and brings to life people that have had incredible impact on our city's evolution from Pierre L'Enfant to Alexander "Boss" Shepherd, Frederick Douglass to Mary Ann Hall. The variety of colorful characters is wonderful and will keep you up late reading this book.
Here's an interesting YouTube video we dug up about the book.