This is a great book if you're interested in some local Washington history.
Jeanne Fogle does an excellent job highlighting sites in the District that are less known to tourists and residents alike. I tore through this book on a recent flight to California and was inspired to add no less than two dozen ideas to my list of places to research. If you're a D.C. history nerd like I am — I assume you are because you're reading this blog — then you should read this book.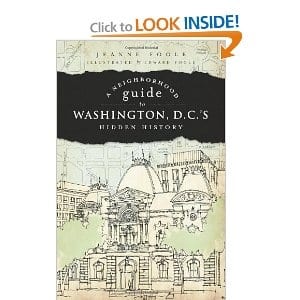 Below is one of my favorite passages from the book, where she is describing the architecture of Mount Pleasant. I love the picture that it paints of the neighborhood.
Rows of carefully sited, skillfully designed houses were erected, following the contours of the curving hillside. The aesthetically pleasing row houses featured front porches and rhythmic rooflines.
The book is organized by neighborhood and touches upon the historic riches of each, including sites like the Kennedy-Warren Apartments, Brumidi House, Tudor Place and countless other places you should learn about. Each is augmented by an artistic black and white sketch done by her husband Edward F. Fogle.
Every few stories, I'd find myself surprised by a great little anecdote, something that would really add a human element to a building I've walked by a hundred time. Below is one that I really enjoyed about the building that is now the Mexican Cultural Institute at 2829 16th St. NW:
Franklin MacVeagh gave a career as a lawyer to become a wholesale grocer on Chicago and made a fortune. In 1909 he was appointed secretary of the treasury d moved to Washington, renting a home on Meridian Hill. MacVeagh watched in fascination as new home was being constructed across from where he lived. When it was completed, he visited the house with his wife, expressing admiration extending compliments to whoever the new owner might be. His wife gave him the keys to the house, saying, "Congratulate yourself." She had built of as a Christmas present for him.
It's great personal stories like this that keeps me fascinated with this city. Jeanne shares my desire to show those claiming the historical superiority of Boston, New York and Philadelphia that our city has an abundance of incredible stories — both in the history books and many lost to time.
If you too have this view, then read this book … and keep reading this blog. There are so many great stories left to uncover.
Related articles