We often wonder what the city was like in the early days. By all accounts, it was a miserable place to be.
We dug up an interesting article in The Baltimore Sun from December 17th, 1853, which makes the same claims. The article quotes a letter written by Oliver Wolcott, Jr., written on July 4th, 1800 and addressed to his wife.
At the time, Mr. Wolcott was the country's second Secretary of the Treasury, serving under President Adams (read about his trip from Philadelphia to Washington in 1800).
Below is the printed excerpt from his letter.
I have made every exertion to secure good lodgings near the office, but shall be compelled to take them at the distance of more than half a mile. There are,  in fact, but a few houses at any one place, and most of them small miserable huts, which present an awful contrast to the public buildings.–The people are poor, and, as far as I can judge, they live like fishes, by eating each other. All the ground for several miles around the city being, in the opinion of the people, too valuable to be cultivated, remains unfenced. There are but few enclosures, even for gardens, and those are in bad order. You may look in almost any direction, over an extent of ground nearly as large as the city of New York, without seeing a fence or any object except brick-kilns and temporary huts for laborers.

Greenleaf's Point presents the appearance of a considerable town which had been destroyed by some unusual calamity. There are (at Greenleaf's Point) fifty or sixty spacious houses, five or six of which are occupied by negroes and vagrants, and a few more by decent working people; but there are no fences, gardens, nor the least appearance of business. This place is about a mile and a half south of the Capitol."
It's really hard to imagine a place like the one mentioned in the first-hand accounts of the time. The description above is terrific and helps draw the picture of, what was really, a small, dumpy town plopped down on the banks of the Potomac River.
Below is a print that we found of Washington, done in 1834. It shows what Washington would have looked like, facing west down Pennsylvania Ave. from the Capitol.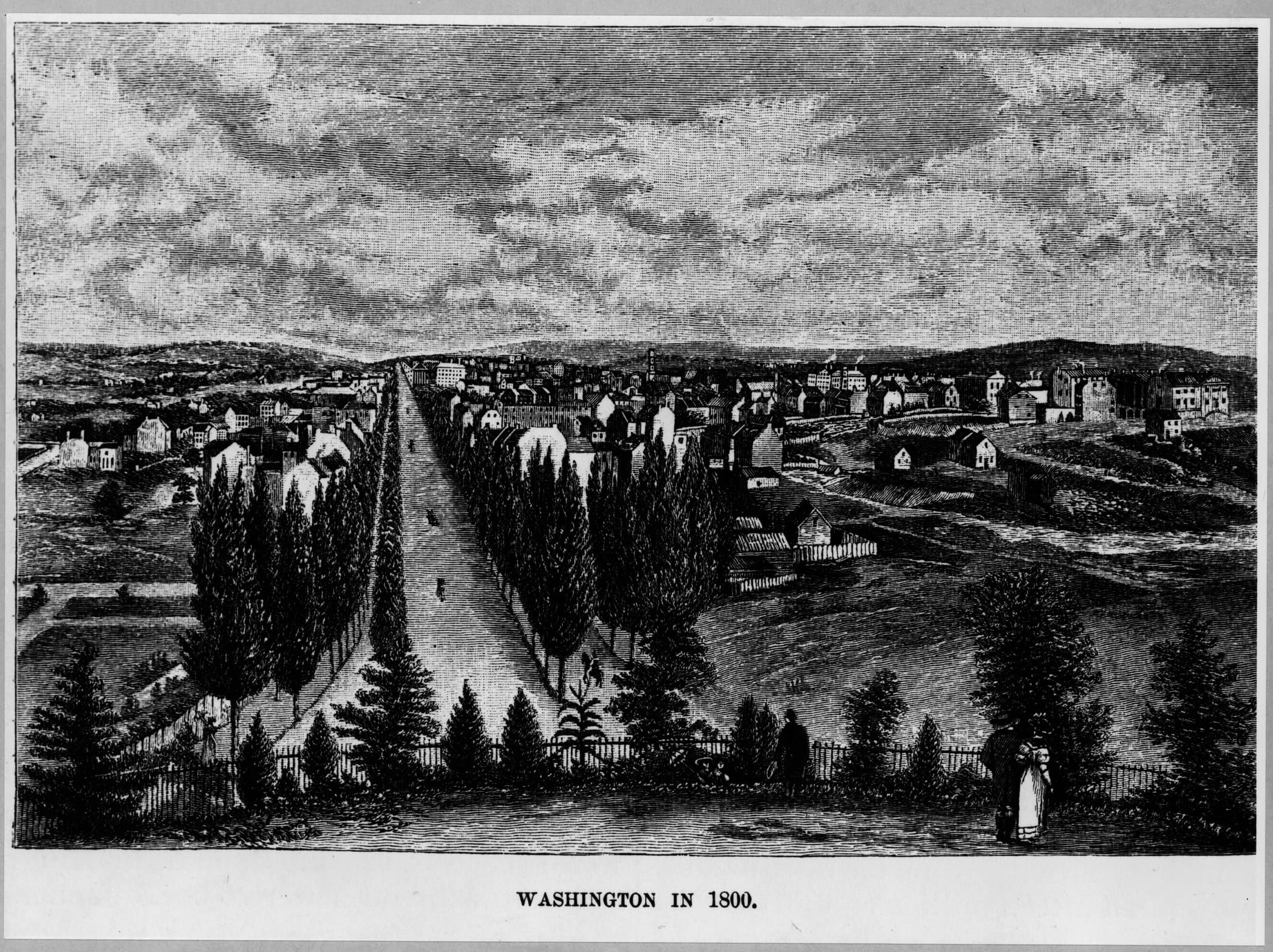 Source: Library of Congress