This is quite a beautiful photo of the Potomac River from 1898. I'm pretty sure it's impossible to locate this photo, but if you have any thoughts, add them below in the comments. Source: Library of...
This is a sad story that we came across in The Washington Postfrom June 29th, 1908. John McCalip, 22 years old, an electrician, at the Senate office building, was drowned yesterday while swimming in Broad Creek, on...
You think it's cold today? Well, it is … but 130 years ago, there were some record freezing temperatures causing problems all over the city. We went through the papers to dig up some old stories...
Remember how nasty the Potomac River was? Yes, it's still not the greatest, but it's swimmable in some parts (as long as you don't have open wounds). Back in the 1970s, it was absolutely polluted. Check...
Here's a great shot that we found on Flickr. It's the boat club just above Aqueduct Bridge (or where Key Bridge is today). Source: D.C. Public Library
What an incredible photo. We dug this one up thanks to Reddit.
That's right, the Patawmack River, not the Potomac. Check out this cool map of what would become the City of Washington. It was done around 1893, near the city's centennial. Source: Library of Congress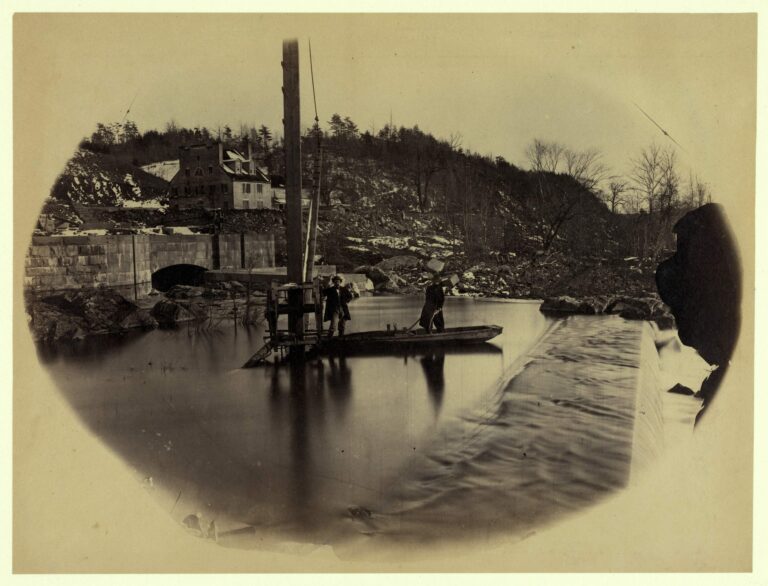 What an amazing photograph from the 1860s. This shows the entrance to the Washington Water Works near Great Falls. Source: Library of Congress
Here is a cool old photo of the Potomac Boat Club in 1921, standing in front of, what will soon become, the Key Bridge. Looks like the guy on the right is in dire need of...
These are some great prints of Washington as it looked in the mid-1790s. They were done by George Isham Parkyns and they show a slightly different and more pastoral landscape. Here is the print of the Potomac...