This is a great picture, shared by GoDCer Mike, showing Harry Atwood, taking off from the South Lawn of the White House. This photo was taken on July 14th, 1911. Atwood had traveled all the way from Boston, at the time, the longest distance ever traveled by airplane. He had only learned to fly three months prior.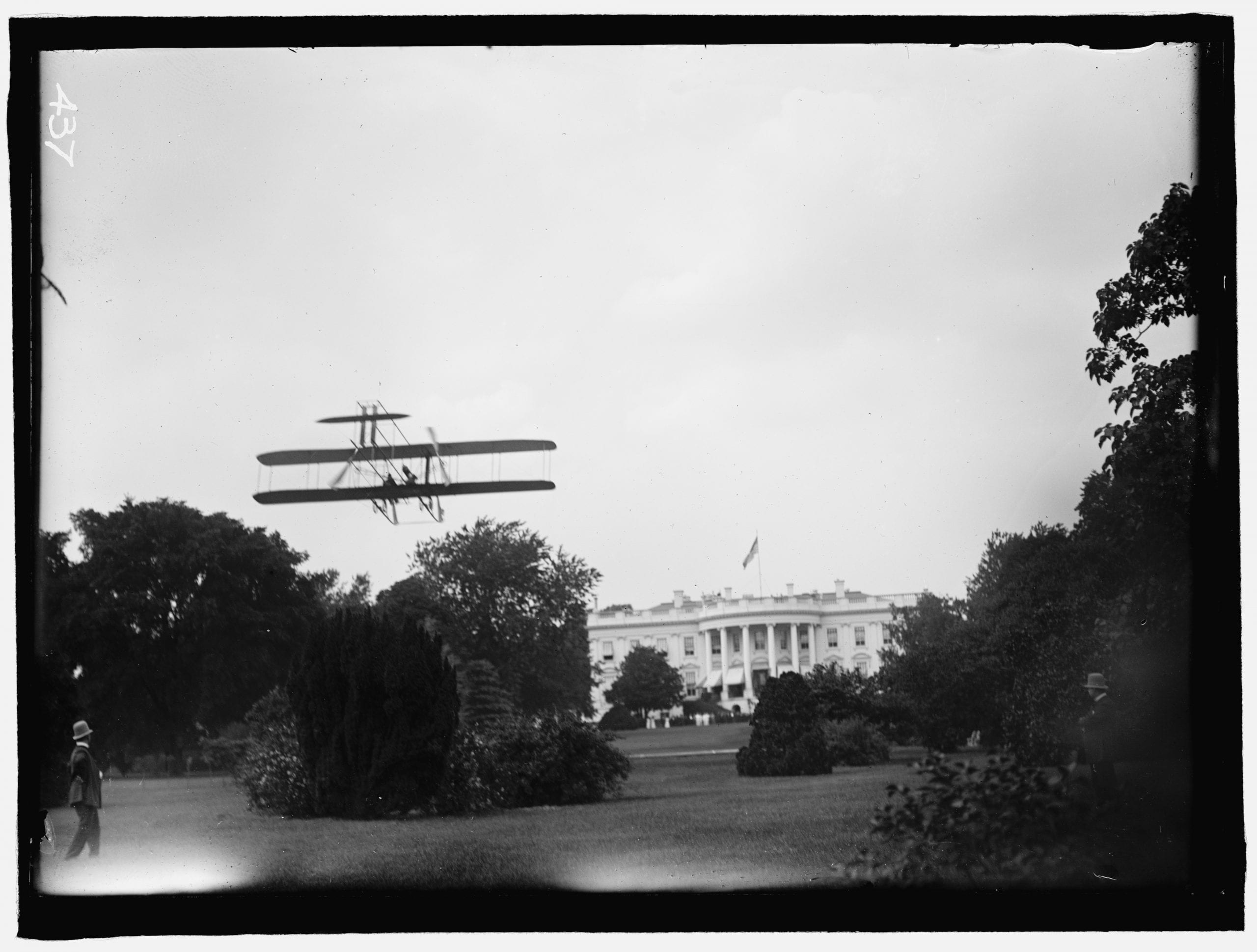 Below is an article, published in the Washington Post the following day, commenting on his visit to the White House.
Sailing over trees and shrubbery with the easy grace of some great creature of the skies, Harry Atwood called upon President Taft in the executive's back garden yesterday, and received from him the medal presented by the Aero Club of Washington for the completion of the flight from Boston to Washington. Atwood's final feat, performed for an exclusive few who had gathered near the southern portico of the White House, brought congratulations from the President, the officers of the Aero Club, and the army aviators.

He descended on a long, grassy stretch that extends from the White House to the fountain. On either side weresolid lanes of trees and shrubbery, which ranged from 2- to 60 feet high. A false turn when he alighted would have sent the biplane crashing into the branches.

There were no false turns. The biplane ran up to the rear portico as lightly and easily as an automobile might, stopping within 10 feet of the macadamized roadway that girts the lawn. President Taft who had been watching intently, his eyes shaded by his hands, with a beaming smile welcomed the aviator, as the aircraft came lightly to earth.

…

The biplane stopped within 25 feet of the President. As Atwood sat, resting for a moment before leaving the machine, the spectators crowded around him, and with extended hands assured him that he had outrivaled the famous landing of Grahame-White, his only predecessor in the matter of aeroplane visits to the White House.

Among the first to reach him was his mother, who was escorted to the side of the machine by William F. Gude. Mrs. Atwood's eyes were filled with tears as she embraced her son.