The image that we have here is a snapshot of the winners from the 1922 annual beauty contest, held at the Washington Bathing Beach. The four women posing in the photograph, from left to right, are Gay Gatley, Eva Fridell, Anna Neibel, and Iola Swinnerton. They emerged victorious from a pool of talented and stunning contestants, capturing the coveted title of beauty queens of the competition.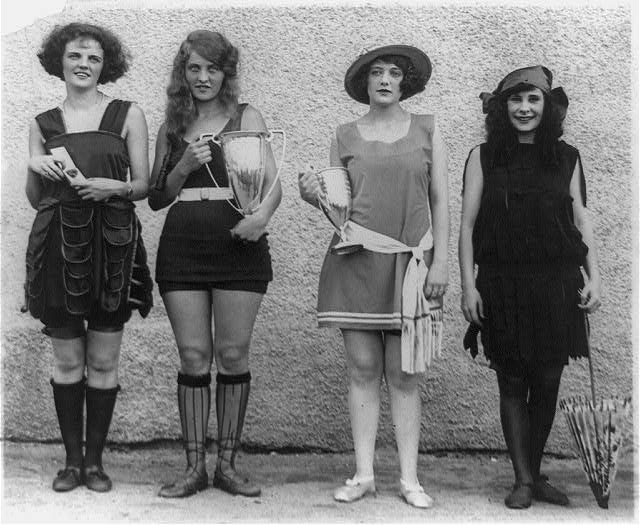 Upon closer inspection of the photo, we can see that the trophies awarded to the women differ in size. This suggests that the judges had ranked them in order of merit. Eva Fridell, who appears to be holding the largest trophy, may have been the winner of the competition, while Gay Gatley, holding the second-largest trophy, may have come in second place.
In addition to the overall beauty category, there was a costume category in which the contestants participated. Anna Neibel's attire impressed the judges, earning her the title of the winner in this category. Iola Swinnerton, who is holding the smallest trophy, came in second place in the costume category.
It is interesting to note that the Washington Bathing Beach was a popular destination for Washingtonians to escape the heat during the summer months. Located near the tidal basin, this beach attracted a lot of visitors who came to swim and soak up the sun. However, given the concerns over water pollution today, it's unlikely that one would want to take a dip in its waters.
For those interested in seeing all the contestants that participated in the August competition, we have included a photo below that features all the lovely ladies who competed for the title of beauty queen. This image gives us a glimpse into the fashion and beauty trends of the time, and allows us to appreciate the timeless beauty of these women who captivated the judges and won the hearts of the audience.
The bathing beach was near the tidal basin and was a popular place for Washingtonians to cool off in the summer months — I wouldn't set foot in that water today. Check out the photo below of all the contestants in the August competition.
And yet another one, this time from 1919 (via Shorpy).