This photo shows the old United States House of Representatives in a time when laws were passed, senators would verbally spar on the floor, and spend the evening socializing over whiskey and cigars. The good old days.
This drawing is a plan of the U.S. Senate chamber for the Thirtieth Congress. Source: Duke University
How fun is this old photo taken on December 14th, 1923? It shows a large group of boys who were Congressional pages on both sides of the aisle, battling it out with snowballs. I'd love to...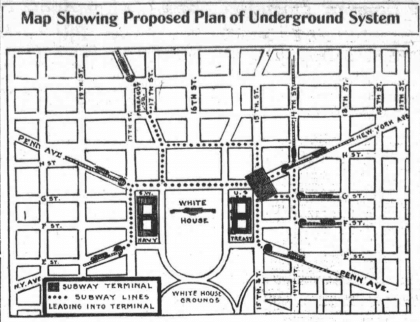 Washington DC almost has a subway started in 1912, well before WMATA and Metro opened in 1976. Learn about what almost was built in the District.
Whoa, this is cool. If you haven't seen this before, it's a photo from 1947 when both Kennedy and Nixon were member of the House of Representatives. Kennedy looks like he's 18 and Nixon about 23.
Don't blame Washington for the failures of a dysfunctional Congress. We don't blame the city of New York for the financial implosion of 2008. We don't blame St. Louis, Milwaukee, or Lynchburg, Tennessee for our college...
Now this is interesting. It's part of the ongoing debate about home rule here, as well as D.C. statehood. How can we really be autonomous if Congress controls our budget and we aren't even represented in...
This is a rather strange photo. It's of the Republican Congressional baseball team parading around the field at American League Park. The photo was taken on May 3rd, 1926. Don't forget to watch Ron Paul crank...
The hospital still exists, but it's no longer in the original location. Providence Hospital once stood between 2nd and 3rd St. and D and E St. Southeast. The block is now Providence Park, which is an...
This is another great photo, again from the Library of Congress. The caption states that it is the counting of electoral votes for the 1916 Presidential Election, in which Woodrow Wilson beat Charles Hughes. I'm unclear...