A scene was enacted just outside the National Theatre last night at the close of the performance which may end in a divorce suit.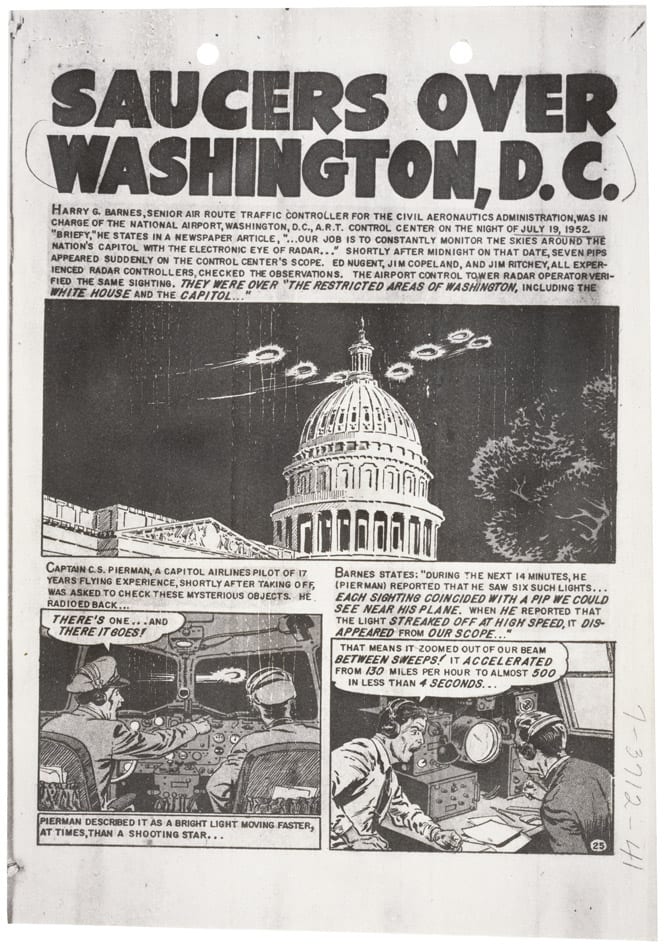 The hot summer of 1952 witnessed some bizarre lights floating over the District. Evidently for many nights in July, sightings were reported of up to seven lights flying around the night sky, including over the Capitol...
This is a cool photo of Washington taken by the U.S. Air Force using a horizon to horizon camera. Check it out. Source: Library of Congress
Thanks to a tip from GoDCer John, we did some digging into the story of a soldier who disappeared from Ft. Myer in 1967. A few Google searches later and we came across the story of...
The sub headline for this article was "Walter Bryant Hurls Beer Bottle and Edward Bryant Uses Pistol." Who do you think won that fight? We dug up this wild article in The Washington Post, printed on April...
This is some awesome footage of the old streetcar system here in D.C. from the 1950s. What's really great is seeing some recognizable spots in the city, like the Dupont Underground, East Capitol St., and of...
The Washington Senators were in the World Series in 1924, and ultimately would come away victorious. What you might not know is that Grace Coolidge (she also spent some time in Columbia Heights) was a huge...
How fun is this old photo taken on December 14th, 1923? It shows a large group of boys who were Congressional pages on both sides of the aisle, battling it out with snowballs. I'd love to...
Here is a terrific old advertisement for real estate in Brookland. This was printed in The Washington Post on Sunday, May 2nd, 1926.
Here is a series of old advertisements for the great Cairo Building at 1615 Q St. NW.