Nestled in the heart of Washington, D.C., the Willard Hotel stands as a timeless icon of luxury and history. In the 1980s, the hotel underwent a remarkable renovation that breathed new life into its magnificent structure.
After nearly two decades of being shuttered and boarded up, this transformative project aimed to revive the Willard's grandeur, enhance its amenities, and preserve its historical significance.
The 1980s marked a pivotal moment for the Willard Hotel, as it embarked on a comprehensive renovation project to modernize the hotel while meticulously preserving its historical charm. Architects and designers collaborated to restore the hotel's iconic features, including its ornate interiors, elegant facades, and stunning architectural details.
With a delicate balance of retaining its heritage and embracing contemporary comforts, the Willard emerged from the renovation with renewed splendor.
The infrastructure was upgraded to meet modern standards, ensuring a seamless experience for guests. The guest rooms were meticulously redesigned to offer a harmonious blend of classic elegance and modern amenities. The public spaces, including the renowned lobby, were revitalized to evoke a sense of timeless sophistication. Every effort was made to create an atmosphere that resonated with the hotel's storied past while providing the utmost comfort for its discerning guests.
Today, visitors are greeted by the grandeur of its historic halls, adorned with exquisite chandeliers, intricate moldings, and plush furnishings. The Willard continues to be a preferred destination for dignitaries, celebrities, and discerning travelers seeking an unparalleled experience in the nation's capital. Its iconic status and rich heritage make it more than just a hotel—it is a living testament to the history and grandeur of Washington, D.C.
There's a terrific article in the archives of the Washington Post from 1986 documenting the $110 million renovation and the rebirth of the iconic Hotel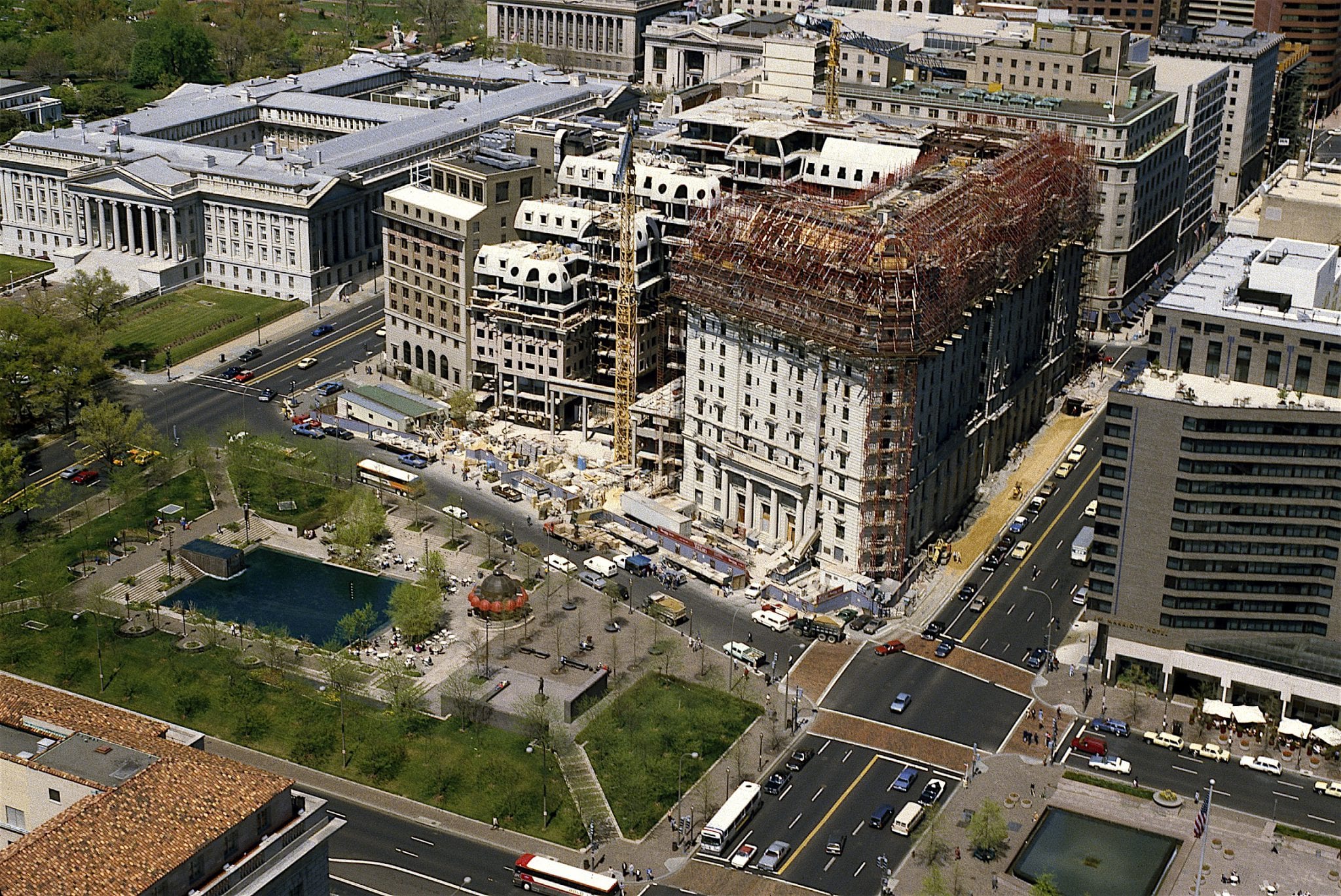 Source: Library of Congress