What happened today in Washington, D.C. history? Find out by checking Ghosts of DC.
We found this great composite of photos summarizing the opening game for the Washington Senators against the New York Yankees at Griffith Stadium, on April 22, 1925 – 89 years ago last week! This was the...
You think it's cold today? Well, it is … but 130 years ago, there were some record freezing temperatures causing problems all over the city. We went through the papers to dig up some old stories...
Here is the front page of the Alexandria Gazette, exactly 110 years ago today, January 2nd, 1904. Source: Library of Congress
Happy New Year! I hope 2014 is a great year for you and all GoDCers … while you recover from whatever you did last night, check out this old photo from January 1st, 1925. It shows...
This was the front page of The Washington Herald, exactly 100 years ago today. Source: Library of Congress
One hundred years ago today, these two images were the front pages of The Washington Times and The Washington Herald, respectively. Merry Christmas GoDCers! Have a great, relaxing time around the tree with your families. Source: Library...
Before the Kennedy Center opening, the National Symphony Orchestra would perform at D.A.R. Constitution Hall. Below is an advertisement from The Washington Post, printed on November 22nd, 1963 with a quote from President Kennedy.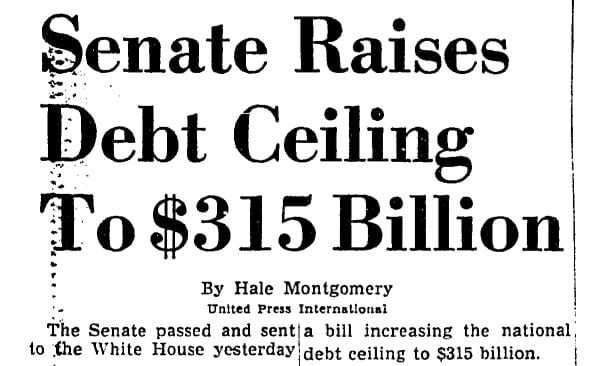 This is a headline that's still apropos today. Though, I'll go out on a limb here and say that the rancor is far worse today when debating the debt ceiling. This was in The Washington Post 50 years...
This is an advertisement in The Washington Post, from November 22nd, 1963. You could fly to Houston from Friendship (now BWI) for only $81.15 plus tax.
In scanning The Washington Post for November 22nd, 1963, I came across this small prayer, printed that day in section D8. It was a small block at the top right of the page and I nearly missed...