Mixing two of our old favorite themes, Three Things… and This Day in History, here are three homes for sale in the DC area way back on December 29th, 1951. We found these listed in the Washington Times for that day, which was a Saturday.
First we have 4912 Brookeway Drive in Bethesda. Most recently, the home sold in 2015 for $945,000 according to Zillow. Also of note is that it's a "Miller Controlled Community," which should be remembered as a real estate company that came under heavy scrutiny for their racially discriminatory practices.
Below is what the home looks like today on Google Street View.
Next, we have a home in Shepherd Park in upper northwest Washington. This one was at 1206 Geradium St. NW. Here's the listing today on Redfin.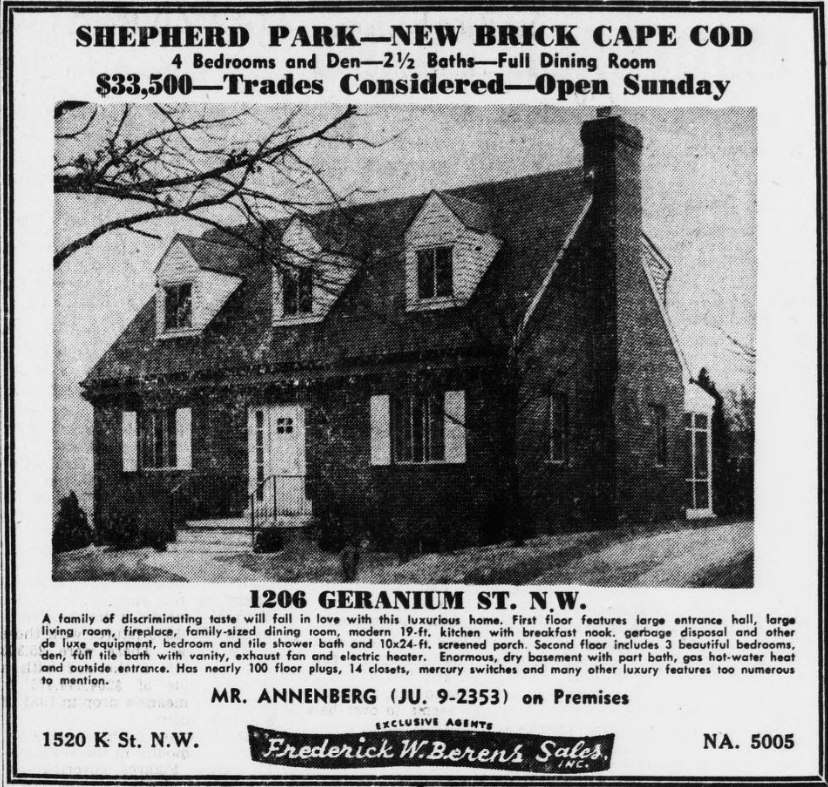 And below is the Google Street View.
Last, the home below was built in Lyon Village on North Bryan Street. This cut little working-class home was close to schools, shopping and just a few miles to Washington.
Here's what it looks like on Google Street View today, but wait until you scroll below and see the recent photo from Zillow. It's pretty stunning, and impressive that the home sold for over $1.7 million just this May.
Here's the awesome recent photo.