This is a long-overdue, and greatly anticipated, guest post by Aaron, who wrote one of our most popular pieces yet on the (almost) red Metro trains.
As crowds celebrate the 50th anniversary of the March on Washington for Jobs and Freedom, D.C. prepares for an influx of visitors — and a series of traffic, transit, and telework announcements. The Post has a collection of maps and plans for the 2013 event. But let's look at the advice the local paper gave visitors and residents on Wednesday, August 28, 1963. Did you know that the District and surrounding counties banned booze on the day of the March?
Two maps showed road closures and routes to the Lincoln Memorial: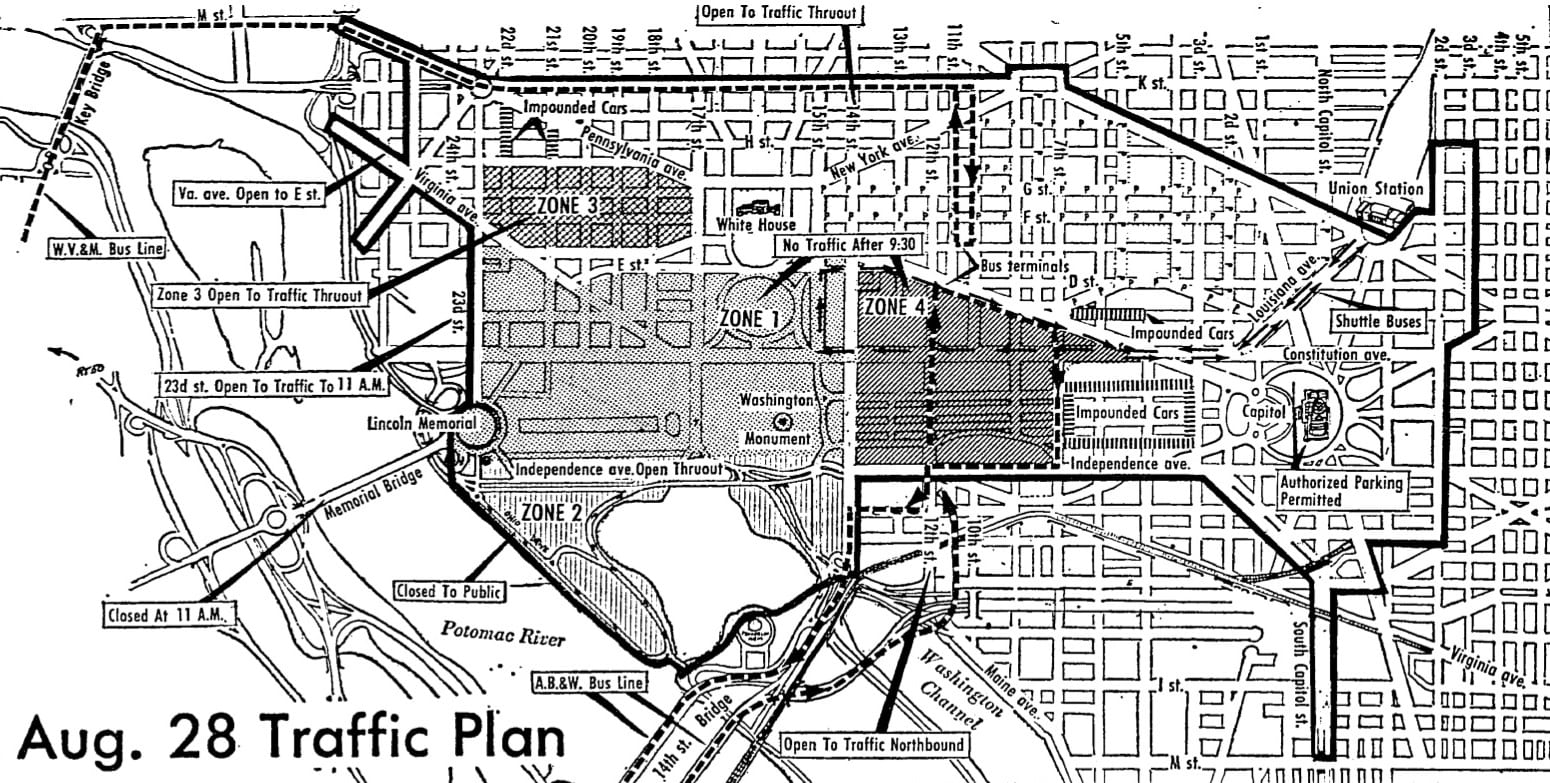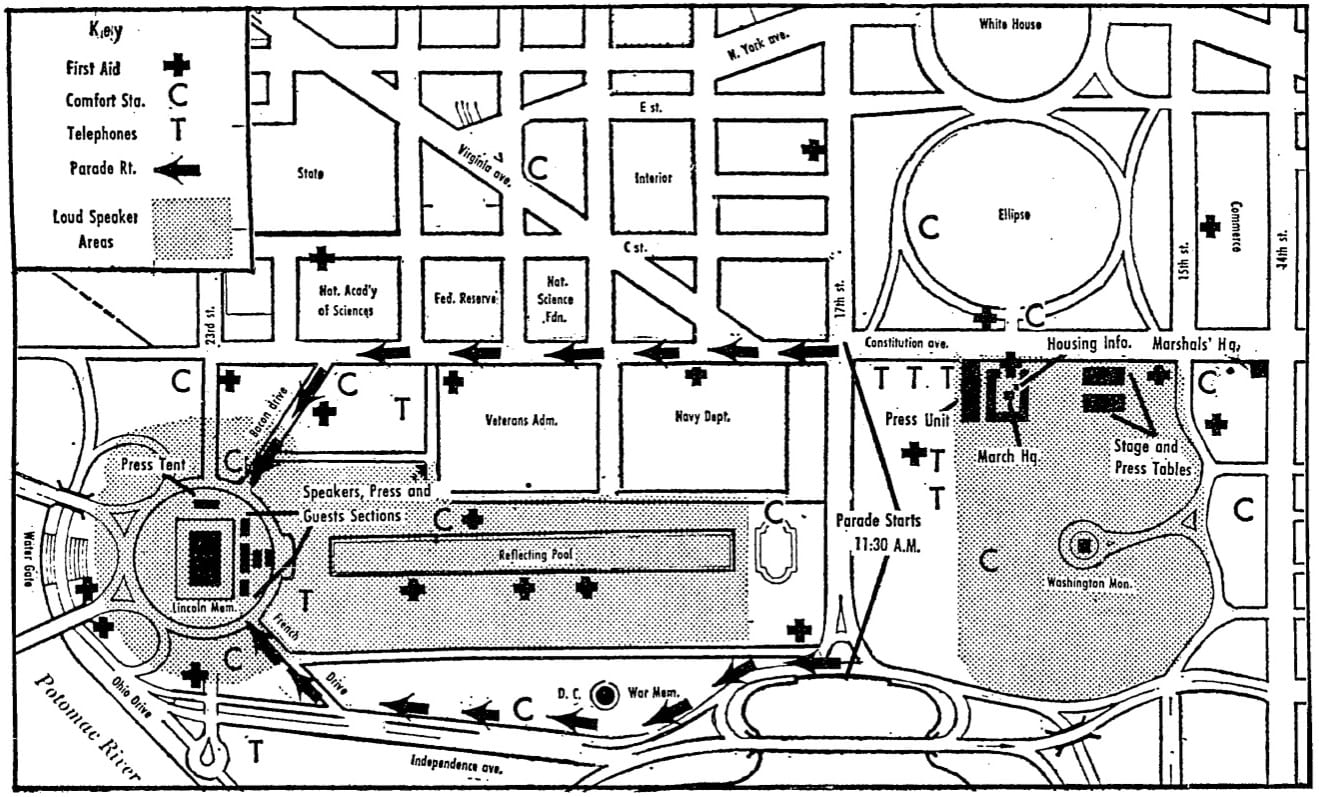 The Mall was a different place in 1963. Several structures no longer exist (like the Navy Dept. north of the Reflecting Pool). You'll also see that Washingtonians were still describing the stairs behind the Lincoln Memorial as the Water Gate.
Under the headline, "Pointers to Help Marchers Here," the Post provided tips from local authorities and organizers of the 1963 event. Here are some excerpts:
Marchers:

Children – Marchers are strongly urged not to bring anyone under 14.

Phones – Forty-six pay phones will be available near the Monument and the Memorial.

Housing – March organizers consider it "imperative" that participants leave today, but for the stranded a substantial amount of hotel space is available. Also, there will be housing information booths on the rally site.

Washington Residents:

Restaurants – Generally open, some with simplified menus. All liquor sales are banned.

Taxis – Some driver-owners plan to take the day off, but much service will be available.

Downtown Business – Much normal business activity will be attempted. Advice: Phone ahead to be sure you don't make a futile trip. Come downtown if necessary for banking, business, work, shopping – but not as a curiosity seeker.

Government Workers – Federal and District Government employees who take the day off will be charged for a day of annual leave. Those who work must be in off-street parking facilities in zoned area before 9:15 a.m. Certain Government cafeterias will be closed.
As the Post coverage noted, alcoholic beverage sales were banned District-wide. A front-page article on the day of the March explained that officials in D.C., Montgomery County, and Prince George's County had imposed various restrictions on alcohol sales. The ban was most restrictive in the District. It lasted from 12:01 a.m. on Wednesday, August 28, 1963 to after the normal 2 a.m. closing time for bars in the early hours of Thursday morning.
The liquor ban was the result of what District Commissioners described as a "public emergency." The Post noted: "Liquor dealers, hotels, restaurants and taverns expressed surprise and annoyance, but none challenged the order. It prohibits the sale, serving, consumption, or delivery of any alcoholic beverages – by the drink or by the bottle – in all of Washington's 1900 licensed outlets, from private clubs to grocery stores."