We are fast approaching the quarter century mark for many of the early Internet adopters. In fact, 2020 will be 25 years since the Washington Post registered washingtonpost.com as their domain name — on November 13th at 11 pm local time to be exact. By 1996, the media outlet had planted their flag in cyberspace, launching their first website in June of 1996. Very quickly, they were receiving a half-million page views per day.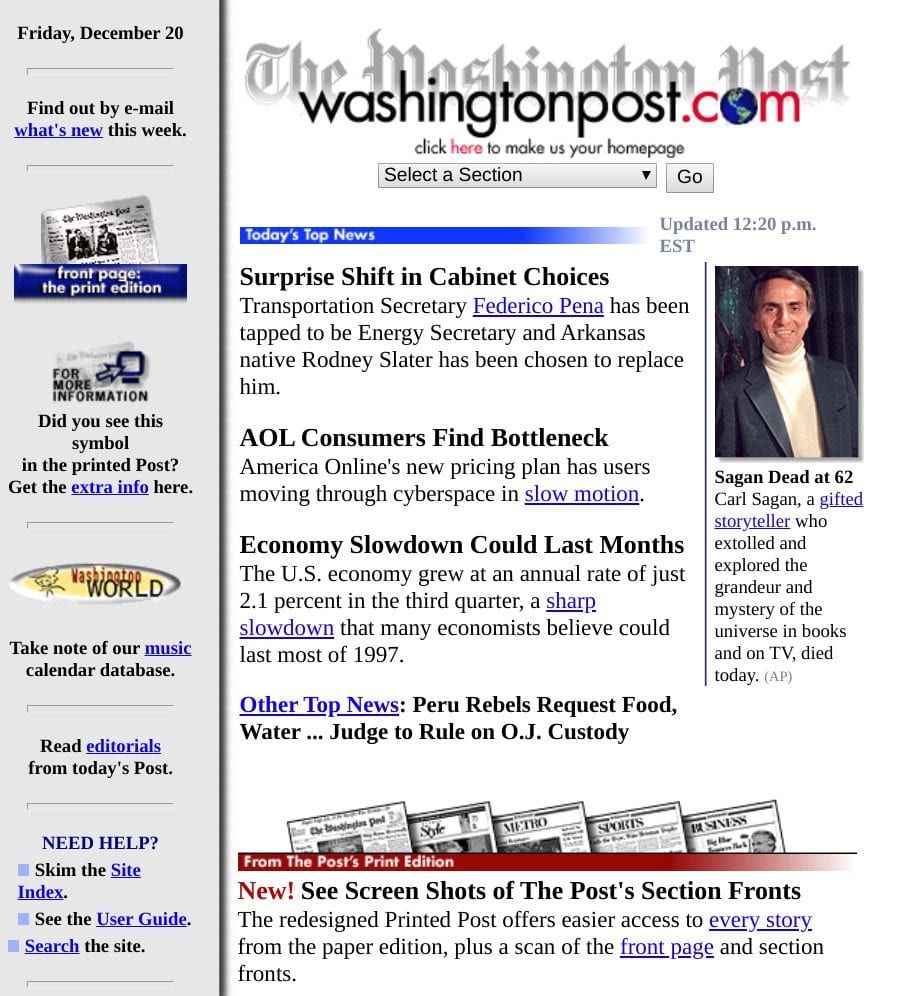 What happened in 1996?
First, a brief review of local, domestic, and world events from 1996.
The Unabomber was captured.
The Olympics were held in Atlanta.
TWA Flight 800 exploded and crashed in the Atlantic.
President Bill Clinton beat Bob Dole and was re-elected.
The Washington Redskins built a new stadium.
A major blizzard shut down D.C. in January.
The Macarena was a huge hit.
Tupac Shakur was killed.
Fox News made its debut.
Marion Barry was mayor of D.C.
On Sunday, January 14th, 1996 the Washington Post published for the first time a reference to their website at washingtonpost.com. The mention was in an advertisement about job listings, stating that "once again, technology improves the human condition." Throughout the spring, similar ads ran each Sunday, promoting the new online service.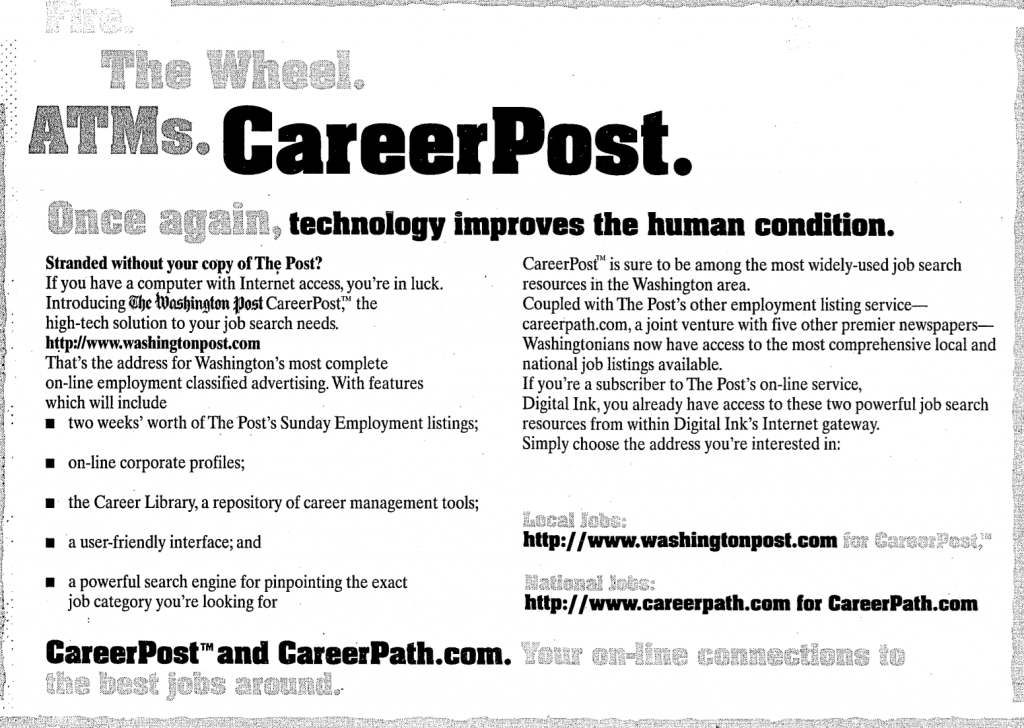 Post Launched Web-Based News, Information Service
On Wednesday, June 19th, 1996, Mike Mills wrote the first piece mentioning a new online service being launched by The Washington Post Co. in an article titled "Post Launched Web-Based News, Information Service." Below is an excerpt from his piece.
The Washington Post Co. is joining the World Wide Web.

The company today unveiled an electronic news and information service called "WashingtonPost.com" It will be available, free initially, to anyone with access to the Web, the fast-growing part of the Internet that has colorful graphics and easy links to information from around the world.

WashingtonPost.com will allow users to read current and past issues of The Post on their computer screens. It will offer information on local businesses, entertainment and other resources and let readers communicate electronically with Post reporters, editors and each other, according to officials from The Post Co.'s Digital Ink subsidiary.

With its Web site, The Washington Post Co. joins about 300 other U.S. newspaper publishers now on the new medium. All are hoping that a presence in cyberspace will draw new readers and advertisers.
How fascinating it is reading this article with the benefit of hindsight. Luckily for us, the Washington Post is one of the news outlets that has survived the massive disruption of the media industry and is doing quite well in the digital world — some of it thanks to Jeff Bezos and his investment.
Interestingly, they had launched an online service the year prior dubbed Digital Ink, but it failed to gain traction and ultimately was shutdown in favor of this website. This was a case of betting on the wrong technology, as it wasn't based on web standards, requiring special software to access it via AT&T's proprietary Interchange network.
For those of you who remember computer networking (yawn — for some of you) these were the days of Compuserve and America Online dial-up services to access their closed network equivalents of today's web.
Retraining the editorial staff
After abandoning Digital Ink, the company retrained an editorial staff of 20 to code their articles in HTML — the markup language of websites — to publish on the new website. Massachusetts-based Digital Equipment Corporation, a former tech heavyweight provided the technology infrastructure to support the new project. Sadly, they were out of business by 1998, being acquired by Compaq (remember them?).
The best statistic from the article mentioned that "roughly 8 percent of households in the Washington area are on the Internet," which was higher than the national average of 5 percent. Ralph Terkowitz was in charge of the technology operation at the time, and was quoted saying "we believe there is a large, growing audience that would like to gather their news and information from the Web." Well, he was right.