These are old ads and classifieds from Washington, D.C. newspapers.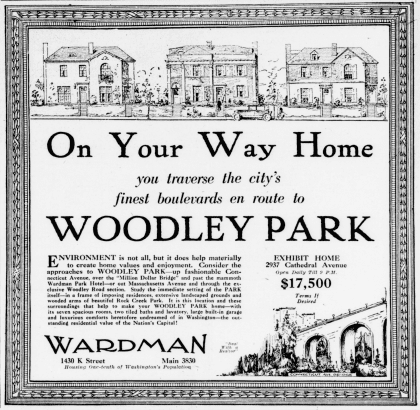 Harry Wardman was a prolific developer of Northwest in the 1920s. This ad from The Evening Star shows some of his homes on Cathedral Ave. in Woodley Park.
What did homes look like in 1920s Silver Spring? This advertisement promotes "growth now has brought modern, rapid transportation."
This map is so fascinating, showing Tennallytown (i.e., Tenleytown today) and Reno (long-since razed). It was done by G.M. Hopkins & Co. in 1894. Make sure you click on it for a larger version to examine...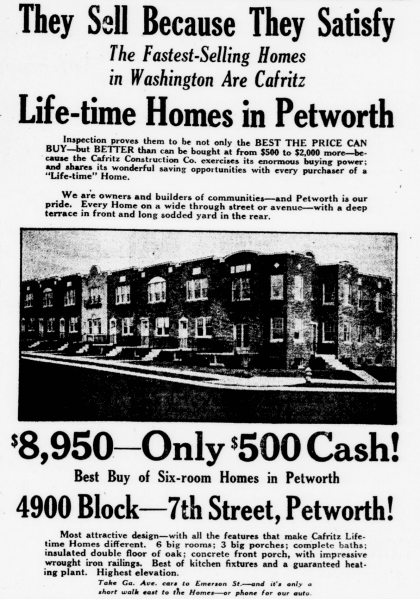 We posted some cool old maps of Petworth's development in the early part of the 20th century yesterday. Today, here are some cool ads to go along that. You're looking at a few ads we found...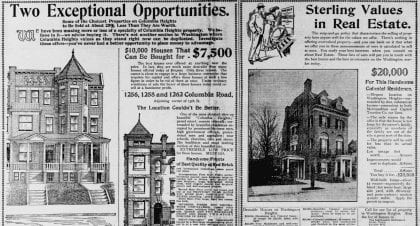 Check out this great old advertisement from The Evening Star back in 1904. It shows a number of great properties for sale in then-new Columbia Heights, which was booming with development. Source: Library of Congress
Piggly Wiggly is a seriously southern brand, which no longer exists in Washington. But here's a cool old advertisement showing the Pig back in 1922. Source: Library of Congress
We love sharing old real estate advertisements from the area. Check this one out, showing a home in Chevy Chase, published on January 6th, 1923. Source: Library of Congress And below is the Google Street View.
You could hand your own piece of Wisconsin Avenue real estate for only $50 down back in 1908. Not a bad deal!
This cool old advertisement shows a competition for flying innovation in the early 20th century. Click on it to read more and see that William Randolph Hearst was offering $50,000 for a successful flight across the...
How cool is this find? We dug up this great old menu for the Willard Hotel's room service at Discover DC History. Click on them for more details. This appears to be from the 1960s? Maybe...