In 1889, an advertisement in The Washington Post promoted Rosslyn City as the "Brooklyn of Washington." This tagline encapsulated the urban growth and ambition shaping American cities at the time.
As the Industrial Revolution accelerated urbanization, cities like Brooklyn expanded rapidly. Brooklyn evolved from villages to a vibrant hub known for culture and architecture. Labeling Rosslyn the "Brooklyn of Washington" signaled its intent to become a major urban center alongside the nation's capital.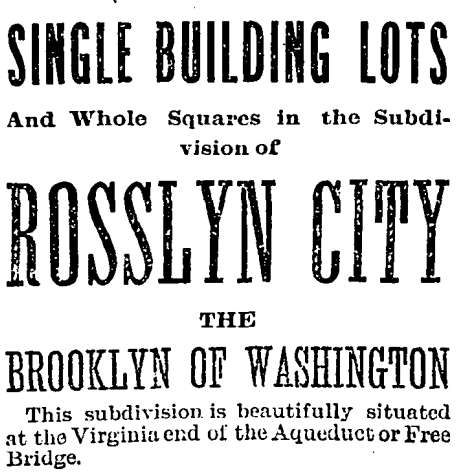 Rosslyn's location "at the Virginia end of the Aqueduct or Free Bridge" was pivotal. In the late 1800s, bridges represented progress and connectivity. Rosslyn's proximity to such infrastructure highlighted its potential as a hub for businesses and residents.
While Rosslyn did see significant development over time, it faced challenges in fulfilling its lofty aspirations, much like Brooklyn did. It took many decades for Rosslyn to truly come into its own.
This ambitious urban dream reminds us that cities have always been evolving entities, constantly redefining themselves. As cities worldwide now face modern challenges, looking back on Rosslyn's aspirational slogan provides perspective on the resilient spirit of urban growth.
Though debate remains over whether Rosslyn achieved its goal, its audacious vision is commendable. The advertisement provides a window into an era and the unrelenting ambition of a city striving to write its own story as an urban jewel.