I really enjoyed researching the last "Three Things…" post and from the traffic and Twitter buzz, it seemed like a number of you enjoyed reading it. So here's another one to add to your trivia treasure chest: Farragut Square.
You all know it and love it, because this is where you go in the warmer months to partake in the recent explosion of D.C. food trucks. Pies, pitas, gyros and kebobs (yum) … it's all awesome, cheap and you can sit on a little patch of grass to soak up some rays.
I also love the food, but the real reason for this post is a conversation I had the other day with someone about the two Metro stations, Farragut North and Farragut West. It seems so odd and inefficient that two separate lines have stops just a couple hundred yards from each other … and I didn't know why this was until I read a great book about the history of Washington's Metro system, "The Great Society subway: a history of the Washington Metro" … great book, read it.
I'll give you that story and two more about Farragut so you have some conversation topics for your next food truck run.
1. Why do we have two Farragut Metro stops?
WMATA did not originally design the system to have this odd configuration, so you're not wrong in complaining about it, nor questioning the inefficiency. You can place the blame squarely on the bureaucratic and political battles between two large organizations. One of course was WMATA and the other was the steward of Farragut Square, the National Park Service.
The new subway system was designed in the late 1960s and early 70s to have two concurrent transfer stations, allowing those on the Eye Street line (Orange line) to easily transfer to the Connecticut Avenue line (Red line) and vice versa.
The two transfer spots were to be Farragut Square and Metro Center, and this was planned to provide relief for the impending congestion during rush hour. This sounded like an excellent plan; WMATA and head architect, Harry Weese, just had to overcome two hurdles.
The first was selling the idea of escalators emerging from within Farragut Square itself to the Park Service. The second was requesting permission to temporarily relocate the statue of Admiral David Farragut ("Damn the torpedoes, full speed ahead!") to allow for digging and underground construction. The National Park Service's response: absolutely f*cking not (I can't confirm these were the exact words).
The National Park Service had spent the better part of the 60s battling the surge of road construction and interstate highway development. Needless to say, progress at the continued expense of their parks was a bitter pill for them to swallow and this was their opportunity to halt the destruction of one of the city's treasured squares.
By the way, a decade earlier, there was another proposal to tear up the square to put a giant parking garage under it. The Park Service said no then too.
So, WMATA and Mr. Weese had to go gack to the drawing board, splitting up the station into its current configuration. Ever the perfectionist, Harry rightfully dubbed the Farragut Square stations the worst in the entire system. I tend to agree, but I also like the undisturbed appearance of Farragut Square … and food trucks.
I should also add that the Park Service did a good thing when they killed the proposed metro bridge over Rock Creek Park near Connecticut Ave. and the Taft Bridge (yuck). This required WMATA to bore a tunnel under, necessitating the ridiculously deep Dupont and Woodley stations, and long escalator rides.
Doors closing. Next stop … Farragut Square, transfer stop for the red and orange lines.
2. Despondent woman attempts suicide in Farragut Square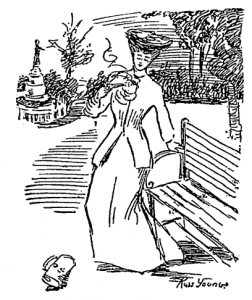 This is one that could be categorized as a "From the Crazy Vault" post. I came across this story in the Washington Post from 1905.
Poor Velma Grissom, who lived in Spray, North Carolina and was divorced from her husband William Grissom for about four years. Things were heading seriously south for Velma and her emotional outlook was quite bleak. As part of her divorce settlement, she was required to transfer custody of their young boy, Lawrence, on a semi-annual basis to her ex-husband, so as to split time between the parents.
Velma had been living in Washington for a short while in 1905, beginning in mid-summer. She started out in a boarding house at 14th and K St. NW, then moved to the Ingleside apartment house at 12th and K St. NW and finally, her last stop was 902 12th St NW.
The middle of November was when Lawrence was to be taken to his father's home in North Carolina. She took the boy down by train and was just devastated having to take the train back to Washington alone. She went about her life quietly at her 12th Street boarding house, often wandering the neighborhood looking worried and morose.
One quiet Saturday morning, she sauntered over to Farragut Square, sat down on a bench near the statue and pulled out a small revolver. She placed the barrel of the gun in the middle of her chest and pulled the trigger … twice. The two loud bangs alerted passersby, who quickly came to her rescue and hailed for medical attention.
Velma fought furiously against treatment, pleading to die. She eventually relented and they took her to Emergency Hospital. There she remained in critical condition for quite some time, but she survived. Her ex-husband came to the city to be by her side during her convalescence.
Well, in an interesting twist, William and Velma remarried the following year on June 3rd. That's right … ain't no drama in poor little Lawrence's life. I'd be really curious to see where he ended up.
3. April 25th, 1881 was Farragut Day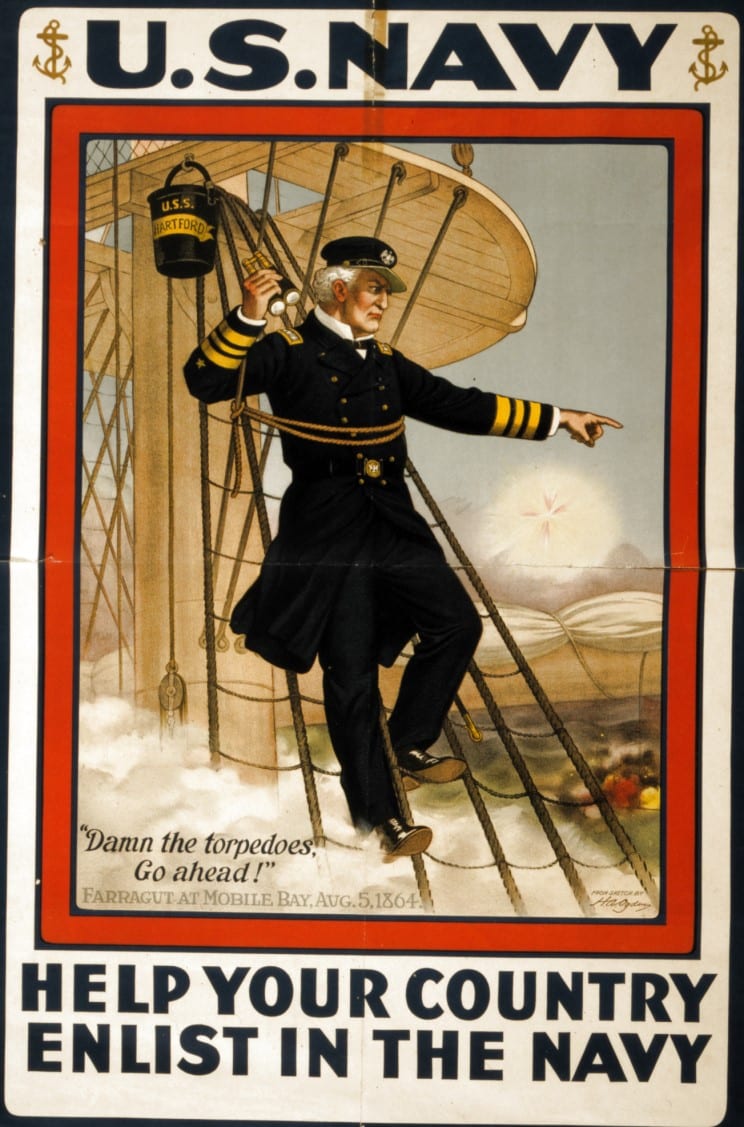 A total of $20,000 was allotted by Congress on April 16th, 1872 to erect a statue dedicated to the Civil War Union admiral, David G. Farragut. Nine years later, the statue by Vinnie Hoxie was complete and ready to be unveiled and dedicated by President James A. Garfield (BTW, he had a very bad encounter with a fellow by the name of Charles Guiteau a few months later).
By all accounts, the day was perfect. The weather was excellent, the crowd was large and in awe of the ceremony, and the military was out in full regalia to honor Admiral Farragut. Tickets were limited, and people began arriving as early as 10 o'clock for the ceremony and within an hour, the seats were full. By noon, the immediate area held over 30,000 people, jockeying for a spot to see the speaker's podium.
The ceremony began just before 1 p.m. with the sound of a signal gun to announce the arrival of the procession at the Treasury building. A short time after the procession arrived in the square, the Marine band belted out "Hail to the Chief," after which, Secretary of the Navy, William H. Hunt had the honor of announcing the President of the United States.
Garfield gave a speech of about four minutes to honor Farragut and the unveiling of a new statue in Washington to a Civil War hero, paraphrased below.
…This Capital is silently being filled up with the heroes of other times men of three wars have taken their place in silent eloquence as guardians and guards of the Nation they love so well. And as the years pass on these squares and public places will be rendered more and more populous, more and more eloquent by the presence of the heroes of other days. From all quarters of our country, from all generations of its life, from all portions of its service, these heroes come by the ministry and mystery of art, to take their places and stand as the permanent guardians of our Nation's glory.

…

In the name of the Nation I accept this noble statue, and his country will guard it as he guarded his country.
A succession of speeches was given after the president, keeping audience's attention for some time and at the conclusion, Farragut received a booming seventeen gun salute (read up about gun salutes on Wikipedia … very cool).
The entire event was full of pomp and circumstance, far greater than the space allotted for this post, but let's just say, it was a pretty big deal.
Do you remember the last time a major statue was dedicated in the District? Yep, think MLK Memorial dedication … a big deal (except that was delayed by a hurricane).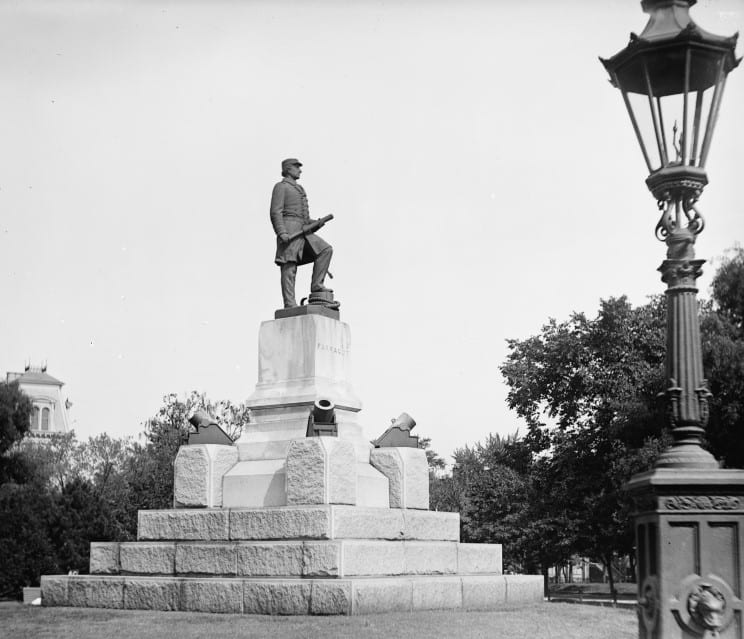 If you're into this new series, let me know … add some comments below. Also, if you were there when the statue was dedicated, I'd like you to add some comments to let us know how hard it was to hear Garfield speak. I would have been so pissed at the guy next to me chatting away.
Happy hump day. It's all downhill from here, but if you follow us on Twitter (@GhostsofDC), it usually goes much faster.