Did that really happen? I was watching the documentary about Andre Rousimoff on HBO Max and there was a brief mention of Andre being courted by George Allen and the Redskins in the 1970s. I had to look into this to see if there was any truth to the matter.
After much Googling, it seems that this photo is part of the legend. It shows the not-yet-great Joe Theismann being held by Andre at what is said to be Duke Zeibert's restaurant on L Street in Washington.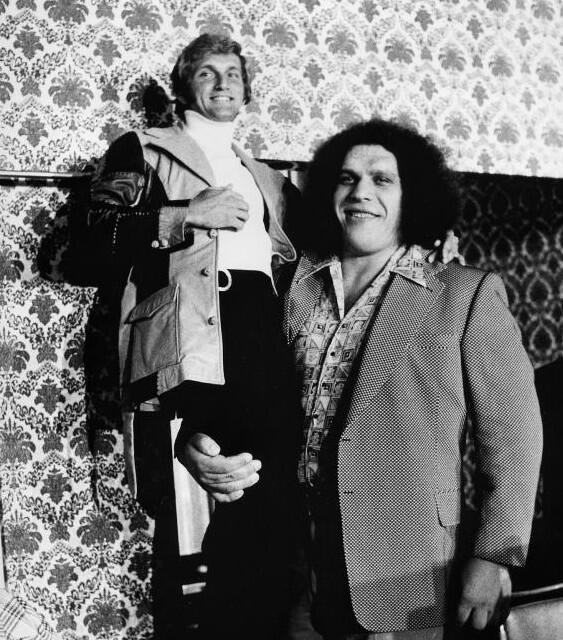 Below is an article we dug up, printed by the Chicago Defender on July 9th, 1975.
At a news conference worthy of Paul Bunyan and his great blue ox, Babe, the Washington Redskins suggested they were interested in signing a 7'4″ more than one-fifth of a ton professional wrestler, known as Andre The Giant for defensive purposes.

In conjunction with a Washington wrestling promoter, Tim Temmerario, director of personnel of the Redskins and Joe Theismann, a prospective starting Wshington quarterback replacement for Sonny Jurgensen, served as co-spokemen for the 425-pound behemoth.

…

Coughing a little, Tim related that about four months ago Redskins coach George Allen told a staff meeting that he'd like to find "something unusual" for defensive purposes such as an agile seven-footer to create consternation in opposing ranks. Temmerario said he got word of Andre The Giant and initiated possible free agent negotiations with promoter Vince McMahon.
The Vince McMahon mentioned above is the father of the one we all know today.
There was also a mention of this alleged negotiation a few years later in Toronto's Globe and Mail on June 27, 1978.
Without the bluster of Ali or the swagger of a Reggie Jackson, the Giant lives on the fringe of the sports whirl. His nearest approach to the mainstream came a few years ago, when Washington Redskins wanted to hire him to play middle linebacker. Civil engineers were busily designing shoulder pads when Andre turned them down; they couldn't pay him as much as he was earning in the ring. He clears about $300,000 per year; it is unshared with an agent. Or a wife.
This seems a little dubious, but the rumor persisted and continues to this day. It doesn't really matter because we love the story and the myth. Plus, wasn't more than half of what people said about Andre the Giant an exaggeration?
We did dig up some great ads promoting Andre's wrestling appearances at the Capital Centre.