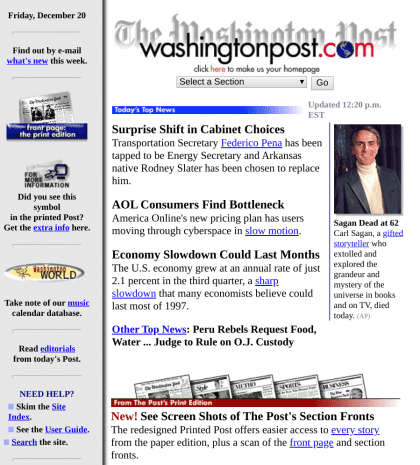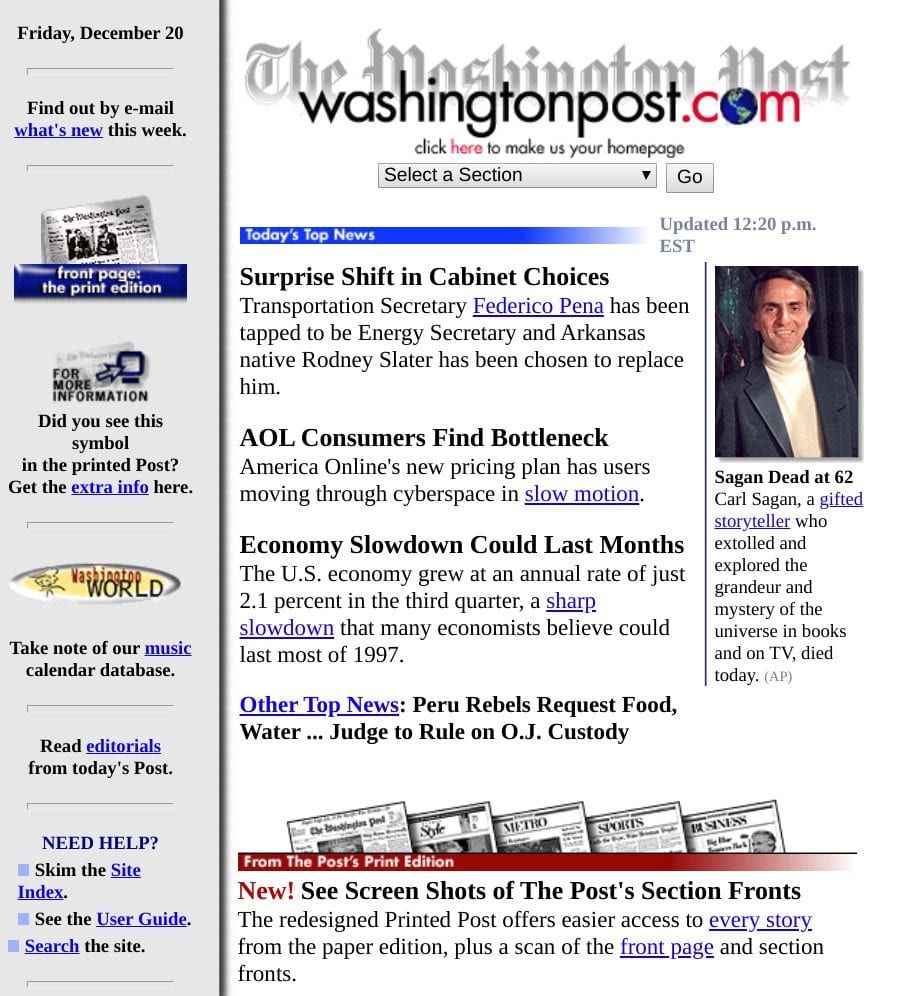 The Washington Post launched their first website in June 1996 after a failed attempt at online news called Digital Ink.
This is a cool New Year's advertisement that we found in The Washington Post December 31st, 1949. Click on it for a larger version.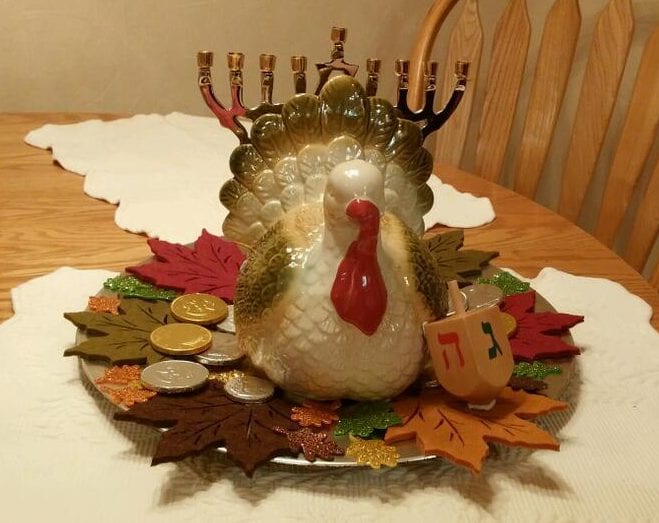 Hanukkah and Thanksgiving rarely overlap.  Among its 22 articles covering 2013's "Thanksgivukkah" holiday mashup, the Washington Post reports that the convergence of turkey and latkes won't occur again for 77,798 years. How did D.C. media report on this...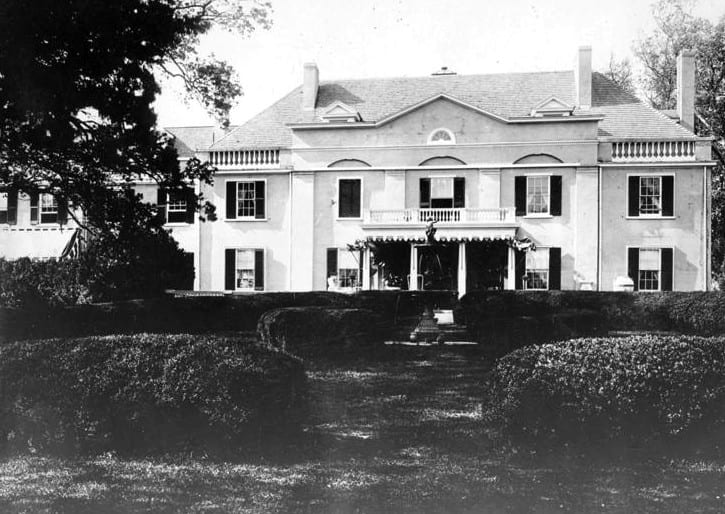 The land on top of which McLean Gardens was built originally was the estate of John Roll McLean (i.e., McLean, VA).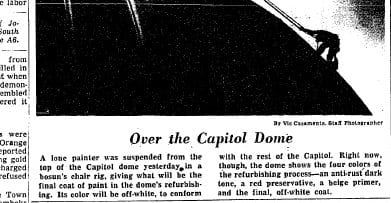 Yesterday Tom shared a somewhat jarring photo of the Capitol dome — colored red.  It wasn't something we had seen before, dating roughly to the late 1950s.  Unfortunately, we just didn't have much information. After a...
You can get lost in these old classified pages. This one is from the Washington Post on Saturday, October 5th, 1895. Turkish Baths anyone? Shampooer of twenty-two years' experience. How can you turn that down?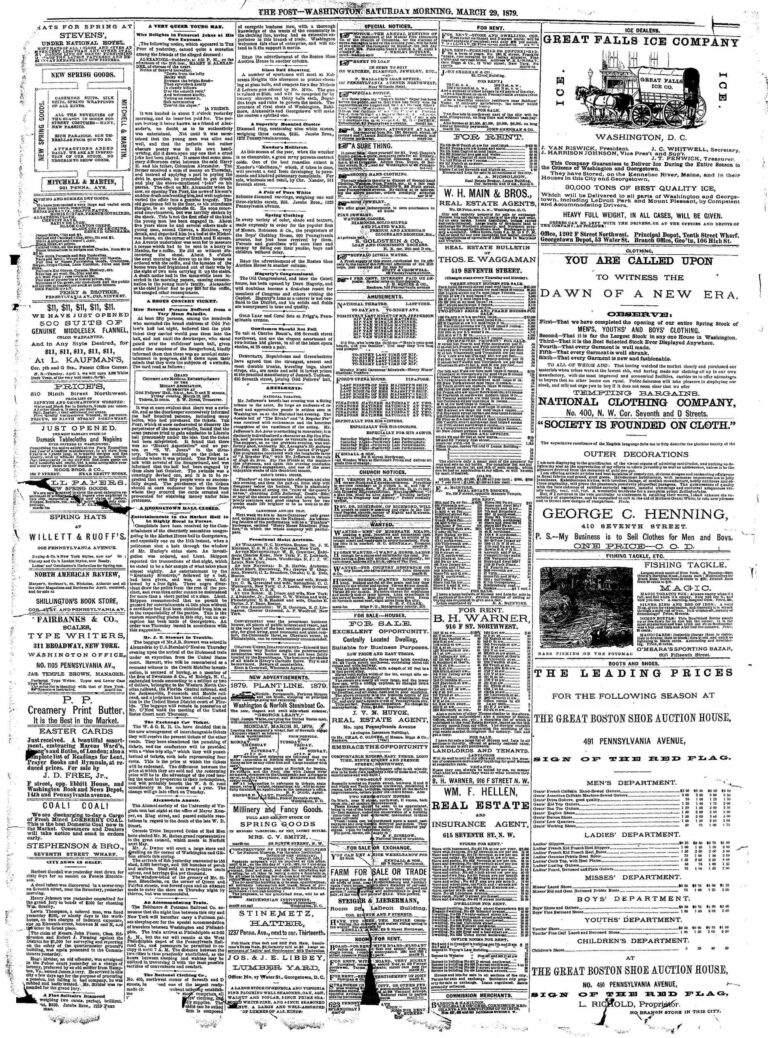 Maybe this is a little hyperbolic, but that was the ad for the National Clothing Company, at the corner of 7th and D St. NW. Check out this page from the Washington Post classified pages on...
Our favorite officer and the patron saint of Ghosts of DC, Officer Sprinkle, took a trip up to New York City with a group of 21 contest winners from The Washington Post. Twenty-one winners in the...
GoDCer Ben sent along a great photo of the Washington Post baseball scoreboard circa 1912 (the same year the Titanic sank). It's remarkable how this low-tech scoreboard resembles our current day ESPN Gameday and MLB.tv.
About 5,500 weekends ago, Washingtonians woke up and lazily flipped through their newspapers.  It was Sunday, November, 11, 1906 and something bold and new was described for the first time in The Post: New Portmanteau Words....