I posed a question to readers on Twitter whether a bit about Garfield's assassin, Charles Guiteau, would be of interest and a couple of folks chimed in. So, I think this will be a good one for the next "Reader's Choice." There is also a great book out now by Candice Millard called "Destiny of the Republic" that discusses the events surrounding the assassination — and subsequent poor medical treatment — of President Garfield.
Anyone that took American history in high school knows that Charles Guiteau shot President Garfield — if they were history nerds, they'd remember it happened at the Baltimore and Potomac Railroad Station, at 6th and B St. NW (B is now Constitution). But, you're probably interested in his time here in Washington. Where did he sleep? Where did he eat? And who did he interact with?
By the end of this post you should have a little better understanding of Charles Guiteau was and learn a little about his time in Washington.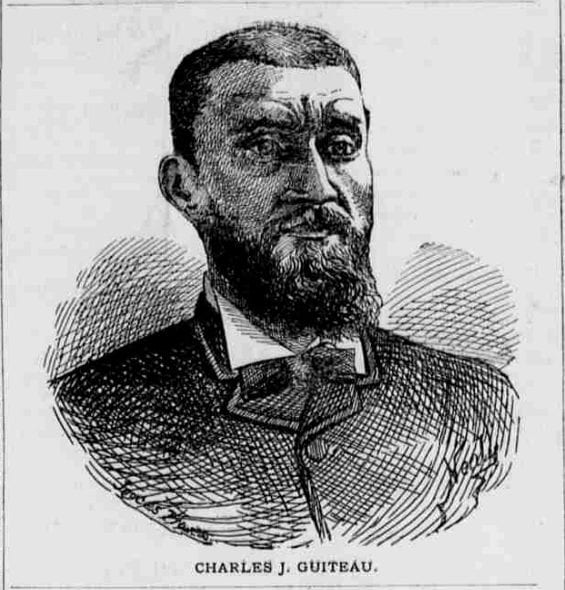 You can learn a fair bit about Charles Guiteau just by scanning his Wikipedia page.
He was the fourth of six children, born in Freeport, Illinois on September 8th, 1841. He attempted to go to the University of Michigan, but failed the entrance examinations. His father harassed him into doing remedial academic work to eventually gain admission to the university, but Charles opted to quit and joined a religious sect known as the Oneida Community in New York. He was quite disliked by the group and, humorously, was dubbed with the nickname "Charles Gitout."
After leaving the sect, his next step was to become a lawyer, which he was able to do by passing the Illinois bar exam. He was quite miserable at being an attorney in Chicago, so he packed up and gave it a try in New York City. It didn't work out for him there either, as he was arrested for embezzlement and imprisoned for some time.
Failing in the law practice, so his next step was to attempt a career in theology. He was deeply interested in the occult sciences and, for a time, wandered from town to town as an evangelist — under the name the Hon. Charles Guiteau — speaking to anyone who would listen to his religious ramblings.
This sets a good background on who he was, and basically it's the Cliff Notes for his Wikipedia entry, and while factual, it's kind of boring. I'm interested in a little more than the article. I'd like to find some first hand accounts of his personality and details of his time in the Washington.
Guiteau, the narcissist
Here is one I found from the Baltimore Sun, dated July 3rd, 1881, one day after he shot Garfield. These are the recollections of a man who knew Guiteau while he lived in Chicago.
One gentleman remarked: "I remember Charles Guiteau well. He was here two or three years ago, and seemed to have no visible means of support. He preached or lectured on religious and social subject, upon which he was an enthusiast. He started here as a lawyer, but failed utterly, and then tried to lift himself into notoriety by lecturing on religion one evening in each week." His card in the newspapers is produced today, and is a literary curiosity. He bored newspapers by trying to have his manuscript printed. He failed also as a lecturer, and the began life as a tramp of the most respectable order. He was branded by the hotel-keepers as a deadbeat. His whole appearance was that of a dandified man of small mental calibre [sic]. He was unusually fond of notoriety, and would go almost any length to get his name in the papers. He was arrested here once for embezzlement. He got the idea into his head that he was fit for official position, and has been trying with all his power to get the consulate to Marseilles.
Clearly, Guiteau's overt narcissism blinded him to the realities of his place in the world. He had an inflated sense of self-worth, projecting himself into the upper echelons of humanity, when in fact, he was stark raving mad. This was also clear in his response when questioned if he had accomplices in the assassination:
"Not a soul; I was enough to plan and execute the affair, and I alone am responsible for it. I have had this on my mind for the past six weeks, and would have shot him as he was riding out with Mrs. Garfield just before she left the city, but she looked so pale and sickly that I did not have the heart to do it; I postponed it until today."
These are the words of a man who believes himself to be intellectually superior and omnipotent in a delusional way, being able to control the fate of a president.
The delusional Guiteau
Guiteau was proud and even boastful of his actions. Prior to shooting Garfield, he had penned a letter to General William T. Sherman; this letter was discovered on the street shortly after his arrest and its contents only bolster the image of a crazy man.
To General Sherman: I have just shot the President. I shot him several times, as I wished him to go as easily as possible. His death was a political necessity. I am a lawyer, theologian and politician. I am a stalwart of stalwarts. I was with Gen. Grant and the rest of our men in New York during the canvass. I am going to the jail. Please order out your troops and take possession of the jail at once.

Very Respectfully,

CHARLES GITTEAU
Interesting to see the different spelling of his last name … but even more intriguing that he thinks General Sherman will take the jail and release him.
Guiteau was so arrogantly confident that he was doing the right thing, that he went down to the jail days earlier and asked for a tour, so as it see his future (temporary) accommodations.
Guiteau walks the streets of D.C.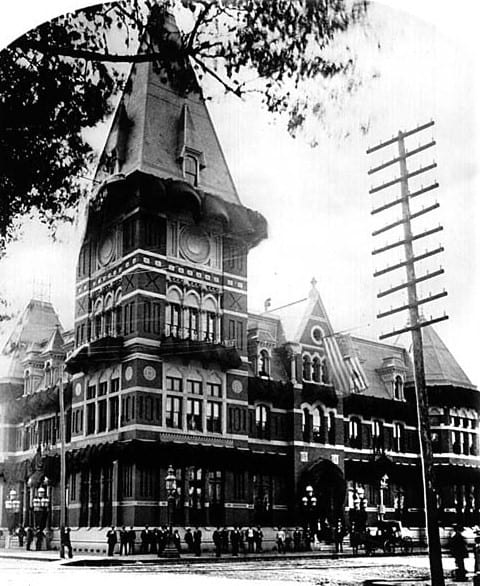 Charles Guiteau came to the city several days before Garfield's inauguration, which was March 4th, 1881. Guiteau first took up residence in a boarding house at 810 12th St. NW (now office buildings), run by a Mrs. L Lockwood. He was so disliked in this home, that Mrs. Lockwood placed him in the least desirable room on the top floor.
A couple of weeks into his stay, he was given a bill, but his response was that he had no money to pay for it. He did state that Senator John A. Logan (i.e., the guy in the middle of Logan Circle) would vouch for him and cover the bill, but when asked, the Senator said Guiteau was insane and a constant annoyance, bothering him day and night.
Longwood could not put up with Guiteau any longer and asked him to leave. He did, but requested that she make no mention of the fact that he couldn't cover his boarding bills. He was concerned this would impact his ability to obtain his desired appointment as consul at Marseilles, France with the handsome salary of $6,000 per annum.
Guiteau, for lack of a better word, was a mooch, taking everything he could get, talking his way into things and repeatedly overstaying his welcome. He spent his days roaming about the city, with the false pretense that he was a journalist. To his dismay, this attracted very little attention.
By now, he was boarding at 924 14th St. NW (next to where Park on 14th is now), the home of a Mrs. Grant, and his abrasive personality made him highly disliked by his fellow boarders. Their opinion of him was that he was morose, rude and inconsiderate of others as he helped himself to all the food on the dinner table.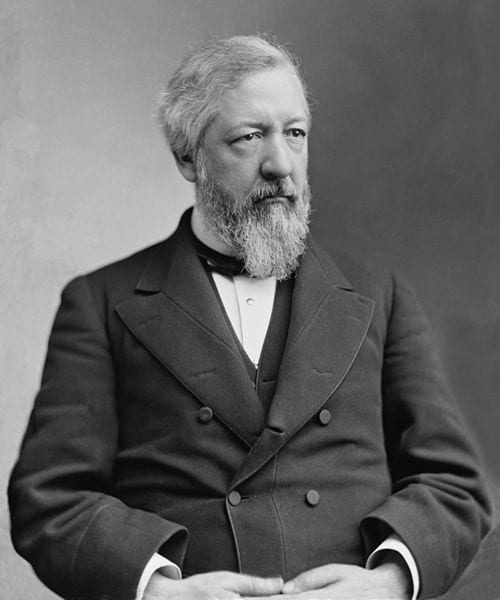 He was an odd boarder as he owned no baggage and the longer he stayed, the more it became apparent that he had no money. About six weeks into his stay, Mrs. Grant asked for payment or at least some indication that he had the capacity to eventually cover his bills. Guiteau's response was that he was very well acquainted with the President, with Secretary of State, James G. Blaine, not to mention many other members of the cabinet. Every single one of them would be happy to vouch for him and within a few days, she would have full payment. He did caveat that statement by saying he didn't feel it was necessary to trouble the President or Secretary Blaine about it. Later that day, he left without saying a word and did not return.
His next domicile in the District was Riggs House at 15th and G St. NW (good post on Streets of Washington about it, where I found the photo below). His room was right next to the Reverend Rush R. Shippen, pastor of the All Soul's Church; Guiteau often attended his sermons, listening intently (yes, the same church that's currently at 16th and Harvard – back then it was at 14th and L St. NW).
Here's a small anecdote from the Baltimore Sun about Shippen's experience with Guiteau.
Mr. Shippen, on the night that Guiteau absconded from his boarding-house, missed one of a package of new collars which he had just purchased, and there is no doubt that Guiteau took it, as he had on one of precisely similar pattern when he shot the President this morning.
Charles Guiteau … the itinerant, narcissistic freeloader.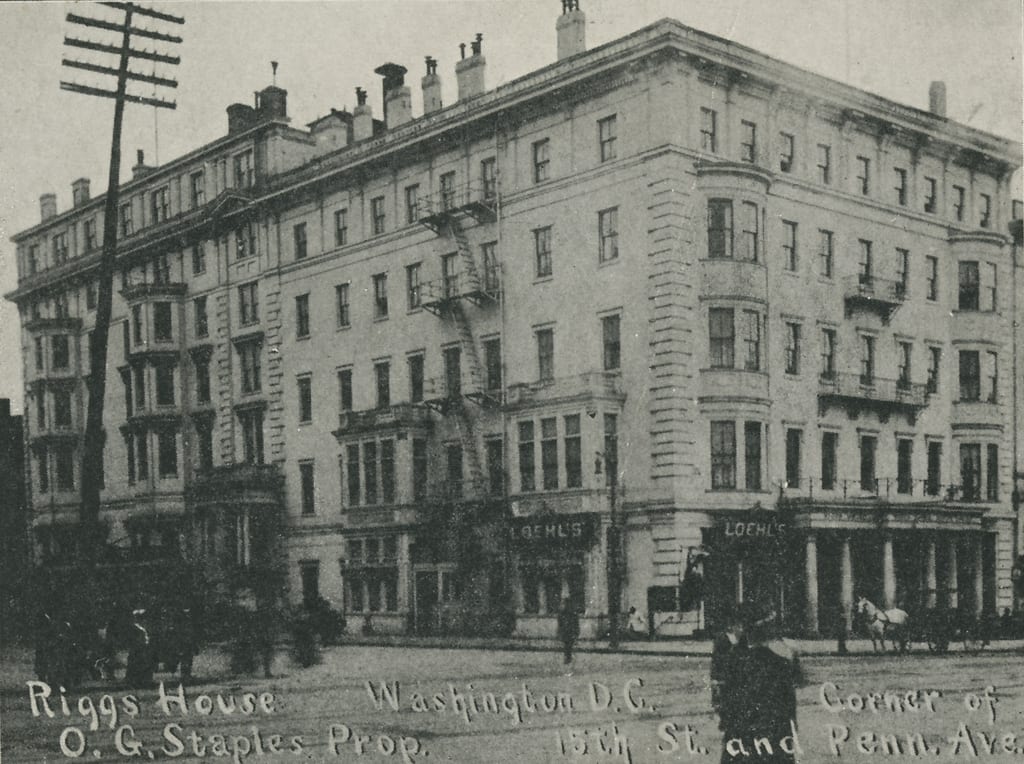 One last thing … and this was the most shocking thing I came across.
Scanning old newspapers in the Library of Congress archives, I came across this advertisement in the National Republican. It calls on people to listen to a Chicago lawyer and theologian speak on the Second Coming of Christ. The event was to take place at the Congregational Church at 10th and G St. NW — the first racially integrated church in D.C. — and the price of admission was a whopping 25 cents. Show up before 8 p.m. on December 7th, 1877 to get a good seat. What?! … 1877? That's a full four years before he was in D.C. to shoot the President.
Wow. That one really got my attention. If you want to see the original, go to the Library of Congress here.

I wanted a to find a little more information on this, because I couldn't Google anything about this. This is what I came across in the Library of Congress archives.
The Washington Post wrote a little piece in November of 1881, interviewing Rev. Dr. Rankin, head of the Congregational Church. This is what was reported:
A POST reporter chanced across the path of Rev. Dr. Rankin, the Congregationalist, last evening, and the conversation somehow drifted on the Guiteau trial.

"Did you ever know," said the good doctor, "that the vile fellow lectured in the lecture-room of my church about two years ago?"

"That is certainly an unwritten chapter in the history of the assassin," said the reporter.

"Nevertheless it is so. One cold night he came to my residence and asked to see me. He showed me credentials and said that he wanted to secure the lecture room of the Congregational church to deliver his lecture on "The Second Advent of Christ." I referred him to one of the trustees of the church."

"Did you attend the lecture?"

"Thank fortune, I did not. He lectured, however. The trustee, by the way, wisely made him plank down a five dollar bill in advance. On the night of the lecture there were not over half a dozen persons present, and each one a crank. They pressed Guiteau so hard with their cranky questions that he became perplexed and left the platform in disgust, making the slim attendance an excuse."

"From your conversation with him, did you form an idea that he was insane?"

"Far from it. I no more dreamt of his insanity than I did of the truth of his views. To me he was simply offensively disagreeable by reason of his egotism."
I'm shocked that Guiteau had five dollars and, second, that he gave it up.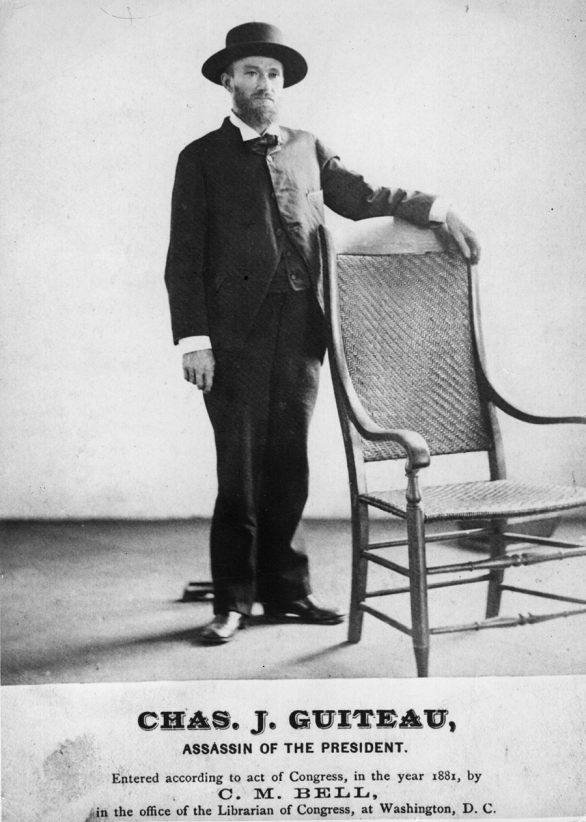 Guiteau sentenced "to be hanged by the neck until you are dead"
Charles Guiteau was tried in Washington's old criminal court building and, on January 25th, 1882, found guilty of murdering the late President. He has one last opportunity to spew a manifesto of vitriol for the people of America for not recognizing the greatest of his act.
This was published on January 27th in the Baltimore Sun and it was his "Address to the American People."
To the American People: Twelve men say I wickedly murdered James A. Garfield. They did it on a false notion that I am a disappointed office-seeker. My speech made no impression on them. I am not surprised at that verdict, considering their class. They do not pretend to be Christian men, and therefore did not appreciate the idea of inspiration. They are men of the world and of moderate intelligence, and therefore are not capable of appreciating the character of my defense …

…

… I am God's man in this matter just as truly as the 'despised Galilean' was God's man. They said He was a blasphemer and a glutton, &c., and it seemed a small thing for His acquaintances to kill Him; but His death stirred the wrath of the Almighty, and He got even with them forty years later at the destruction of Jerusalem, A. D. 79, and He will get even with the American people if a hair of my head is harmed. God will vindicate me even if the nation rolls in blood.

"Mere physical death is nothing to me. Under the law I cannot be executed in any event until July. I may die a dozen times before then, so I have no trouble about that. I shall not go before my time. I had rather be hung, so far as physical death is concerned, than die from a painful illness or meet with a railroad or steamboat accident. I hardly think I am destined to be hung, and therefore give myself no thought on that, but am anxious to have my character and inspiration vindicated. To that end I need help as herein mentioned. My friends need not be ashamed of me. Some people think I am the greatest man of his age, and that my name will go into history as a patriot by the side of Washington and Grant.

CHARLES GUITEAU
U. S. JAIL.
WASHINGTON, D. C., JAN. 26, 1882
He was hanged on June 30th, 1882.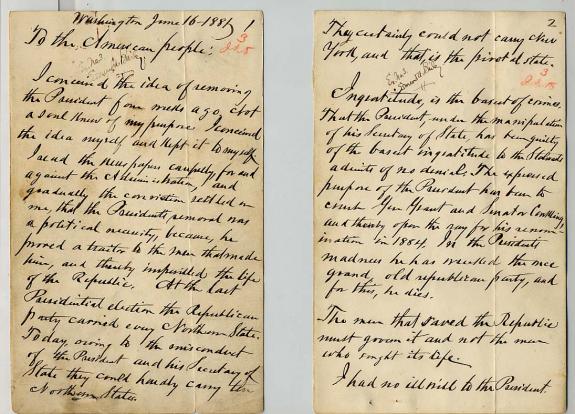 I'll close this post with the somber photo below. This is the casket holding the 20th President of the United States, James A. Garfield, as he lies in state in the Capitol Rotunda between September 21st to 23rd, 1881.