This is the second part of our research into 1335 Wisconsin Ave. NW … formerly known as Au Pied de Cochon. If you haven't read the first part, you should. And by the way, reader Nick is really getting his money's worth with a two for one.
So let's get started …
A store and dwelling
The first thing I came across was a building permit from November 24th, 1912 to repair the store and dwelling at 1335 Wisconsin Ave. J. W. Bogley was the applicant and the total cost was $175. The prices still make me laugh. Inflation's a bitch.
The local butcher's market
Here's an advertisement from June of 1921. Frank Kidwell was a very prominent butcher in Washington at the time with 16 locations throughout the city, including one of today's favorites, Eastern Market.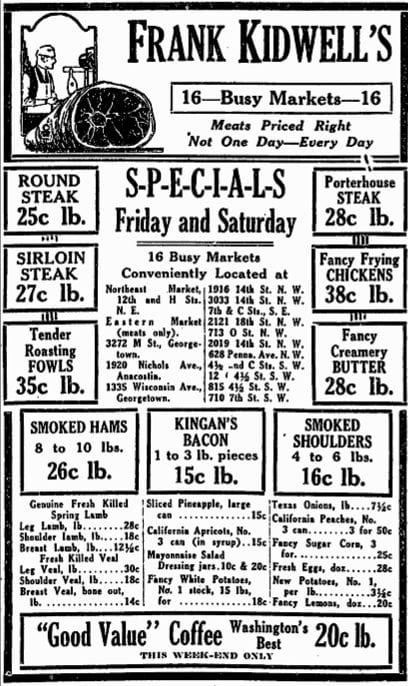 I found an interesting Department of Agriculture document from October of 1920. It charged Kidwell with "adulteration of lard," an offense that came with a court imposed fine of $25.
On October 6, 1920, the United States attorney for the District of Columbia, acting upon a report by the Secretary of Agriculture, file in the Police Court of the District aforesaid an information against Frank Kidwell, Washington, D. C., alleging that on September 22, 1920, the said defendant did offer for sale and sell in the District of Columbia, in violation of the Food and Drugs Act, a quantity of lard which was adulterated.

Adulteration of the article was alleged in the information for the reason that it contained certain other substances, to wit, beef fat and stearin, which had been substituted in whole or in part for the said article.

On October 6, 1920, the defendant entered a plea of guilty to the information and the court imposed a fine of $25.

C. W. PUGSLEY, Acting Secretary of Agriculture
Clearly this wasn't a business impacting offense, because the above advertisement hints at a continued thriving butcher business.
Below is a photo of one of his markets that I found on Shorpy.
A short illness … and then death
This was a sad one I came across in the paper … a woman with less than good luck.
Lillian Payne, originally from Maryland, had opened a successful millinery shop at 1335 Wisconsin Ave. This was back in the heyday of hats, so there was likely no dearth of business. She also resided in upper Georgetown at 3214 Volta place, just a few blocks away. Unfortunately for her, she died relatively prematurely after a brief, undisclosed, illness.
Poor Mrs. Payne had some bad luck in 1921. The Post reported the following in August of that year.
Miss Lillian Payne, 1323 Wisconsin avenue northwest, reported to the police yesterday that while visiting Atlantic City in July she made the acquaintance of a man claiming to be James E. Lee and was fleeced of $5,000.

Miss Payne, the police quote her as saying, issued a draft for $4,000 in payment for oil stock that Lee claimed to own, and that she says an additional $1,000 was forwarded to Lee. Lee according to Miss Payne, told her that he owned and controlled oil wells in Henderson, Ky. On investigation, the police say, the property in Lee's name in Kentucky was found to be barren.

Lee was arrested by the Atlantic City authorities on request of inspector Grant, Detective Sergeant Edward Kelly accompanied by Miss Payne, left for Atlantic City yesterday.
Come on … why would you fall for that? $5,000 was an unbelievable amount of money in those days, enough to buy an entire house.
Truck hits doctor getting off streetcar
It appears that getting on and off streetcars was often a dangerous thing back in the day. I've come across dozens of articles just like this, scanning through old newspapers. Here's one from July 19th, 1933.
Dr. Walter B. Guy, 64, of St. Augustine, Fla., well-known in medical circles for his research and experimental work, suffered a fractured jaw and a possible fracture of the skull yesterday when struck by a truck as he alighted from a street car in the 1500 block of Wisconsin avenue …

…

Police said the truck was driven by James B. Gilbert, 1335 Wisconsin avenue.
Maybe James was running late for a delivery and was zooming down the last two blocks of Wisconsin when he plowed right into the doctor. Or maybe, Walter should have looked both ways. He was a tourist after all (insert comment about tourists blocking metro turnstiles and standing on the left).
Mommy, can I get that hamster?
I found an ad in the Post with the title "Wanted: 100 Cats." Naturally, I was curious why someone would need an army of cats. Well, it wasn't some weird cat lady as I had suspected.  Columbian Cat Fanciers, Inc. was holding a cat show at 2301 on July 20th, 1940 and they were announcing an additional 100 entry openings. Entries could be submitted at many local pet stores, including the one at 1335 Wisconsin Ave, Atherton Pet Shop.
The local grill
Not long after that advertisement ran, the building became a local bar and grill called Connors Grill. A great ad in the Post promoted the fact that they served Old Georgetown Premium Draft Beer, "the best glass of beer you ever tasted!", brewed by Washington's local Heurich Brewing Company (the brewery was knocked down to build the Kennedy Center).
They even had their own bowling team in the Independent League at Georgetown. They had a rough go of it on November 25th, 1941, as documented by the Washington Post:
Shaffer Flowers rolled high team set of 1738 to whitewash Connors Grill to go into a tie for first place with Friendship IOOF. Hutchingon, Warring Barrel, had a near high set of 364.
Connors was owned by Thomas J. (Dutch) Connors, who was also involved in the Golden Bull Restaurant, and the Devonshire Grill. He was a lifelong resident of the District and passed away in April of 1970. He lived at 2701 35th Pl. NW — a nice home north of Observatory Circle — with his wife Mickey and was survived by a daughter Anne and a son, Jerry.
Okay, that brings this epic "If Walls Could Talk" to a close. Hope you liked it Nick, and I hope the readers enjoyed it as well. If you did, why don't you follow us on Twitter or Facebook?
Related articles