Congratulations to the latest "If Walls Could Talk" poll winner, The Pig.
Congrats! @thepigdc with a huge late surge to 45%, you are indeed the winner over @rustikdc @darlingtonhouse @nelliesdc @18thamendment

— Ghosts of DC (@GhostsofDC) November 2, 2012
So, let's look into the story behind 1320 14th St. NW.
Auction sales today
The first mention of the address we could find was in the Washington Post on April 3rd, 1878.
B. H. Warner–4:30 P.M., improved property, No. 1320 Fourteenth street northwest.
Warner's property was one of four auctions listed in the paper that day. Warner was just over 30 at the time and originally from Pennsylvania. He was listed in the 1880 U.S. Census as a real estate agent and lived with his wife, son and three daughters at 1321 11th St. NW.
Baist real estate map in 1903
We love these maps, so here is the Baist map, centered on 1320 14th St. NW. The ping buildings are brick structures and yellow are wood. It looks like number 23 is the location of The Pig.
Holbrook Motor Company to sell the Allen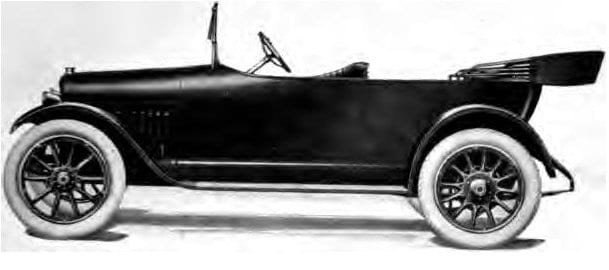 At the end of 1919, the Holbrook Motor Company announced that it would open a showroom at 1320 14th St. NW to sell the Allen car and place a service station at 627 L St. NW.
H. Guy Grimmel was the head of the new operation in D.C., coming here from the Baltimore office.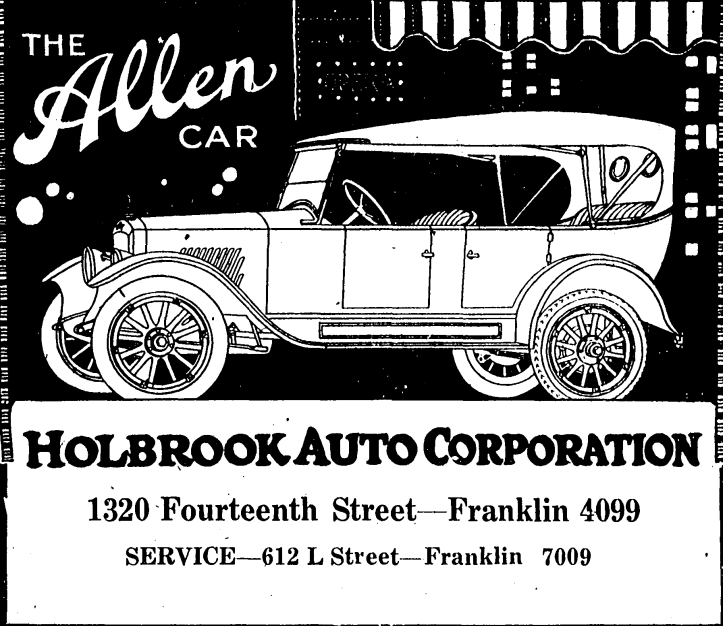 Yeggs, baffled, take safe away
Here's a story from the Washington Post during the heart of the Great Depression, November 26th, 1934.
Thieves who couldn't crack a safe in the Superior Motors Co., 1320 Fourteenth street northwest yesterday, hauled the safe off for a little homework, according to police.

Harold A. Simmons, of 2909 Thirteenth street northwest, president of the company reported to police that the unskilled cracksmen had entered the company's offices through a glass skylight in the roof. They had slid down a rope and then begun work on the safe–work that was evidently fruitless from the disarray in the office.

Baffled in trying to force the steel door, but unwilling to give up, the yeggs pulled and tugged the safe through a door and hauled it away.
Now that's some serious determination, but how the hell did nobody see and report this? I'm sure dragging a giant safe down a street would be a little conspicuous.
By the way, a yegg is a safe cracker (if you didn't guess that from the context).
Rucker Electronics and Beat the Clock
Rucker Electronic Products held the space in the 1950s and they opened their store in 1954 with an open house. The guest of honor that day was Roxanne, of "Beat the Clock" fame. Leslie C. Rucker had a number of stores in the area, including one at 608 Pennsylvania Ave., NW, 1213 Wilson Blvd. in Arlington (want to know why it's named Arlington?) and 8099 13th St. in Silver Spring (want to know why it's named Silver Spring?).
Maybe The Pig will name one of their dishes "Roxanne" after reading this post.
Police seize betting cards
Here's an article from February 4th, 1969 in the Washington Post.
The owner of a printing shop was arrested yesterday in connection with the printing of thousands of cards showing how to figure the odds in the numbers game.

Police said Robert H. Brown, 44, owner of Brown Printing Shop at 1320 14th st. nw., was charged with advertising and promoting a lottery and possession of gambling cards and papers.

They said they believed it was the first time such a charge, which comes under local lottery laws, had been used here.

Lt. Robert Dollard, head of the gambling squad, said Brown was arrested in the shop at 10:30 a.m. on a search warrant. He said that thousands of cards, both printed and blank, were confiscated.
Residents protest Logan Circle sex shop
Oh, this is where is gets good … the dirty, seedy D.C. of the 1980s. Remember those days? Marion Barry does.
Here's an article from the Washington Post, published March 27th, 1985.
Angry Logan Circle residents protesting the opening of a sexually oriented business in their neighborhood heard its operator say last night that he would operate it as "Hugh Hefner would run the playboy mansion."

The shop, marked by a sign that reads "Met Personals–Models Wanted," opened last week in a commercial area a block from Logan Circle and featured women dressed in bikini outfits posing in the front window.

The business was closed by D.C. police yesterday because it lacked a commercial certificate of occupancy. However, operator Dennis Sobin said he intends to reopen as soon as he secures the required permit.

Last night, as about 100 people filled the sidewalk in front of the small shop at 1320 14th St. NW, Sobin made his way into the crowd and told them : "Anyone is invited in my house to have sex or anything else they want to do."

…

Sobin, who later described the crowd as "a crazy mob," said he has applied for a certificate of occupancy for a sporting goods store and a publishing company and that he expects to receive certificates soon.
Now this story surely would generate a good name for either a menu item or a special cocktail. Post a few ideas below in the comments.