I received the following email the other day from a GoDCers up near AU Park and Spring Valley.
Hello,

I love your website. Thank you for researching DC history!

I grew up in AU Park — my parents moved into their house the day President Kennedy was shot. The house 2 doors down from my parents' house was recenly featured on the front page of WaPo a couple days after Derecho because of the huge tree that fell on it.

Much attention in the press has been paid to Spring Valley and the munitions issues there…but I have never seen photos or plots of the original plans of our more humble neighborhood mainly built (I think?) by W.C. & A.N. Miller (there is a "Miller Built" plaque embedded in our walkway).

Thanks!

Julia
First of all, the Kennedy connection … cool. Since Julia took the time to write us this nice email, we're going to dig up a little Spring Valley material for her.
The first thing of interest was the advertisement below. This was a real estate ad in the Post back in 1939. Look at the price of the high-end homes, up to $45,000! That's a ton of money back then … and during the Great Depression.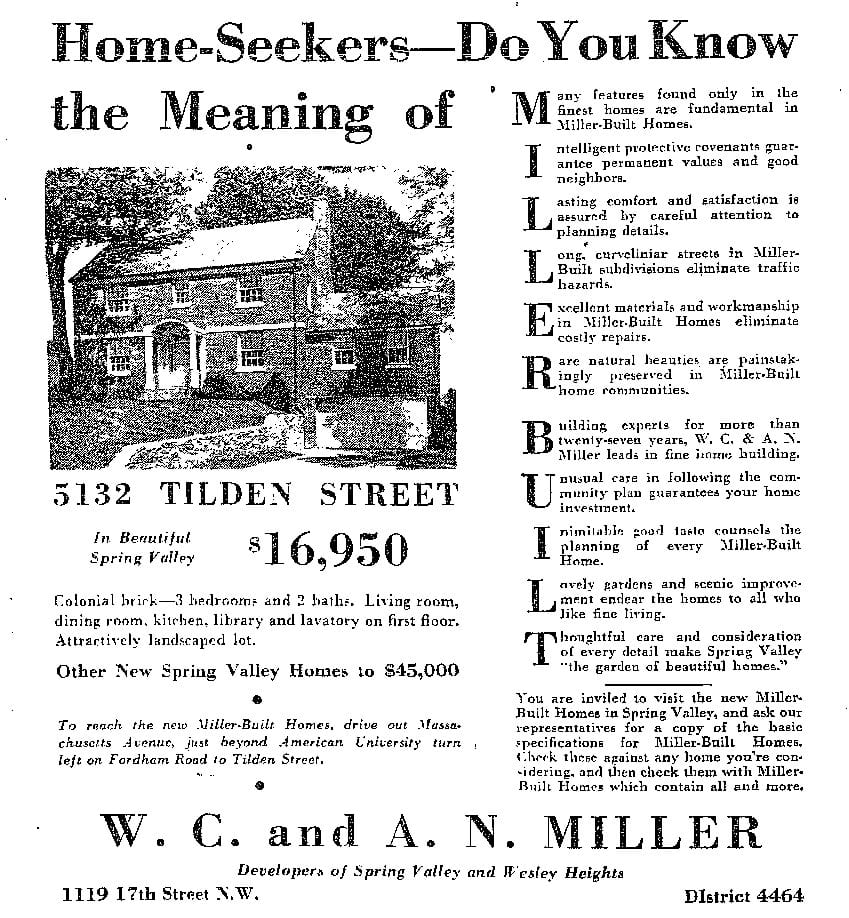 Here's another interesting thing that we dug up. It's an article published in the Washington Post on June 2nd, 1940, touting the opening of the builder's anniversary development.
W. C. & A. N. Miller Development Co.'s "twenty-eighth anniversary exhibition house" opens today in Spring Valley. For 28 years "Miller-Built" has been synonymous with fine architectural design and home construction, standing for quality in structural fitness, durability, meritorious architecture, comfort, convenience, livability, charm and good taste.

With developments of Wesley Heights and Spring Valley, the company has given to Washington a "Garden of Beautiful Homes." Today, these are established communities of character where residences of impressive proportions find perfect settings. Nature provided the land with rolling contours and an abundance of large trees, even brooks and streams. the developers planned the highways to blend into this environment and each home is designed to coordinate with contour, location and compass bearings of the lot.

The anniversary home located at 5058 Sedgwick street, will serve as a demonstration of high art in home building and interior decoration. The house is of an informal Colonial design and J. Harold Gooding, interior decorator, has exercised good taste in the Georgian style of its furnishings.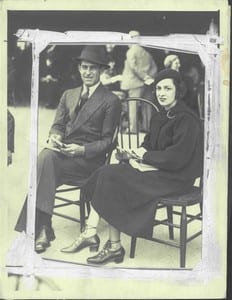 Scanning through some mildly interesting and repetitive ads, I came across an article that caught my eye (because I'm a baseball nut). Evidently, acquiring a "Miller-Built" home was a big deal because they were highly sought after and high quality (and super pricey). This article is from the Washington Post on April 24th, 1932.
Prominent among real estate transactions announced during the week was the purchase by Stanley R. "Bucky" Harris, manager of the Detroit Tigers baseball team, of 4932 Hillbrook lane northwest, a home built and designed by W. C. & A. N. Miller in their development, Spring Valley.

Suggestive of the old colonial farmhouses is this home of vigorous and well-proportioned design. Its home-like charm is in part due to the interestingly combined walls of stone, brick and wood.
The article goes on to describe the home in detail, which is less interesting — unless you own the house now, email us and we'll get it to you — but the connection to Washington Senator Bucky Harris is really cool. If you're not familiar with Bucky, he was the player/manager who led our team (with the Big Train) to World Series victory in 1924.
Below is another interesting article I found about Spring Valley, talking about community planning and the display home at 5059 Sedgwick St. This one is from October 1st, 1939.
Importance of community planning and careful development is exemplified in Spring Valley's Washington Post display home which today enters the first week of a four-week exhibition. W. C. & A. N. Miller, developers of the community, have achieved a national reputation as leaders in the "planned community" idea.

In Spring Valley, as in Wesley Heights, the firm has anticipated and met every need for happy, comfortable, carefree family life. Unusual natural beauties of the site shave been carefully perserved [sic]. the Miller-Built houses themselves are the last word in convenience and comfort. Streets have been thoughtfully planned, thus assuring the continued maintenance of community for fine residential purposes.

The display dwelling is a perfect example of our colonial forefathers' ideas in home design, adapted and improved to meet the demands of exacting twentieth century family life. Situated on a long, curvilinear street, the red brick dwelling is handsomely framed by a large grove of towering trees which gives it an air of permanence as enduring as the craftsmanship itself.

…

By laying out the community with long curvilinear streets and few intersections and by eliminating boulevard traffic arteries, the developers have solved a major peril in home community planning–traffic danger. The block in which The Post display home is located is approximately a quarter of a mile long, runs in a long, graceful curve from the hill crest of Fordham road to where Sedgewick street intersects with Tilden street at Rockwood parkway.
Any other GoDCers live in AU Park, Spring Valley or Wesley Heights? I know Spring Valley is an area full of some great stories, especially since they continue to dig up old World War I munitions (and mustard gas — not good).
So, stay tuned … more to come on Spring Valley in the future, but before we go, check out this Baist real estate map of what would become Spring Valley. This is from 1913 and you can see the outlines of the planned roads, some with different names and some with routes that were altered. The diagonal road is Mass Ave. and much of the surrounding land was fairly rural — you can see the property lines (maybe this film from 1903 was filmed here).
By the way, W.C. and A.N. Miller is still around and they are celebrating 100 years this year.