The Iron Horse himself, Lou Gehrig, was in our city to celebrate the start of a new year in 1929. He was staying at the old Hotel Occidental on Pennsylvania Ave.
Lou was quoted in the Washington Post on January 1st, 1929, after ringing in the New Year …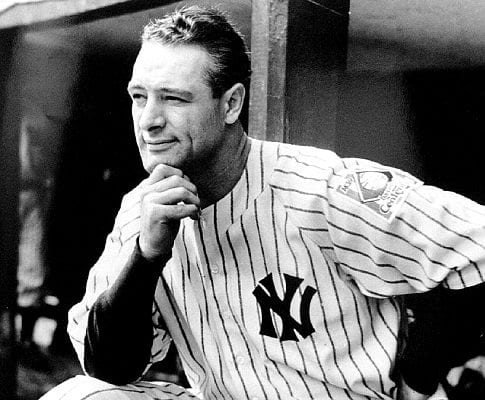 Lou Gehrig, who with Babe Ruth, specializes in making home runs for the worlds' champion New York Yankees, breezed into Washington to spend the New Year as the guest of Fred Bucholtz at the Occidental Hotel.

"Columbia Lou," one of the most modest starts of the game, had little to say except taht he thought the Yankees would repeat in the pennant race of 1929 and to praise Babe Ruth.

"I wouldn't be surprised to see the Babe create a new home-run record next season," he said. "I thought he'd do it last year but his 60 mark still stands, although he came close. As his contract ends after the coming season, he's likely to try to step out a little so as to give him the basis for demanding a raise. And, if the Babe really makes up his mind to do it, he's sure to set another mark to shoot at."

Gehrig was particularly interested in the appointment of Walter Johnson as Washington manager. "I never knew Walter well," he said, "but I've heard plenty about him and all good. He's been so great as a player that I certainly hope he will make good as a manger."
Lou Gehrig is one of the most admirable men to ever set foot on a baseball diamond. If you haven't seen Gehrig's famous farewell speech before, you should. It's one of the best (and shortest) speeches every given, extremely humble, and powerful.
Fans, for the past two weeks you have been reading about the bad break I got. Yet today I consider myself the luckiest man on the face of the earth. I have been in ballparks for seventeen years and have never received anything but kindness and encouragement from you fans.

…

So I close in saying that I might have been given a bad break, but I've got an awful lot to live for. Thank you.