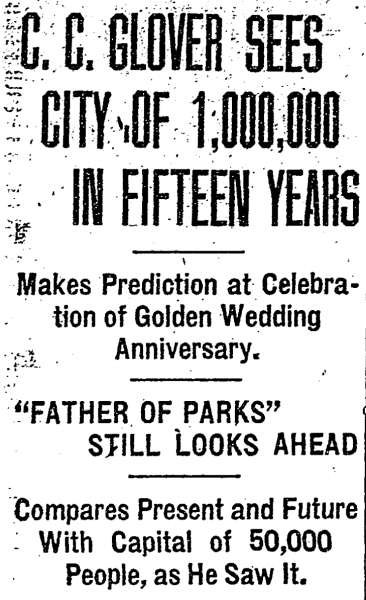 Charles Glover was a prominent banker and philanthropist in Washington between the 1880s and his death in 1936. He was the President of Riggs Bank, a huge backer of the City Beautiful movement , and opened his deep pockets to fund parks and monuments across the city. Without his influence, we might not have Rock Creek Park, the National Cathedral, or the National Zoo. Also the Glover Park neighborhood is named for him — and his last name rhymes with "lover," not "clover." The local papers of the day dubbed him the "Father of Parks" due to his philanthropic activities, ensuring the preservation of lovely outdoor spaces in the city.
We found an interesting piece in The Washington Post from 1928, mentioning Glover's 50th wedding anniversary to his wife Annie. It mentions a little of the reception for 250 attendees held at their home at 1703 K Street NW between 4:30 and 6:30 in the afternoon on January 10th that year. The article goes on to mention his predictions for the future of Washington, and that's where it gets interesting.
Although Mr. and Mrs Glover looked backward on mutual lives of usefulness, their thoughts were chiefly centered on the eventful hour of January 10, 1878, when they were married in Epiphany Church here.

Things have changed greatly in Washington since that day, and Mr. Glover, and Mrs. Glover too, have had no little share in effecting the changes that have been most beneficial, and have given the city greatest distinction.

Although he had reached a time in life when it is proper to look backward, Mr. Glover still retains his habit of looking forward.

He paused yesterday to envision what the future of Washington will be. The city, he believes, will have a population of 1,000,000 in 15 years, while a population of 1,500,000, he said, is in sight.

He recalled that he had seen Washington grow from a small town of 50,000, filled with "ramshackle residences" and "shacks for public buildings," to the great Capital of the present.

And on that background he visioned a future Capital that would reach far out into neighboring Maryland and Virginia.
He nailed it with that last part, having the capital explode in growth out into Arlington, Fairfax, Montgomery, and Prince Georges Counties, not to mention past those counties into what was, in 1928, seriously rural Virginia and Maryland. The piece continues to discuss his influence on the development of the city, especially regarding his moniker "Father of Parks" and the passage of legislation to benefit the city.