Have you ever wondered what life was like in early colonial America? One way to get a glimpse of the past is through historical documents and advertisements, such as this one from the Maryland Gazette in Annapolis, printed on May 1st, 1760. This particular ad promotes a large tract of land for rent in Fairfax, located about 40 miles northwest of Alexandria. In those days, the primary route between Alexandria and Winchester was what we now know as Leesburg Pike, although it wasn't named that at the time.
This intriguing advertisement offers us a unique window into the past, a snapshot of a time when the colonies were still growing and evolving. The ad describes the land in Fairfax as being "remarkable for its fine Timber, rich Land, and plenty of Water," and suggests that it would be ideal for farming or grazing livestock. It also notes that the property comes with a "good Dwelling House, Store Houses, and other convenient Buildings."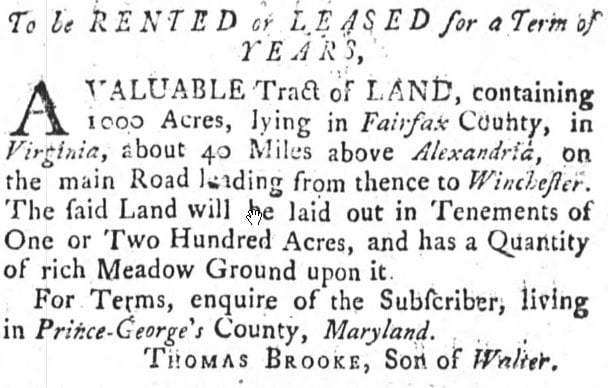 Of course, it's difficult to know exactly what life was like for the people who lived in Fairfax in the mid-18th century. However, with a little bit of research, we can start to piece together a picture of what it might have been like. According to records from Ancestry.com, Thomas Brooke, who was born around 1721 and died in 1768, may have been the owner of the land advertised in the Maryland Gazette. This tells us that the land was likely owned by a wealthy, influential family, which would have had an impact on the social and economic dynamics of the area.
Overall, this old advertisement from the Maryland Gazette is a fascinating reminder of the rich history of early colonial America. By taking a closer look at these historical documents, we can gain a deeper appreciation for the struggles and triumphs of our ancestors and the forces that shaped the world we live in today.