Here we go with our third winner of the "If Walls Could Talk" Twitter poll. This time we are going to focus on Home Rule at 1807 14th St. NW.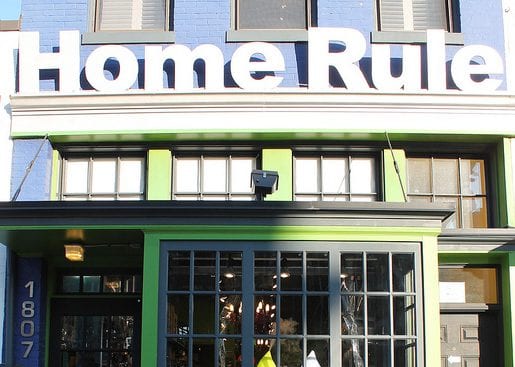 Insane man harasses senators
Below is an article that we dug up from March 10th, 1900, printed in The Washington Post. An odd man was accused of harassing a number of Senators.
Edward L. Coates, formerly of Montrose, Colo., was arrested last evening by Detectives Reynolds and Howlett at the Baltimore and Ohio station, and is held at No. 6 station on a charge of insanity, with Sanitary Officer J. A. Frank as complainant. The action was the result of a complaint made to the latter by a clerk at the Senate post-office that Coates had been annoying certain officials at the Capitol. Coates is fifty-four years old, and claims to have mining interests in Colorado. He has lived in Washington several years and gives his present address as 1807 Fourteenth street northwest.

In conversation with a Post reporter Coates explained that he came here to have set aside a patent on certain land at Montrose, formerly the Los Pinos Indian Agency, which he claims was not fairly obtained by the Ute Indian Commission. The land includes 640 acres, and it is alleged that forty acres of it have been turned over to a colony of socialists. He talked with some stress about the latter, and said that the sons of two prominent Washingtonians are near Montrose as prime movers in the colony.
Later in 1900, the U.S. Census lists Mr. Coates as being an "inmate" or resident at the Government Hospital for the Insane, better known today as St. Elizabeths.
For sale
Another early mention of the building pops up in The Washington Post on January 5th, 1902. The real estate sections notes that two properties, 1805 and 1807 14th St. were sold by Moore & Hill that week to someone only described as a "Western man." It also stated that one of the buildings was a feed store and the other was a home, with an aggregate street frontage of 40 feet and lot depth of 100 feet.
Smash and grab
Another article in The Washington Post on November 6th, 1905 stated that the show window at 1807 14th St. was smashed in on Saturday night, November 3rd. Mr. Emanuel Nicholson reported the crime to the Eighth precinct on Sunday night and claimed that a large quantity of shirts, collars and cuffs were stolen from his store.
Trustees' sale
We came across this notice in The Washington Post from back on July 31st, 1931.
Numbers racket arrests
The criminal ties of the 1920s through 1940s are always fascinating, and this property is no exception. We found an article from November 30th, 1946, detailing a bust at the tailor shop, then located at 1807 14th St.
Detective Sergeants Howard Ogle and Paul Clarke, who are strictly bad news to the boys who sell number slips, overlooked the fact that yesterday was Thanksgiving Day.

Or maybe they were working up an appetite for their turkey dinners.

Shortly before 1 p. m. yesterday they called at a barber shop. They followed that with a visit to a tailor shop. Result: Two arrests.

Gabriel B. Saunders, 37, of 1450 Corcoran st. nw., was arrested in a barber shop in the 1300 block of U st. nw., where he is employed as a barber. Thurman B. McCann, 35, of 113 B st. ne., was seized in a tailor shop at 1807 14th st. nw., of which he is part owner.

Both men were charged with operating a lottery and possession of slips. They were released in $1500 bond.
Not exactly criminals of the caliber of Nubby Nuckols, but an interesting old connection nevertheless.
Quick Electric Motor Service
In the 1960s, the building houses a business called Quick Electric Motor Service, operated by Italian immigrant, Silvio Lenzi. Mr. Lenzi died at the age of 69 while visiting Italy. He had lived in D.C. since his arrival in 1926. We worked at the Central Armature Works firm until 1952, when he opened his store at 1807 14th St. He retired in 1969, and was living at 3610 Hamilton St. in Hyattsville at the time of his death, survived by his wife Erina.
Home Rule
Finally, the building has housed the current Home Rule since 1999, and hopefully for a much longer time. There's no better place in the city to pick up cool houseware or cooking accessories. Mrs. Ghost and I are both big fans and frequent customers.