I had the pleasure of speaking to a great class at AU last week. One of the students asked if we had ever done a piece about Mad Hatter on Connecticut Ave. We haven't yet, so this one is for you, Blaire. (By the way, Blaire told me her parents named her after the Blair House … and added an 'e' at the end  of her name.)
Let's dig into a little history for the building at 1319 Connecticut Ave. NW.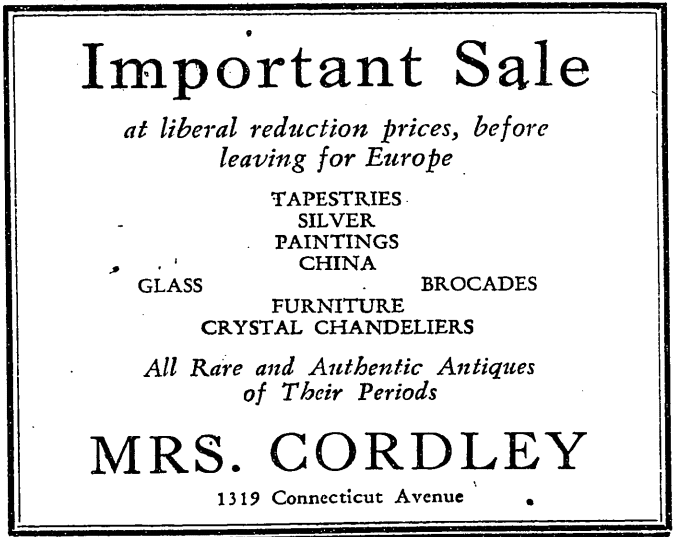 Interestingly, we dug up a few more advertisements for Mrs. Cordley through 1939. Her retirement sale went on for about two years!
Curved Eloquence
A few years after World War II, the building was occupied by The Jenny Shoppe,  a ladies fashion store. Below is an advertisement from the Washington Post which ran on leap day, 1948.
The store wasn't there much longer. By the following summer, it had been replaced by Davanne Millinery, a high-end hat shop for women.
Wash and Wear Wigs
Need a wig? If you did in 1970, you would have stopped by Wig Fair to pick the "The Juliette," a wash and wear stretch wig. Sounds like a name for one more Mad Hatter cocktail.
Here's an advertisement from the Washington Post, published on Friday, August 21st, 1970.
Jewelry Holdup
After serving time as the home of wigs, a new tenant moved in. Cornelius Zwennes moved his store from Georgetown to Dupont Circle and in 1973, his store was targeted in a holdup. Below is the Washington Post article from May 10th, 1973, detailing the crime.
Since teeny boppers and other street people had become a Georgetown fixture, jeweler Corenlis [sic] Zwennes decided after 20 years there that Connecticut Avenue was "a better place for high grade merchandise."

Yesterday after his one-year-old shop at 1319 Connecticut Ave. NW was the target of an attempted robbery, Zwennes said he was "not so sure anymore."

The incident occurred around 4:30 p.m. Tuesday and Zwennes captured the accused robber, identified by police as John Willie Adams, 25, of 3200 16th St. NW. Police said Adams was on parole from a 10-year sentence he received in July, 1968, for burglary and grand larceny.

Zwennes was prepared. He had a burglar alarm system, unused since the shop opened in April, 1972. He also had a pistol, acquired three weeks ago, after another jewelry store five doors away was robbed.

Zwennes was out of sight in his mezzanine workshop, setting a diamond in a pin. His wife, Christine, was downstairs waiting on a man who was carefully scrutinizing a ring.

"I like it a lot, I'm going to take it," Zwennes said he heard the man say.

The man then allegedly put a hand in his pocket, shoved the pocket towards Mrs. Zwennes, as if he had a gun, and said, "Now don't make a move because this is a holdup."

Zwennes overheard the remark, pressed the alarm system and came down the steps, pistol in hand. "When he saw me coming down the stairs with my gun, he sneaked out the door and tried to mix with the (rush hour) crowd," the jeweler said. "I followed him, crept up behind him, put the gun in the center of his back, and in about a minute the police arrived."

As the man left the store, Mrs. Zwennes snatched the ring from his hand. Police who searched Adams said they found no gun. Adams was charged with robbery.
Hello Handsome!
By the 1980s, the spot was where Nickleby's set up shop.