It's probably safe to say that this team no longer exists as an intercollegiate or even intramural team at GWU.
Well, in 1927, the GW girls rifle team was good … really good. They won the national rifle championship in February of that year.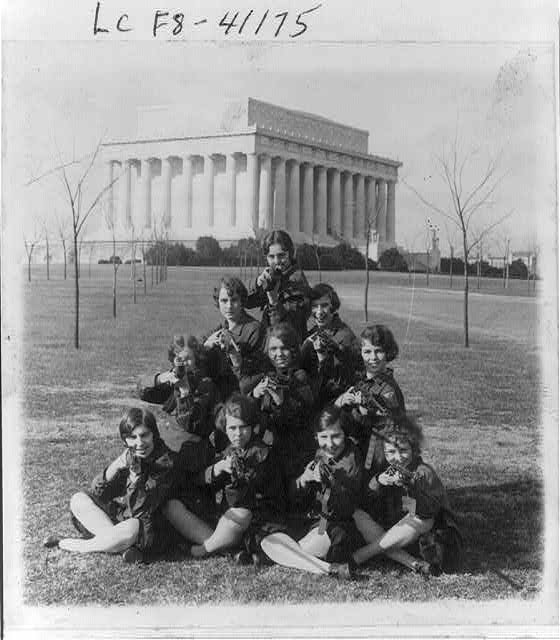 Below is the article from the Washington Post on Feburary 10th (eight days after the above photo was taken) detailing their success.
Making the highest score ever attained by a woman's team in the history of rifle shooting under the auspices of the National Rifle association, the George Washington university girl's rifle team was yesterday declared the winner of the National Intercollegiate rifle championship with a score of 2,991.

The Colonial shooters won by a narrow margin, however, being only a single point ahead of the University of Missouri team No. 1, while Maryland University accounted for third honors with a score of 2,983.

Carnegie Institute, University of Washington, University of Cincinnati, Stanford University, West Virginia University, University of Louisville and Oklahoma A and M., finished the competition in the order named.

The matches were shot in three stages of 200 possible points. The record of George Washington and Missouri was almost perfect.

The Colonial team coached by Walter R. Stokes, former International and Olympic champion and former captain of the George Washington men's team, is composed of the following girls: Eugenia Cuvillier, Marjorie Folsom, Mae Huntzberger, Suzanne Jamison, Katherine Shoemaker, Helen Taylor, Helen Prentiss, Betty Clark, Suzanne Aud and Verna Parsons. Miss Cuvillier is captain and Miss Ermytrude Vaiden is manager.

With the exception of Miss Jamison, all the girls learned to shoot while students at Central High school. Stokes also coached that team.

George Washington girls have lost only three matches in five years.
What's really interesting is that all the girls, except one, went to Central High School (i.e., Cardozo). That really illustrates that either, GWU was more of a local school at the time, or people didn't go very far for a university education … or both.
Related articles