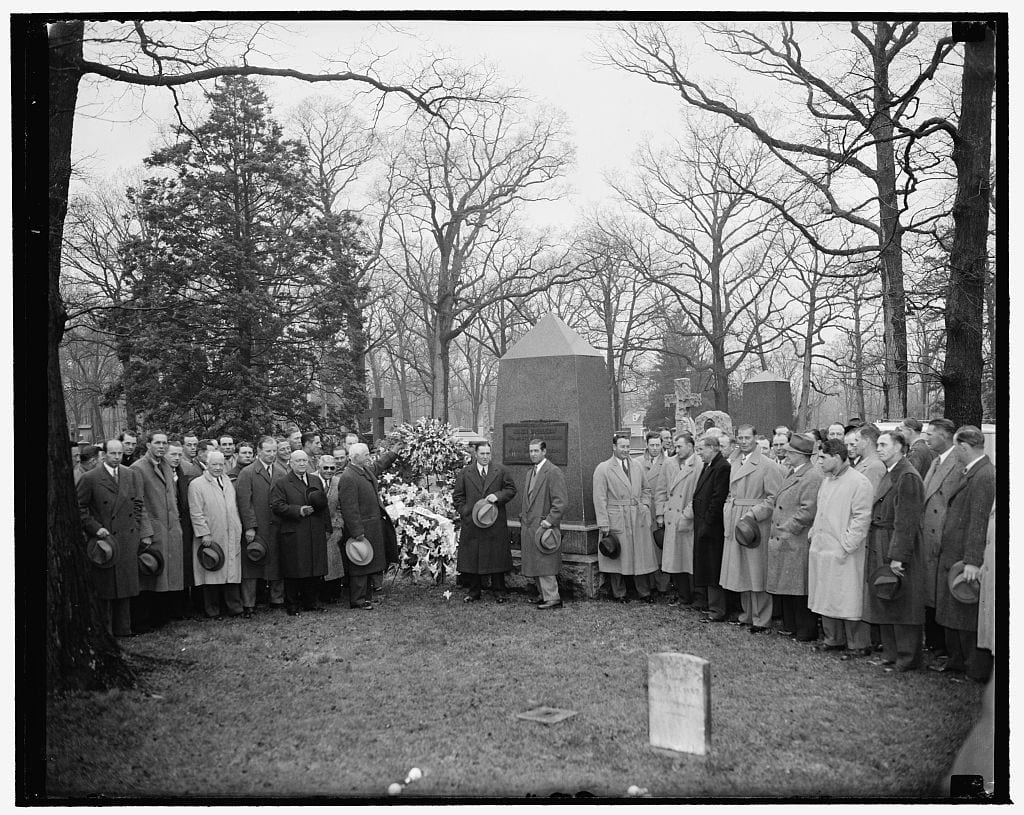 Yes, it is true that Abner Doubleday's true role in the birth of baseball is highly disputed, but that didn't matter during the 1939 baseball season. The New York Yankees were in town to play our Washington Senators and on April 17th, 1939. This happened to be the 100th anniversary of the game. Somewhere in the photo above, you might be able to spot Lou Gehrig, Bill Dickey or Joe DiMaggio.
The Washington Post reported on what was supposed to be the American League opener that day at Griffith Stadium.
Washington, April 17–Drab, drizzling weather today forced the Washington Senators and New York Yankees to call off the scheduled opening game of the American League and prevented President Roosevelt from making his annual appearance as a ball tosser-outer.

After satisfying himself that his playing field was more mud than turf, President Clark Griffith, of the Senators announced the postponement.

"The game will be played here Friday," said Griffith, "but I have been advised by the White House that the President cannot be present."

…

While rain fell, Griffith and members of the Yankees and the Senators journeyed to nearby Arlington Cemetery and placed a wreath on the grave of Gen. Abner Doubleday, whom baseball recognizes as the father of the game.
A second (of many) Post articles about Doubleday and baseball gave greater details of the event at his grave.
The champion New York Yankees and the Washington Nationals stood in the rain yesterday morning at Arlington National Cemetery and placed a wreath on the grave of Brig. Gen. Abner Doubleday, accredited founder of baseball.

While a raw drizzle seeped down the necks of the top-coated players and ran in tiny rivulets down the tall grey tombstone, Clark Griffith, president of the Nats, and Joe McCarthy, manager of the Yankees, carried the huge horseshoe of the roses across the tiny flat stone that marks the grave of Mrs. Doubleday and leaned it against the upright stone.

Both men spoke briefly about Doubleday's contributions to American life. "This is baseball's centennial year," Griffith said, "and I feel sure that everyone joins in paying tribute to the memory of a man who di more than any other person in laying the foundation of baseball."

…

Doubleday was formally named founder of baseball in 1907 by the Mills commission–appointed at the behest of A. G. Spalding. The commission embraced many of the foremost athletic officials of that day It spent several months on its investigation. Not until this year was its findings seriously doubted. Most of the doubt generated from a handy sports manual called "The Encyclopedia of Sports," by Frank Menke. Menke's own investigation revealed that the rudiments of modern baseball was played as early as 1800 and in at least 18 Eastern cities before it was first played in Cooperstown. Menke "doubted" whether Doubleday ever played the game.

Menke wasn't invited to yesterday's ceremonies.
The last sentence is the best.
Related articles